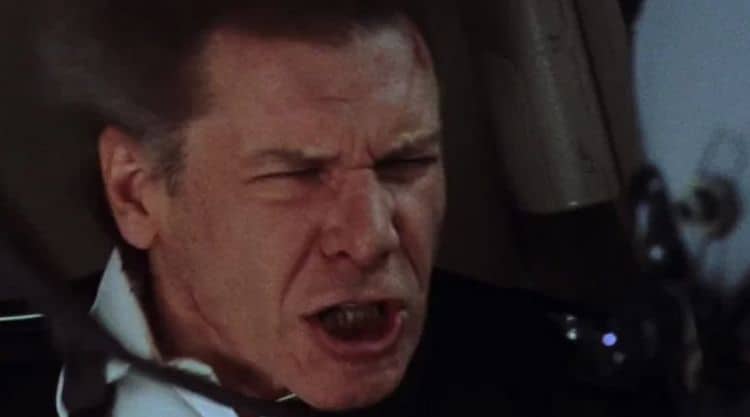 It's rare that the majority of the nation is ever going to like the American president since it's nearly impossible to appease everyone at the same time. Over the past several decade's people have argued over what one president has done and what another president didn't do, and it never appears to stop. Movie presidents sometimes have it a little easier since there are times when they can rely on the credits to save them or some type of catastrophe that people will focus on instead of their inept leadership. Then there are movie presidents that are actually decent human beings but have a flaw or two that people don't tend to like and feel wouldn't allow them to survive a term in office if they were the president in real life. It's an argument that can be taken in a number of different ways and definitely depends on which way a person swings when it comes to their political party, but it could have something to do with how each president is portrayed by the actor as well.
Here are five movie presidents that would be terrible in real life.
5. The President – Escape from New York
The president in this movie and the sequel are horrible since they're more than willing to deny human rights to the people of America and enforce their will without mercy on the same populace as it's shown in the movie. Turning the island of Manhattan into an open-air prison was a decidedly boneheaded move but also one that might not have been avoidable. But if not for the cowardly and ruthless manner that the president in this movie shows and the fact that the people that work for him appear to have a great deal more spine than he does, he might actually have fallen right off this list.
4. James Dale – Mars Attacks!
It's easy to give credit to Jack Nicholson for how this role turned out since he was perfect at the time and created a truly spineless and witless president that fit the tone of the movie in such a way that people couldn't wait to see him taken out. Some folks might have thought that his character could have represented a few different presidents that had served over the years, but the point of this character wasn't really to represent anyone, it was to simply make a weak and ineffectual character who would suffer a rather bad end just like so many others in the movie. In terms of bad presidents, he was definitely one of the funniest to watch.
3. James Marshall – Air Force One
It kind of feels like a sin to put this entry on here since the guy showed a lot of heart by staying on the plane to help the people out. But in real life, it's easy to think that he might have just thrown his life away since the fact is that there have been 29 out of 46 US presidents that have served in the military. But making him a medal of honor winner was a bit much. On top of that, in a plane that's such a high priority target one would think that the rebels would keep him bound securely and know just about everything there was to know about this president. For starters, don't turn your back on a person who knows how to fight.
2. President Rathcock – Machete Kills
Just seeing Charlie Sheen as a president was enough to give an obligatory eye roll since there's no way in hell that anyone would ever buy this kind of thing in real life. But on top of that, the guy might not be the goofball the next entry is, but he was someone that felt like he would rush to snap judgments and, on top of that, he was perfectly okay allowing a vigilante to run loose and do whatever he needed to do in order to get the job done. If that didn't swing public opinion one way or the other it would be amazing.
1. President Skroob – Spaceballs
Okay, this one is a little out there, I get that. But he was a president, and not just of a country, but of an entire planet. The reason why President Skroob would be a terrible president in real life is kind of obvious. He's narcissistic, he's a dictator, and he's definitely a bit of a moron as evidenced by the combination on his luggage. Spaceball fans will get that one, two, three, four, five… Watch the movie, you'll get it. But while some folks might want to say he sounds a lot like one or two presidents that we've had in the past, he's definitely someone that could be said to have all the worst qualities of several presidents put together. Yeah, he's that bad.
Movie presidents aren't all bad, but some of the good ones are still a bit iffy.