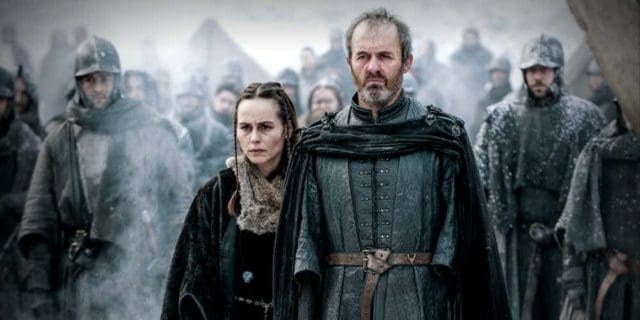 Everyone has their favorites and their least favorites when it comes to Game of Thrones. Granted, not everyone will agree with this list, but while reading through countless forums and discussions and articles these seem to be the most common names that popped up. It's okay to disagree, some people might actually like the most despicable characters on the show and that's just fine. But popular opinion tends to agree that the five listed below are some of the least liked characters on GoT, and that's saying something. The least liked character list could go on for pages it would seem at this point and people might only agree on a small number.
With that said, here are the top contenders for the least liked characters on Game of Thrones.
5. Stannis Baratheon
https://www.youtube.com/watch?v=iTgnnyHLf_E
The man burned his own daughter to death because she was no longer necessary, because she was holding him back, and because it was demanded for his success. Most parents would gladly give their lives for their children, but this guy was more than willing to shut her away until it seemed necessary to visit. Then he pretended that he didn't even have a kid. It's a safe bet that not many fans really miss him.
4. Ramsay Bolton
Surprisingly some fans actually did like this guy. To be fair he was completely honest about what he did and didn't hide away his more sadistic tendencies. And when he wanted to rule he got right down to disposing of the people in his path, including his father. But no one really laments his loss considering what he did to Sansa, Theon, and the fact that he wasn't much of a fighter if he didn't have the upper hand to begin with.
3. Peter Baelish
Schemers tend to go far in GoT if they know what they're doing, and it's been a while since Littlefinger really met his match. Now that Sansa is older and more learned in the ways of the world however he might be thinking that he should have tossed two women through the Moon Door instead of just one. But then he simply can't let Sansa go thanks to her resemblance to her mother, his long unrequited love. Baelish is a slippery character, but even he has something akin to a heart.
2. Shae
Aside from being essentially a plaything to Tyrion and then Tywin she was utterly useless in the HBO version of the story. She could have been credited as just "handmaiden" and been just as useful. The whole dynamic between her and Tyrion was only mildly entertaining and in truth, her death took way too long to come around. God that sounds horrible, but it's the truth.
1. Cersei Lannister
If she ever had to do her own dirty work Cersei would be dead in less than a minute. But considering how she leans upon her status as royalty and hides behind virtually anyone that serves her house she is as arrogant and prideful as they come. Fans have either loved her or reviled her since the first season no matter that she might have endured so much. It seems so wrong to actually get some visceral satisfaction out of watching her be humbled, but in truth the character brought a great deal of it upon herself. Should she get her comeuppance this season most fans would likely pump their fist in the air and then say "now what?". Yes, she is an evil witch, but one that seems necessary to the story for a while longer.
Many people might look at this list and shake their heads, but that's just fine. If you feel that there are others worthy of the title of least favorite character, don't hesitate to comment.
Save