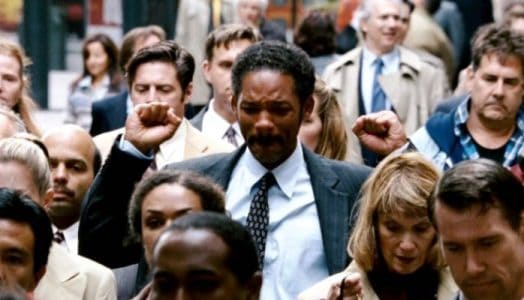 Poverty is an unfortunate reality of human existence. According to World Vision, at least 9 percent of the global population, or 689 million people, live below the poverty line. That is one in 10 people. We are all made aware of how much poverty affects people's lives through the news, but we also get a glimpse of this terrible human condition through film. If you are interested in movies that portray an unromanticized depiction of poverty and homelessness, here are five film recommendations that you should add to your list.
Pursuit of Happyness
Pursuit of Happyness is based on the real-life story of Chris Gardner, a businessman and motivational speaker who spent a significant part of his life being a homeless salesman. The movie portrays his struggles trying to make a living for himself and his son, as well as the sacrifices he's had to make to provide a decent life for his child. The movie also highlights the indignities that people below the poverty line face every day to survive. Pursuit of Happyness starred Will Smith as Chris Gardner, Thandie Newton as Linda Gardner, Chris' estranged wife, and Jaden Smith, in his debut film appearance, as Chris Gardner's son. The movie was mostly positively received, but Will Smith's performance in the film was almost unanimously praised. For his portrayal of Chris Gardner in Pursuit of Happyness, Will Smith was nominated for an Oscars and a Golden Globes. A review for the New York Times of the movie wrote: "It's the same old bootstraps story, an American dream artfully told, skillfully sold. To that calculated end, the filmmaking is seamless, unadorned, transparent, the better to serve Mr. Smith's warm expressiveness. That warmth feels truthful, as does the walk-up apartment Chris's family lives in at the start of the film, which looks like the real paycheck-to-paycheck deal. As does the day care center, which is so crummy it can't even get happiness right (hence the title)."
The Blind Side
Another movie based on real events, The Blind Side stars Sandra Bullock and Tim McGraw as Leigh Anne and Sean Tuohy, an affluent couple who adopts a teenager named Michael Oher. Oher, who grew up in an impoverished environment, is able to pursue his dreams of becoming an NFL player, thanks to his supportive adoptive parents. The movie highlights the drastic differences between Oher's poverty and the Tuohy's upper-middle-class comforts. The Blind Side was widely praised by critics. The movie even helped Sandra Bullock win her very first Academy Award for Best Actress. The Blind Side itself was nominated for an Academy Award for Best Picture, alongside other excellent films like Avatar, District 9, and Inglorious Basterds, but ultimately losing to The Hurt Locker. The Blind Side has had its share of controversy, particularly from the real-life Michael Oher, who criticized the movie's portrayal of him. According to NPR, this is what Oher had to say: "I felt like it portrayed me as dumb instead of as a kid who had never had consistent academic instruction and ended up thriving once he got it. Quinton Aaron did a great job acting the part, but I could not figure out why the director chose to show me as someone who had to be taught the game of football. Whether it was S.J. moving around ketchup bottles or Leigh Anne explaining to me what blocking is about, I watched those scenes thinking, 'No, that's not me at all! I've been studying — really studying — the game since I was a kid!' That was my main hang-up with the film."
Slumdog Millionaire
Slumdog Millionaire starred Dev Patel and Freida Pinto and tells the story of Jamal Malik, an 18-year-old contestant of India's version of Who Wants To Be A Millionaire? Despite performing very well, he is constantly undermined throughout the gameplay, and once he is on the cusp of actually winning the gameshow, he is detained by the police after having been accused of cheating. He then tells the story of his impoverished past, events of which explain why he is able to answer each question on the show correctly. Roger Ebert's review of the film emphasized its appeal to audiences. "When I saw "Slumdog Millionaire" at Toronto, I was witnessing a phenomenon: dramatic proof that a movie is about how it tells itself. I walked out of the theater and flatly predicted it would win the Audience Award. Seven days later, it did. And that it could land a best picture Oscar nomination. We will see. It is one of those miraculous entertainments that achieves its immediate goals and keeps climbing toward a higher summit."
Bicycle Thieves
A movie that belongs to the annals of movie history, Bicycle Thieves tells the story of a poor father who, along with his son, searches for his missing bicycle, which he requires for a job that his family desperately needs. Considered one of the best classic movies of all time, Bicycle Thieves stars legendary Italian actors Lamberto Maggiorani and Enzo Stalona. Commemorating the movie last year, The New York Times talked about not just the pain and anxiety that the protagonists were experiencing in their search for their bike, but also the adventure that it really was. "Their pursuit of the purloined bicycle is full of pain and anxiety, but it is also an adventure, with episodes of tenderness and comedy on the way to final heartbreak. Those moments, modulated by Alessandro Cicognini's musical score, provide an undercurrent of hope, much as the bustling rhythm of Rome itself — a city that has resisted dreariness for 2,000 years — supplies a reminder that life goes on."
Shoplifters
Last on this list is Shoplifters, a Japanese film by Hirokazu Kore-eda. The movie tells the story of a family of shoplifters and petty thieves who adopt a child. The Guardian explains the storyline as follows: "One day, coming home on a freezing night after a hard day stealing from supermarkets, Osamu and Shota come across a little girl of perhaps six or seven shivering in the cold. Impulsively, Osamu decides to take the poor homeless little waif in for a few days. She appears to have marks on her body consistent with abuse and she wets the bed – another classic sign. Osamu's wicked old heart is evidently melted, and he says that they will keep this little girl, Juri (Miyu Sasaki), and train her up in the ways of shoplifting, which includes making odd little hand gestures to your thief-partner to indicate when and what you intend to steal. And this despite the TV news broadcasts about this little girl going missing." The movie's plot is a realistic reflection of the underreported reality of poverty in Japan. Shoplifters stars Lily Franky, Sakura Ando, and Mayu Matsuoka. Shoplifters was nominated for an Oscars for Best Foreign Language Film.
Tell us what's wrong with this post? How could we improve it? :)
Let us improve this post!