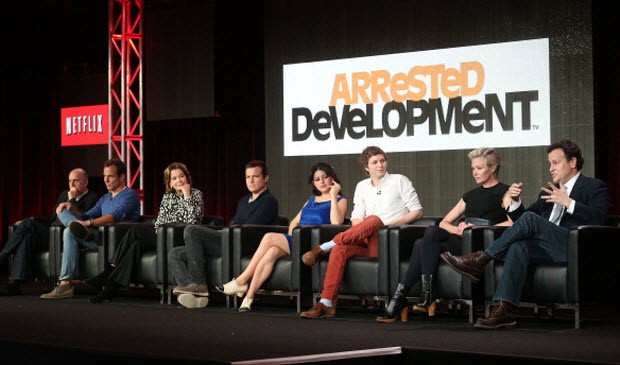 So what do you consider the funniest sitcoms of all time? For us, it is difficult. So many shows, so many ways to factor it, and so many things to factor in. I think there needs to be a certain timelessness to the show. Just knowing the show will live on forever, even long after it fades into syndication. We took all these things into account, and decided on the five funniest sitcoms of all time. Keep in mind, it is only me writing this, so if you have any objections, air them at me directly. I just don't want you getting mad at the site in general. Not that there's anything wrong with that…
Do I even need to say anything here? How about yadda yadda? Or rat hat? Or man hands? Or "master of your domain"? Those are all expressions effortlessly coined by this brilliant show. Timeless, and as funny to watch today and the day the misdoes aired. A true example of a timeless, master sitcom, and one many shows can only aspire to.
Yup, the Bluth family make it on the list. I am sorry, but somehow with this show, every season just gets better and better. The recent (damn near flawless) return on Netflix only further cemented this show as legendary already.
I am sorry, but the true insanity of family was represented so astutely with this show, I had to include it. It just barely edged out Married…With Children, and only won because that show stayed a bit less mainstream than this one. Roseanne was a show that resonates even more with generation X because we grew up with it. Roseanne captured something many shows overlook. The imperfect love but constant loyalty of family. Just don't bring up that ending. Michael Haneke much?
I know there may be some people who argue this, but I stand by my decision. Scrubs was about as well executed a show as comedies can get. Bill Lawrence created something magic on this show (pretty much invented the bromance) and opened the door for the running jokes and inside references many of our favorite shows now pull from (like Community).
I know, I know. It was a real rough call. Cosby Show almost won. Then I played with the idea of Cheers. Then I wanted Community on the list, then I thought it might be best to shout out the Brady's. Then it hit me. The Simpsons really is the ruler. The show that has said and done it all, and still (mostly) remains hilarious. Anyone who knew me knew I had to end with an animated show. After all, I am animated.