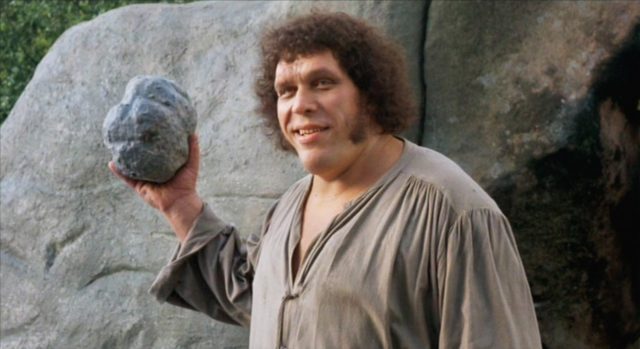 It takes a big person sometimes to do the heavy lifting in a movie. That's why these notable giants are so important and part of why they've become so popular with fans. A lot of giants in movies range in temperament from kindhearted simpletons to evil and twisted creatures that never bother to see who they're stomping on as they go about their business. More often than not however it is the giant character that is largely innocent in their manner that gets remembered the most.
Here are a few of the most beloved giants of film history.
Lurch – The Addams Family
You rang? Lurch is surprisingly one of the smallest giants on this list and is noted more for his strange and mostly silent manner than he is for his size. Despite being one of the most underplayed and underrated parts of the Addams family he is also one of the characters that is most depended upon by the others. It might seem like the family takes advantage of him at times but in truth he's more important than he might seem. Who else could possibly put up with Gomez and Fester in the same house?
Karl -B ig Fish
Karl is a big man, plainly said. He's also a very misunderstood man, as are most people that don't seem to conform to what society thinks of as normal. When he takes up an offer to leave the small town that seems so scared of him however he and Edward set off on an adventure that will see them part ways only to come back into each other's life once again at a later date. As a circus performer Karl seems to find his calling, delivering a pleasant thrill to those that have never seen a man as big as he is. It's kind of an odd movie, but it's very entertaining and even heartwarming.
Adam Szalinski – Honey I Blew Up The Kid
https://www.youtube.com/watch?v=3x5TRemPn-k
This is one of the accidental giants that wasn't meant to be, and one that you definitely wouldn't want to see in real life. Imagine a giant throwing a temper tantrum and leveling an entire city block just because he didn't know how to react. Perhaps one of the best scenes was when Adam ripped the guitar off the top of the Hard Rock Cafe and tried to serenade the town. While it was cute and kind of funny in spots, you can only imagine how troublesome a giant toddler could possibly be.
Fezzik – The Princess Bride
It's like watching a cruiserweight take on a heavyweight. You know that Fezzik has Wesley outmatched in size and strength, but that lack of size and the increased speed seems to be the giant's downfall. Andre the Giant was known for being big, strong, and in this film not too bright, but at least he had a big heart. That's what made Fezzik one of the best, he was hired to do evil things but in the end did everything just right to make amends.
Hagrid – Harry Potter
So here's a fun fact you may or may not have known. The only reason Hagrid survived all the way to the end was because of Harry Potter. J.K. Rowlings actually admitted this while speaking with Daniel Radcliffe about the film. The only reason Hagrid didn't bite the big one somewhere in the series was because he was the one that brought Harry Potter to the Dursley's, and thus it was only fitting that he was the one to carry Harry back into Hogwarts, presumably dead. It was a completion of the cycle that managed to keep Hagrid alive. Thankfully the war ended when it did, otherwise this lovable half-giant might not have lasted much longer.
There are many giants throughout the history of film and they all have a well-respected place in history. Those listed above however are the ones that have gained the most attention and the biggest fan base.