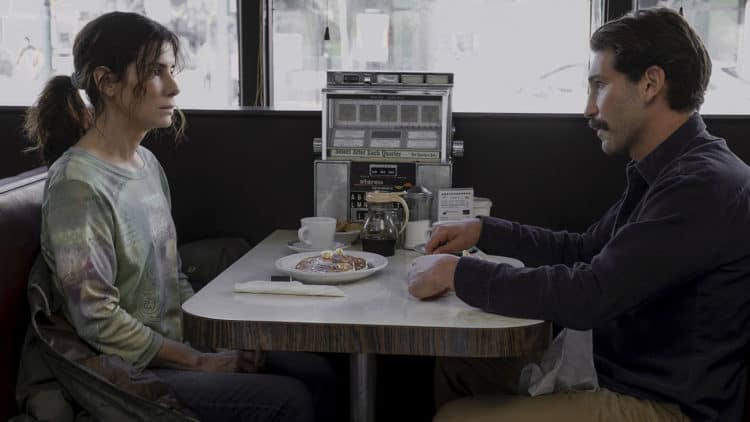 Another Netflix exclusive is set to hit the streaming platform soon as The Unforgivable sees Sandra Bullock play Ruth Slater, a criminal being released from prison who's trying to reunite with the estranged younger sister that she was forced to leave behind. The latest Netflix film features a strong A-list cast with a rich filmography; thus, this article will highlight the five best films involving the cast of The Unforgivable. The only movies that are exempt will be animated features. Let's get started with the first film:
Gravity
In one of Bullock's most bold and inventive films she's been in, Gravity focuses on Dr. Ryan Stone and Matt Kowalsky during their shuttle mission. What was supposed to be a routine spacewalk turns into a big disaster that leaves Ryan and Matt stranded in deep space with seemingly no hope for a rescue. Gravity is a visual milestone that is packed with loads of tension, drama, and intrigue throughout its 1 hour and 31-minute runtime. Bullock and George Clooney have excellent chemistry and Alfonso Cuaron does an amazing job at keep you on the edge of your toes thanks to the film's creative choices. Gravity wisely keeps the story simple and allows for its characters to shine and develop in a meaningful and genuine matter. A must-see movie that deserves it seven Academy Awards.
Speed
Speed is a template on how to properly copy Die Hard. While often seen as Die Hard on a bus, the 1994 feature does an excellent job differentiating itself thanks to its clever premise. The film is about a retired bomb squad member who arms a bus with a bomb that will explode if it drops below 50 miles per hour. Dennis Hopper is perfect as the deranged Howard Payne. His performance feels grounded and he manages to make the most of his meaty role. It helps that Keanu Reeves and Sandra Bullock are such a likeable presence throughout the film. Speed isn't a masterclass on character driven storytelling, but the movie does enough to make audiences root for the two characters. The filmmakers also do tremendous job of squeezing every bit of tension it could out its premise. Definitely one of the best actions flicks ever made.
The Peanut Butter Falcon
This sweet and light hearted movie follows Zak, a man with Down syndrome who wants to pursue his dream of becoming a professional wrestler. The Peanut Butter Falcon doesn't have the complexity of most films on this list but just like Gravity, not every movie needs to be some thought-provoking and political adventure. It's a fun feature that showcases the acting of Zack Gottsagen; While further establishing that Shia LaBeouf and Dakota Johnson are talented and versatile actors. First time directors Tyler Nilson and Michael Schwartz expertly craft a cohesive narrative that never tries to manipulate or guilt its audience based on the subject matter. A great watch for anyone looking for light hearted material.
Ma Rainey's Black Bottom
In this powerful adaptation that features the final performance of Chadwick Boseman, Ma Rainey's Black Bottom focuses on an afternoon recording session in 1920s Chicago involving the "Mother of the Blues" Ma Rainey and her band of musicians. The feature highlights racism within the music industry and the battle that some men are willing to fight for a chance at the spotlight. Chadwick Boseman had a banner year in 2020 thanks to another great role in Spike Lee's Da 5 Bloods. The late actor throws himself into the role of Levee and passionately gives out the best performance of his career. You feel the heartache, sadness, and the small amounts of joy that Levee goes through thanks to Boseman's commitment and the character leaves an unforgettable impression. Of course, we can't forget about the stunning Viola Davis, who equally steals the show as the legendary Ma Rainey. You understand her fierce attitude towards the record executives because of the struggles she's been through and Davis does an amazing job of wearing her heart on her sleeve herself. With tight direction and a great cast that rounds out the entire feature, Ma Rainey's Black Bottom is one of Netflix's best exclusive films.
Full Metal Jacket
Stanley Kubrick is no stranger to making controversial, yet unforgettable films and Full Metal Jacket is an example of the director's finest works. Kubrick's darkly comic take on the Vietnam War follows Private Davis, his drill sergeant, and Private Lawrence as they prepare for the Battle of Hue. Thanks to its sharp script that manages to weave important social themes with black humor, tension, and gut-wrenching drama that's elevated by a game cast led by Matthew Modine and Adam Baldwin, Full Metal Jacket isn't exactly the most original war film you'll ever see; however, this hard hitting and timely feature is a masterclass of storytelling thanks to the confident direction of Stanley Kubrick.
Tell us what's wrong with this post? How could we improve it? :)
Let us improve this post!