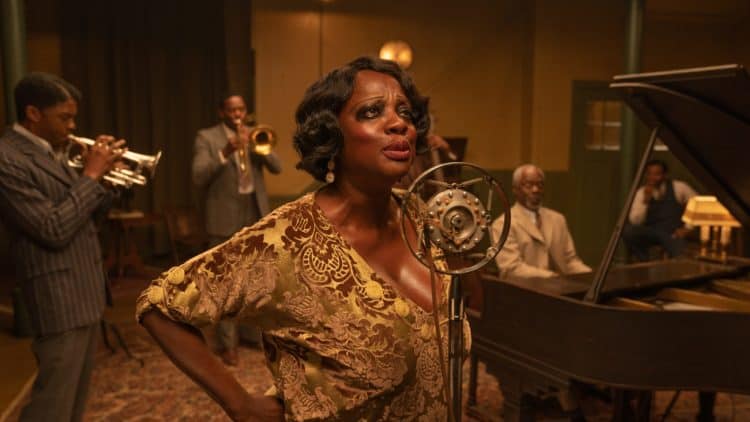 In Chadwick Boseman's final film, the Black Panther starred in Ma Rainey's Black Bottom that also featured Viola Davis (The Help, Fences), Colman Domingo (Zola, If Beale Street Could Talk), and Glynn Turman (The Way Back, Deep Cover), and it centers around cornet player Levee, an ambitious young cat who has dreams of making it big on his own. The film is highly regarded for its depiction of the blues singer Ma Rainey, scoring an astounding 98% on rotten tomatoes out of 299 Reviews. The film also received five Academy Award nominations including Best Performance by an actor and actress for Chadwick Boseman and Viola Davis. First things first, the fact that this isn't a traditional biography about Ma Rainey is a big win for the film. Don't get me wrong, it would be great to dive deeper into Ma Rainey's world, as we get a glimpse of the struggles she's faced throughout her career, namely racism; however, Hollywood has a knack for spitting out bland biopics that are essentially carbon copies of themselves. By not putting the entire focus on Ma Rainey, it allows the audiences to truly dive into 1927's from an outside scope. We get to know and understand her band and the different personalities without it feeling like a jarring change in perspective.
Of course, the role couldn't have worked its Viola Davis didn't knock it out of the park. The actress really threw herself into the role by getting close to 200 pounds just to have some resemblance to the iconic figure that's she playing. Now, Viola Davis isn't the only figure to go through extreme body transformations, with the most notable being Charlize Theron in Monster and Christian Bale in The Machinist; It isn't just about the transformation that thrust actors into a role, it reminds actors mentally that they're throwing themselves into a living and breathing human being. The mannerisms and body language help flesh out Ma's character, who isn't just some no-nonsense prima donna. Her actions are motivated by the unfair treatment of black singers back in 1927. Her music is legendary because it introduced black audiences to a new sound and culture that speaks to them. It helped shine a positive light in the black community, and in some ways, bridged the gap between black and whites a little bit more. Granted, based on the white patrons giving Ma the evil eye as she left the building, there was still a long way to go. She's also a loving guardian, helping her nephew get over his stuttering problems. While we don't have a full exploration of the legendary blues singer, we understand who she is and what she stood for, making her a great fleshed-out character even though the entire movie takes place in essentially one day.
Of course, I can't forget about Chadwick Boseman's Levee, who easily steals the show. Levee is a cocky young kid who has big dreams, but unfortunately, being a black man in 1927 is what holds him back. The fact that Chadwick Boseman was in so much pain during production and managed to put out such an incredible performance is astounding. He embodies the arrogant horn player with the confidence and swagger needed to pull off the role. The complexity of Levee's character is what truly carries the film, his entire monologue about God being s*** was simply incredible. The raw emotion from that scene was powerful. You feel Levee's anger and sadness despite him being the man that's trying to kill Cutler.
The thing is, Levee stabbing Toledo doesn't make him a deplorable human being. His actions are definitely deplorable, but his frustration and rage over being screwed over by the white man once again highlight the struggles that these black men and women had to deal with during that era. To rub salt on the wound, the promoter handing Levee's song over to a white singer reinforces the issue, and helps you understand Levee's actions even further. As I previously stated, Toledo didn't deserve to be stabbed because of Levee's frustration over society, but his mindset and the anger brewing within the young man showcase that his actions make sense. Though most of the film takes place inside of the studio, Black Bottom never feels small in scope. The film showcases a different set of personalities and classes during the 1920's era that makes the movie feel lively. Ma Rainey's Black Bottom showcases a fascinating side of black culture that's rarely seen, yet still tackling important themes on racism and class. The 2020 film is definitely one of the best Netflix exclusives and it deserves all the accolades it's received at the Oscars.
Tell us what's wrong with this post? How could we improve it? :)
Let us improve this post!