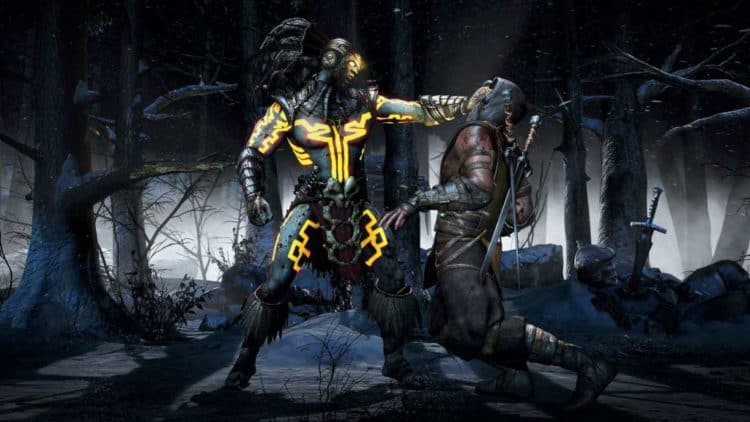 Mortal Kombat was the ultimate 90s video game. It had a great story and the best characters, of course. The original game spawned a couple of films produced that decade and plenty of fighting games–a total of 19. The most recent game was released in 2015, Mortal Kombat X. This game featured many returning elements and a number of new features as well. One of the most notable changes in this game is the ability for players to choose from multiple character variations. This allowed the characters to transform depending on the variations chosen. Out of so many amazing Mortal Kombat X characters, here are our five favorites–both old and new.
Scorpion
This is the same tortured soul that appeared in the original Mortal Kombat series. Hanzo Hasashi's character has always been a favorite (and a staple) since the original game came out. Hanzo and his family were all massacred by Scorpion's ultimate nemesis Sub Zero. When thinking of Mortal Kombat, it's easy to associate it with famous lines such as "Finish him!" and "Get over here!" Scorpion is popular for saying the latter, and he's famous for other things as well. He's well known for using his Kunai, the weapon that pulls his enemies closer to kill. In Mortal Kombat X, his character variations include three different fighting styles: the Ninjitsu, Hellfire, and Inferno.
Cassie Cage
Cassie is a new character in Mortal Kombat X, and she's a shoe-in for favorite given the fact that she's the daughter of Sonya Blade and Johnny Cage. She easily has some remnants of her parentage, but Cassie is a great fighter in her own right. She's also quite easy to play, so that makes her a favorite as well. She's extremely fast, agile, and has great combination attacks. Cassie has a selection of special moves in Mortal Kombat X. One of her character variations can perform the Single Shot, which is basically just a standard projectile. The next one is a Glow Kick, which is an anti-air attack you can tag on at the end of a combo. Lastly, you can do the Getaway Flip, which is simply a way to extend a combo.
Kano
https://www.youtube.com/watch?v=6qD0osHHpJQ
Some people may be shocked to see Australian fighter Kano on this list simply because he's not the best offensive fighter. However, Kano has one move that makes him capable of fighting against any other fighter on Mortal Kombat X. One of his standard moves is a great way to cancel attacks. The Kano Ball is similar to the infamous move of Street Fighter's Blanka. Use the Kano Ball to attack from a distance, or use it to empower a combo. Actually, this is the best way to fight with Kano, and practicing this technique can help you deal a great amount of damage to anyone. You can use Kano's special moves without jeopardizing your existing combo moves; the Kano Ball will only strengthen your combos.
Erron Black
Perhaps one of the coolest new characters on Mortal Kombat X, Erron Black has a completely unique and engaging play style. The Gunslinger is easily a candidate for a character staple in future Mortal Kombat installments. Of course, Erron's move centers around his guns and his skills for them. He's the loophole for Mortal Kombat's close-ranged fighting, especially since his guns are great at keeping enemies at bay. However, you have to learn how to use him properly to get the best effects. Build your distance and take advantage of MKX's character variations to use them to your advantage. The flexible Stand Off attack is one variation that transitions into plenty of other types of gunshot.
Goro
There's absolutely nothing like the raw power of Goro. The four-armed fighter was in the original Mortal Kombat as a big boss, and in Mortal Kombat X, Goro could be just as threatening. He has a Punch Walk technique to beat any fighter down. His other variation, the Stomp, can be a good way to catch your enemy off guard. Goro has limited agility no matter what he does, but he can still be just as effective if his power is used appropriately. He can deal tremendous amounts of damage, and you know this if ever you've come across him as an opponent before.