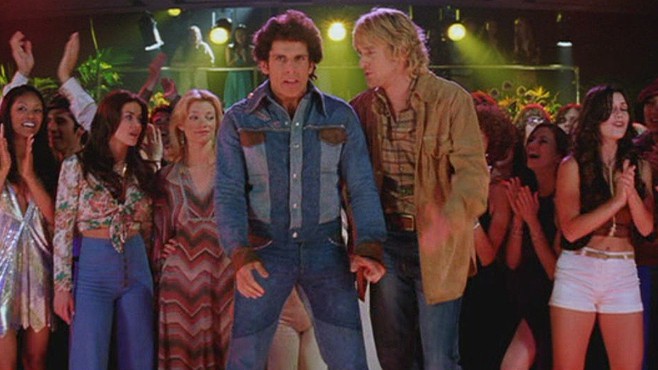 Some people would like to believe that disco never died but some folks are actually glad to see it gone. In the movies though it still serves a purpose since the memory of those that idolized such days are still quite long and the good time that was to be had by those that allowed themselves to get into the groove was seemingly endless. In this day and age however disco is something that a lot of people might snicker at and others might enjoy simply for the nostalgia. In some areas it's still widely considered a good time and a lot of fun for those that want to get decked out in the clothing of the times and just let themselves boogie. For the rest of us it's kind of an amusing thing to see since the dances of the time might have been considered to be widely popular and even a bit specialized in terms of how to do them, but there's no denying that in some instances it's better that disco went on its merry way.
Here are a few disco songs that found good use in the movies.
5. American Wedding – Song Medley
You can easily argue against this one not being disco at all but it was too much fun to just leave off the list since Stifler considers himself to be one of the most manly studs on the block. But when he unknowingly walks into a gay bar and begins to flirt with one of the patrons he starts to feel just wee bit uncomfortable. When the rest of the guys show up he's already realized that he walked into the wrong place, for him at least. But upon winning a dance-off with the big guy that seems to have a crush on him, Stifler won the respect of the crowd and even managed to procure the services of the dressmaker that Jim so badly needed for his fiance. See? Stifler was good for some things.
4. Mystery Men – Night Fever
The mere fact that a disco-themed gang was created just for this movie should tell you something about it from the start. Either Ben Stiller loves disco just a bit or he has an affinity for being in movies that utilize disco, but it's kind of obvious that this was going to be a screwball movie from the start. That being said it didn't really play itself up to be anything else and that was nice since it made the movie that much more enjoyable in a silly and cartoonish manner. But the disco gang was something you had to see to believe since they were essentially thugs with guns that refused to let disco die.
3. Starsky and Hutch – That's the Way I Like It
See what I said about Stiller and disco? This was the era in which people seemed to just pick up whatever dance moves they could and unveiled them on the dance floor in front of people that didn't dare laugh since if they couldn't do it then they would be called posers. However, despite all that, the fact that someone without any real athletic ability could become a dance floor superstar is something that seems to indicate that the disco era was for anyone other than those that had any real coordination. The classic idea of a dance-off is always a great deal of fun, but the fact that raises the esteem of either participant is simply hard to believe.
2. Disco Inferno – Kingpin
This song's actually used way better towards the end in the scene where Roy enters the tournament and tries to eat a piece of pizza of another bowler's hand and the song gets cut off, but this is just as good. This movie is fantastic, period and the use of any disco song at all just makes it all the better. P.S Woody Harrelson doing splits is amazingly rewatchable.
1. Wayne's World 2 – YMCA
YMCA has been a popular song for a long, long time now and it's been featured in a few different movies and TV shows that have made good use of it. In Wayne's World 2 however it was utilized more as a gag than anything since the guys were attempting to escape after being noticed by Cassandra and her new manager while they were spying on them. One thing you can't say about Wayne is that he's immune to jealousy, especially when he knows the other guy has more going for him.
Disco's not really dead, not if you believe everything goes in cycles.