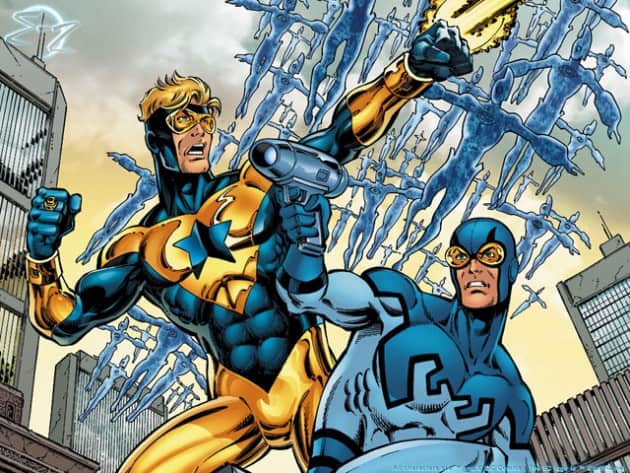 If you were around yesterday, we here at TVOvermind started a five-part feature about "Five Arrow and flash Spin-Off Miniseries We Want To See" with our first pitch being a Atom/Firestorm miniseries. Today's second pitch is for a Booster Gold and Blue Beetle team-up show, kick-started on either Arrow or The Flash, with a little different take as opposed to how that iconic duo is done in the DC Comics universe.
Pitch: Use Arrow and The Flash to introduce the characters Booster Gold, a futuristic superhero going back in time, and Jaimie Reyes, the second Blue Beetle*, to form one of DC Comics' most iconic duos, as the two take part in all sorts of sci-fi action.
(*) = Showrunner Marc Guggenheim confirmed last year at Comic-Con that they couldn't use Ted Kord, the first Blue Beetle and the one that Booster is famous for teaming up with, due to DC having other plans for him in other media.
Andy: This one is possibly tricky, but could actually have a chance of happening. Back in 2011, Greg Berlanti and Andrew Kreisberg (creators of Arrow and The Flash) were writing a pilot script for a Booster Gold TV show on SyFy, but as of May 2013, nothing has been said about that project and it's safe to say that it's dead at this point. However, the producers have spoken about the chances that we could see Booster pop up on Arrow or The Flash. While we can't get Kord (despite that Kord Industries exists in that universe), I think Jaimie Reyes would be a great substitute, and hey, he is a Blue Beetle. In addition, having that incarnation of Beetle would be a great addition of diversity, and he is also someone that could possibly be featured on Titans as well, depending on the whether or not that series will be a part of Arrow and The Flash's universe.
Blaise: Booster Gold and Blue Beetle are two extremely unique characters. I think that they could easily be introduced through The Flash and/or Arrow due to The Flash incorporating forms of time travel and Arrow having physically had Ted Kord on the show for a quick second. Despite the shows not being able to use Kord, Jaime Reyes is a great alternative that I think could still easily fit into the established universe nicely.
In my opinion, the fun thing that these two characters could bring to the table is the dynamic between them. In a way it could feel like The Flash but be darker like Arrow. If the heroes are cast around the same young adult age, Booster could act like this somewhat snide, laid-back, and know-it-all guy (similar to The Flash) because he's from the future and has advanced knowledge about technology and events, while the Blue Beetle would be similar to Oliver in personality because he is a growing hero that is new to danger and fighting villains. Booster Gold could sort of act like a mentor to a person the same age as him, and Beetle wouldn't enjoy it. I think that a show about these two could be lots of fun and feel like a weekly team-up episode of The Flash and Arrow. Seeing that Booster is from the future and has access to time travel, every once in a while they could pop into the future and create episodes similar to Doctor Who that include a really neat sci-fi aspect. While this wouldn't be an every week thing, it could be very fun to see some crazy future monsters, aliens, robots, etc. that the two would have to deal with.
Come back tomorrow as we will give our next spin-off suggestion, but in the mean time, let us know in the comments below what you think. Would you like to see a team-up show featuring Booster Gold and Blue Beetle?
[Photo via DC Comics]
Tell us what's wrong with this post? How could we improve it? :)
Let us improve this post!