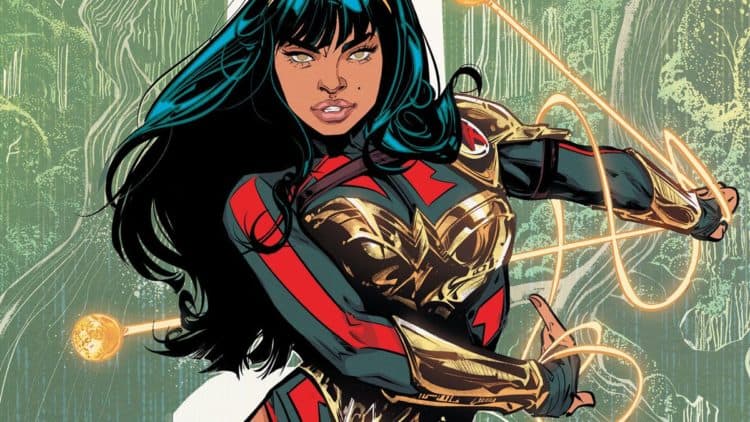 It feels as though Yara Flor is known well enough in the comics at this point, but getting her to become known in the movies and animated features might be a bigger task than people are realizing since if DC is bringing in new heroes it's going to take an effort to get people to stand behind them. But as a demigod from the Brazilian rainforest, it does feel as though Yara might have some ground to cover since being the next Wonder Woman-type hero is going to be something that will take some doing given that WW has been insanely popular over the years and has created a following that might not budge much if she's simply thrust into the spotlight for people to get used to. There's also the question of who would play her in a movie, as a voice acting role would be easier to figure out. But in a live-action movie, it's likely that things would become kind of difficult to predict simply because finding the right individual to play Yara might be a bit of a challenge that might need to be met before things could progress any further.
Here are a few suggestions that might make sense for the character of Yara Flor.
5. Selena Gomez
One would have to wonder if people want to see a well-known face or if they would prefer to see someone new in this role since the whole idea of bringing in someone new to the DC universe, new to many people at least, would likely need a familiar face. That's one line of thought at least and it's easy to think that putting in someone that's well-known would be a good idea since it might entice more people to actually watch. But whether or not Selena or anyone that's been known for a while would want this type of role is hard to say since a lot of people are still under the impression that a role in a comic book movie isn't the best way to go.
4. Diane Guerrero
To be fair this kind of role would be great for just about anyone that wants to get more exposure and it could even be something that might create a desire to bring whoever gets picked back for another movie. That has been the talk right now when it comes to comic book movies, bringing people back for one or two or even more appearances and full movies that will give them a chance to really shine. The downside is that they would be locked into a deal for so many movies and might find it tough to do anything else, but it's still a chance to really break into the big time and find a new level of stardom.
3. Victoria Justice
For those that have been in the business for a little while and still aren't that well known it might be a leg up to take on a role like this and become a media sensation. That of course depends heavily on how well the fans embrace the character of Yara and whether or not they really see her as a stand-in for WW since the truth is that trying to replace a hero is almost impossible. But trying to bring in someone that can help develop a new storyline that might one day coincide with the original story might be an idea. Along with many others, Victoria might be the type of individual that could make this happen.
2. Herizen Guardiola
Saying that many actresses aren't that well known might be kind of unfair, but Herizen and many others have done well for themselves, but have yet to make the kind of impact that will have everyone saying their name with a bit of reverence. This could change that to be certain since bringing in Yara Flor and making her into someone that stands for the same principles as Diana but does things in her own way would be kind of fun to see simply because it would be an attempt at creating a similar hero but with enough differences that she wouldn't be thought of as a replacement and instead would be looked at as another intriguing character.
1. Emily Rios
Picking Emily and the others out from a crowd wouldn't be the hard part when filling this role, it would be making certain that any of them can act the part and make it their own in a very distinct but desired way. While every actress on this list has obviously worked their way into the business the next logical step is to figure out where their limits lie and how they can push past them in order to do what is needed for this particular role. Looking the part is great, but being able to act the part is even better.
It could be an interesting development.