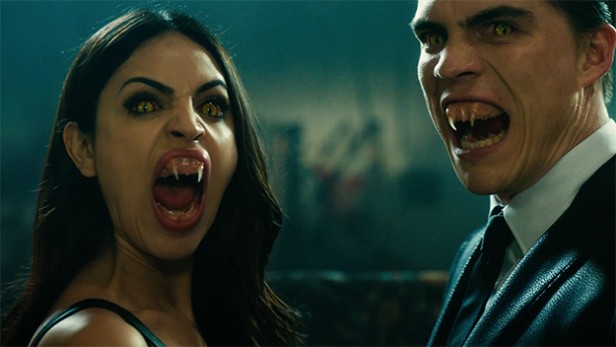 While it may not be the most watched show in the world, From Dusk Till Dawn: The Series has been a fun action romp since it premiered a couple of years back. The show's first season was, largely, an expanded adaptation of the Robert Rodriguez film of the same name, but the second season really kicked things up a notch as it greatly expanded the series' mythology while delivering strong action-oriented (and delightfully supernatural) episodes each week.
The series was renewed for a third season before the season 2 finale, and it's now been announced that From Dusk till Dawn's third season will premiere on Tuesday, September 6 on the El Rey Network.
In addition to the premiere date, El Rey has released the first trailer for the third season, which you can see below. In it, we witness the return of the lovable Gecko Brothers as a major evil prepares to wage war after all that the brothers have been up to since they emerged on the scene. The trailer is really playing up the horror elements of the series (something that is often placed on the backburner for From Dusk Till Dawn), and I'm very excited to see what happens when the show returns.
Take a look at the first trailer for season 3 of From Dusk Till Dawn: The Series!
[youtube https://www.youtube.com/watch?v=KtBblKJXsLQ?rel=0]
From Dusk Till Dawn: The Series returns for its third season on Tuesday, September 6 on the El Rey Network. Are you looking forward to the series' return? Let us know your thoughts on the trailer in the comments down below!
[Photo Credit: El Rey Network]