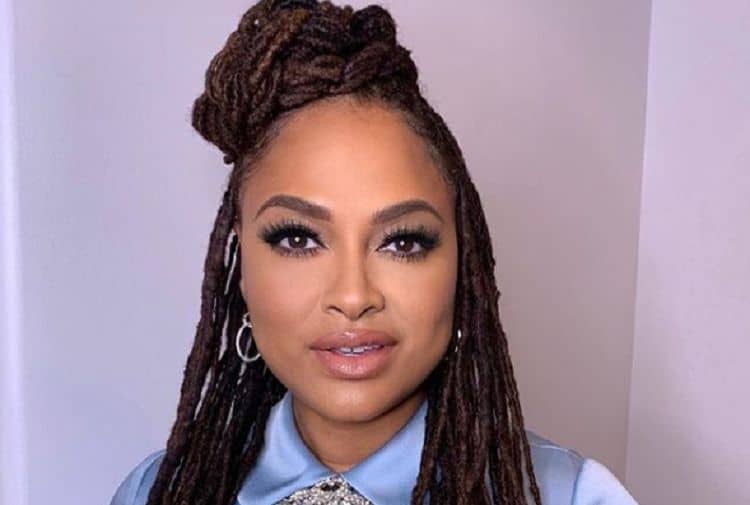 Director and filmmaker Ava DuVernay is a woman of many firsts: first woman of color to be nominated for a Golden Globe Award for Best Director, following the release of the 2014 historical drama film, Selma, the first woman of color to win a directing award at the 2012 Sundance Film Festival for the film Middle of Nowhere, starring Omari Hardwick and David Oyelowo, the first woman of color to have a Best Picture nomination at the Oscars, and the list goes on. Yet, for all her achievements and glass ceilings she's shattered in the world of making films, it is baffling to know that Ava did not pick up a camera until she was 32 years old. Not only is Ava a director and a producer, but, just like media mogul Tyler Perry, she has the ability to write, making her one of the few triple threats in the industry.
In an interview with Hello Sunshine's Reese Witherspoon, who recently upped her net worth by selling her production company, DuVernay revealed that her entry point into the film industry was through working behind-the-scenes as a publicist. " I was a publicist and I was on all kinds of sets. One day I was on a set, Michael Mann's set of a film called Collateral. There were a lot of people of color in the film, and they were shooting near where I grew up, and I thought, Gosh! I could be making this film. I love this story and I talk to these actors all the time…I have an idea about how that should go…" Hers was a gradual change from one career to the next. She's since done substantial work, producing films, television shows, and documentaries such as Essence Presents: Faith Through the Storm. Ava is a Primetime Emmy Award Winner, whose works keep stretching through her production company, Array.
The Sundance Film Festival
Run by Sundance Institute, the Sundance Film Festival was established in 1978 by John Earle and Sterling Van Wagenen. It has earned a reputation as one of the largest independent-run film festivals in the United States, and home to most, if not all independent filmmakers. At its inception, the festival featured films such as Mean Streets, starring Harvey Keitel and Robert De Niro, Midnight Cowboy, a drama based on a novel that bears the same name, and Sweet Smell of Success, featuring Tony Curtis, Susan Harrison, and Martin Milner. Through the years, the festival has birthed spin-offs in cities such as London and Hong Kong.
Middle of Nowhere, DuVernay's 2012 film starring Emayatzy Corinealdi, David Oyelowo, Omari Hardwick, and Lorraine Toussaint was written, directed and produced by DuVernay, and won the Directing Award at the Sundance Festival the same year. According to film critic Roger Ebert, who very much loved DuVernay's 2010 inaugural film I Will Follow, "Middle of Nowhere isn't a highly charged drama, as you might have gathered. Most of the action takes place within the mind of a lonely woman. That's why Corinealdi is so effective in the lead. Yes, she's beautiful, but this film isn't about her beauty. It's about Ruby's stubborn and undeserved loyalty to a husband who lacks anything like her strength. Even in the film's calm, gentle romantic scenes with Oyelowo, Corinealdi brings a grave dignity."
Paying Homage To The Sundance Film Festival
Before she ever got to be a winner at the Sundance Film Festival, DuVernay revealed through a tweet that she was rejected a couple of times. She tried for three different years to no avail. " It is what it is. Keep making your stuff. Stay focused on what you want to say and make it and keep going. You're okay, keep going." DuVernay tweeted. In a since-deleted Instagram post, DuVernay recounted her journey and credited the Sundance Film Festival for giving her the very first major nod she needed to catapult her career. At the Sundance Next Fest in 2017, DuVernay returned to the Sundance stage, this time interviewing a different director. DuVernay paired with Gook director Justin Chon to discuss filmmaking. She was impressed by Chon's representation of different parts of Los Angeles in the film and confessed that she went down a Google rabbit hole, obsessing over the maker of the film. DuVernay revealed that, at the beginning of her journey as a filmmaker, she wasn't too keen on the legal side of things, unlike Chon. Back in 2005, DuVernay set out to make a short film on a $6,000 budget. The 12-minute film was dubbed Saturday Night Life, and inspired by DuVernay's own mum. It was about a single mother's trip to a grocery store, a role brought to life by Melissa DeSousa. DeSousa, in the company of her three children, gave DuVernay a start that saw the film enter the festival circuit. In 2007, Saturday Night Life became part of Showtime's Black Filmmaker Showcase.
It's safe to say that DuVernay has left her $6000-budget days behind, given that most of her films have done well. Selma was produced on a $20 million-budget, and managed to gross $66.8 million at the box office. DuVernay's 2016 Netflix documentary 13th, and its companion, 13th: A Conversation with Oprah Winfrey and Ava DuVernay, were both produced on a budget that exceeded $1million. One of DuVernay's iconic works, When They See Us, based on the Central Park jogger case, was produced in collaboration with Harpo Films for Netflix, and executive produced by DuVernay, Oprah Winfrey, Robert De Niro, Jonathan King, Jeff Skoll Berry Welsh and Jane Rosenthal. DuVernay's 2018 film, A Wrinkle in Time, based on a novel by Madeleine L'Engle was produced on a $100 million budget and managed to gross $133 million in the box office. In addition to top grossing films, DuVernay continues to make waves on the small screen. Queen Sugar, based on a Natalie Baszile novel, returns for an all-new season on the Oprah Winfrey Network. Given the appointment of DuVernay's right-hand man, who she describes as a 'trusted partner for the past decade', Paul Garnes as president of Array Filmworks, there's definitely more in store from the DuVernay camp, and more that will make it to the Sundance Film Festival.
Tell us what's wrong with this post? How could we improve it? :)
Let us improve this post!