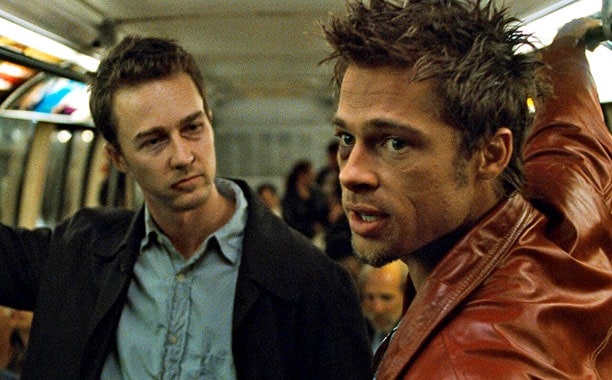 David Fincher's "Fight Club" film adaptation of Chuck Palahniuk's original book from 1996 was a huge hit in the box office and to this day still has a cult following, thankfully not as ruthless as the cult actions displayed in the book and film. While the book was released in 1996 and a movie followed not too long after in 1999, not that long ago Palahniuk also released the second and third installments of the franchise as well. However, movie and traditional book fans may not have heard of such sequels as they were printed in the form of graphic novels under Dark Horse Comics. Below, we've gone into detail on the history and impact of the "Fight Club" film and book, as well as what exactly the other two graphic novel sequels of "Fight Club" are and why most fans of the original works had no idea of their existence.
The Original Book
The original work of "Fight Club", by Chuck Palahniuk, was such a hit that within 3 years of the book's release the "Fight Club" movie starring Edward Norton and Brad Pitt, and others that we've discussed below as well that made the movie monumental in so many ways. Chuck Palahniuk's "Fight Club" received two awards for its interesting perspectives and storyline, as well as its characters among other things in 1997, one of which was the "Oregon Book Award for Best Novel". The original "Fight Club" novel must have been influential to some extent in order to spawn not only a movie but two graphic novels which made the series not only leave the page for a film but also a return to the page for more expansive literature. Overall, between the movie and the original book, nothing really compared to the writing of Palahniuk for the original book. Almost two decades later the original writer behind the pen again told a more expansive story of "Fight Club" and its characters, also in a future state as the first graphic novel picks up ten years after the original events.
Fight Club Movie
As stated above, the "Fight Club" movie featured a great cast outside of the two most promoted actors that truly helped bring the movie to life and speak for many parts of the book that were certainly not the easiest to translate to screen well. "Fight Club" starred Edward Norton and Brad Pitt as the characters we see the most throughout the movie as it followed their actions most. Other notable actors featured in "Fight Club" were Jared Leto, Helena Bonham Carter, and even Meat Loaf. During the course of the movie, we see the strange disconnect between the two characters but also the underlying themes, elements, and more that bind them to each other. Overall, it truly is hard to talk about "Fight Club" without talking about "Fight Club" or spoiling "Fight Club", or its sequels in this situation.
Fight Club 2
Fight Club 2 was the first sequel related to the Fight Club series, however unlike the original book, "Fight Club 2" and "Fight Club 3" are graphic novels, thus combining the world of text and visuals that normally wouldn't be able to be shown due to limitation with just text versus being associated with a visual. As with traditional graphic novels released by companies such as DC Comics, Marvel, or Dark Horse that are filled with previously released individual issues released at earlier dates, "Fight Club 2" was also originally released this way before being released in a single binding simply titled "Fight Club 2". "Fight Club 2" being the first graphic novel takes place after the events of the first "Fight Club" book, but I should note that while you can read "Fight Club 2" even if you've only seen the movie and not the book, there will be a slight difference in events that the book portrayed differently one way or another.
Fight Club 3
As stated above "Fight Club 3", as well as "Fight Club 2", are graphic novels versus the traditional book-to-movie rendition. Personally, "Fight Club" has always been one of my favorite books and films so to get the series and overall story of Tyler Durden to be continued with a graphic novel treatment was much more than a treat and as I haven't been able to read either graphic novel since I haven't been able to acquire the second title, it's not as easy to dive into these entries. Overall, while I'm sure any fan that would be considered a die-hard fan should enjoy these graphic novels, traditional book fans may not be too interested in these new entries. Between the near two-decade window between "Fight Club" as a book and the first graphic novel adaptation, it may not be a surprise that "Fight Club" has two sequels you probably haven't heard about.