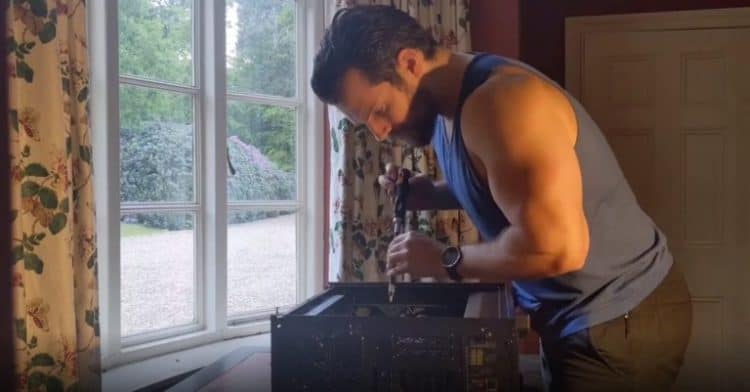 Realistically it's likely that those that have built their own gaming PC know what Henry Cavill is going through in this clip and are laughing hysterically because of it. Those of us that buy our computers fully assembled don't know this struggle, but some folks are obviously very particular about their systems and want to know what they're putting into their gaming PC and want to experience it on their own. Personally, that sounds more time-consuming than a lot of people might want, but it's a passion of some folks and it can't really be knocked all that much since there is a certain amount of pride in putting something together and doing the work. There is that feeling a person gets that makes it theirs when they fit the pieces together that can't be fully described but is a lot of fun anyway since it allows a person to puff up their chest a little when, much later on, they're asked if they put it all together or if they had someone do it for them. But make no mistake, it does take a bit of work to get there, and everything obviously has to be in the right place, or the system isn't going to work as one wants it to. But huh boy, placing one part the wrong way looks like it could be a massive headache, but if a person wants everything to work the way it's supposed to then it's important to make sure everything is in the right place so that it can function.
Let it never be said that Henry Cavill is a quitter since he did soldier through and made it happen, putting the PC together in an attempt to get down to some serious gaming. It's fun to think that a big-time actor like this does take some time out to do something that a lot of people happen to enjoy, though if people were aware of how many actors actually enjoy gaming they'd be pleasantly surprised. From Jack Black to Mila Kunis to Samuel L. Jackson, there are plenty of actors that enjoy gaming, and while some aren't what could be called hardcore gamers, a lot of them have their favorite titles and take the time to grab a controller or sit at a keyboard and enjoy themselves now and again. It kind of makes a person feel that they might have something in common with the Hollywood elite at that point, and they'd be right since despite being paid millions of dollars to take on the persona of one person or another, celebrities are still very human and have their likes and dislikes. Obviously the length of time that it took to put this PC together wasn't a particular like of Cavill's, but it's also evident that he was more than ready to get to gaming when all was said and done.
Just trying to think of what it's like to go through those instruction manuals and follow everything to a tee is frustrating, so knowing that he actually had to go through it before he could get to World of Warcraft, his apparent favorite game, or one of them, is a bit maddening. It does feel as though he might have had to take a break now and then just to make sure that he didn't break something by mistake. But he did keep a cool head it looks like since some people might consider saying the hell with it after a while before walking away for a while. Seriously, it looks as though it might be that frustrating and that mind-numbing, as the looks on Cavill's face make it clear that he wasn't really planning on everything to be so complicated. But when putting together your own PC it's very likely that a person walks into the project thinking that it's going to be something that will take a while. Of course, the idea is that when you're done, it's going to be worth it and you'll get to have hours of fun with the PC that you created. But oh, the road to get to that point does look a bit long since like it or not, everything has to fit together just right. This could be why this is for the more hardcore gamers more than anyone, as they know just what they want in their systems and what it takes to get it.
Some of us are happy enough with the PC's we have, or the game consoles that don't have all the fancy upgrades, but again, the hardcore gamers among us are often those that want the added experience that can lead to their further enjoyment. Some of us might not fully understand it, but it's easy to get the idea of what building your own PC might be like.