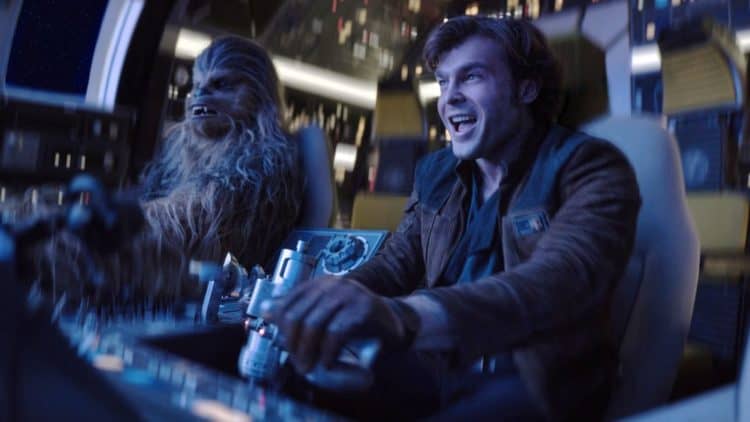 After blasting the first Solo movie without mercy it's amazing that fans are pushing for a second one now. Well, no it's not really, because after so many years of hating on the Star Wars prequels fans took a look at The Force Awakens and The Last Jedi and figured that the prequels were okay, so maybe following the Rise of Skywalker they started to figure that Solo wasn't so bad after all. This is where the Star Wars fanbase really starts to break down into a seething cauldron of opinion that churns whichever way the majority wants. It sounds almost conspiratorial, and to be honest it would be easier if it were, but public opinion when it comes to Star Wars is a messy thing that rarely sits still and doesn't often settle on one stance as the mood of the fanbase shifts more than the story does. The first Solo movie wasn't good, there's no other way to say, and it's largely due to the same reason that the last three entries of the Skywalker saga weren't that great either, either because there was no plan or, as some people are finally starting to admit, Disney was foolish to claim that the Legends canon was no longer canon, and that they would be doing their own thing. Someone forgot to tell the people at the Mouse House that you can definitely do your own thing while sticking with the source material that's already there. As to those that have been harping on the idea that the Legends canon is full of plot holes and lacks continuity, it's easy to laugh and gesture at the movies that have come out in recent years. One doesn't even have to speak to get the point across, as a gesture and a laugh will do just fine.
That's why hoping for another Solo movie is an amazing request at the very best sine the first movie was a walking, talking dumpster fire that had a few good moments and little else. Plus, unless Han was talking about a different job for Jabba the Hutt, it almost sounded as though he and Chewbacca were headed off to meet up with fate as they raced towards Tatooine and A New Hope. It's true that there's plenty of time between the Solo movie and A New Hope that could see Han and Chewie take on another adventure or two, but the second thing to think about is what in the world would Disney think up next, and would it even be worth the price of a ticket. A lot of people are still willing to argue that Disney has manhandled Star Wars in such a big way that any chance of recovery or getting on the right track is going to have to come from Disney+ where The Mandalorian has been tearing it up. With The Book of Boba Fett and several other shows coming along as well, it's fair to say that the TV shows are doing what the end of the Skywalker Saga couldn't, they're getting people back into the swing of things with Star Wars and they're granting hope to the fans that wanted to see something amazing with the trilogy. Even the fact that Luke Skywalker and Ahsoka Tano were both only in The Mandalorian for a single episode each made fans sit up and pay attention since it meant that someone had been listening and knew what the fans wanted finally, and wasn't going to tease them with a false hope.
The fact that Han Solo is one of the most iconic characters in the franchise, as is Chewbacca, makes a great argument to bring this idea back to the big screen. But what Disney hopefully understands by now is that by playing around with this franchise they're only hurting themselves no matter what the box office says. When it comes to Han Solo the movie has to be something that's both dynamic and well thought out, and seriously, the first movie wasn't much of either since it felt like a hodgepodge of action and quick-witted one-liners that didn't do much of anything to bring any cohesion to the story. It's always possible to bring back a story, but the fact remains that someone is going to need to do a lot of quick thinking and damage control when it comes to Solo 2. If Disney is ready to stop being stubborn and admit that it's been cherry-picking the Legends stories to bits then it might be time to actually pull from them in a much bigger way and bring some of the stories that are actually worth something into play. Taking Han back to Corellia, his homeworld, would be one idea that they might want to use, since there's an entire trilogy worth of material there. We'll have to see how things go though.