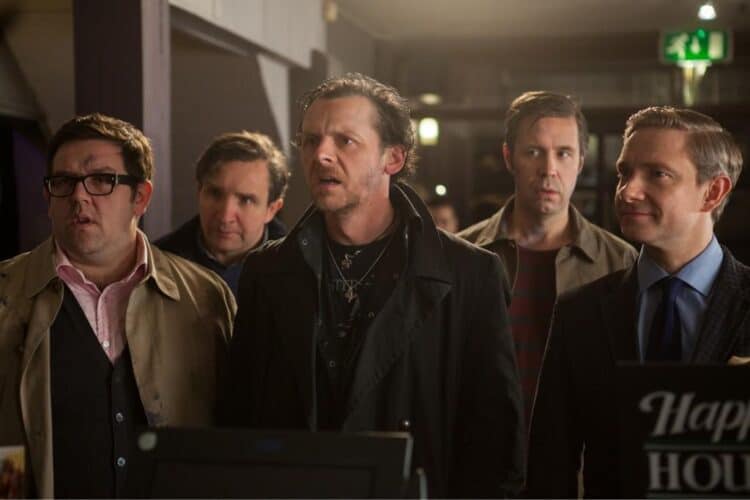 As one part of the Cornetto Trilogy, The World's End is one of the movies that some people think is great and others might think is kind of silly. That's honestly the general feeling that the three movies that make up this trilogy receive more often than not since they are kind of goofy, not to mention far out in their premises. But that's also a part of what makes them so popular since each movie manages to utilize that strange sense of humor in a way that people tend to enjoy. But there are plenty of questions concerning why certain events happened in these movies, especially when it comes to how the stories get started. In The World's End, there's no doubt that many people focus heavily on Gary King and the story that's set up between Gary King and his old friends, who want nothing to do with his antics any longer since they parted ways years before, and for good reason. Gary King is actually one of the more despicable, yet pitiful characters that Simon Pegg has ever played, and while he and the rest of the cast make the movie what it is, there is one question that kind of stands out. How in the world did the Network take over so quickly without anyone knowing?
There are bound to be many people who will gladly explain how and why this could happen since the installation of the Network and their simulants was simply meant to be accepted initially, while the truth of their existence and the Network's scheme would be revealed later. But even in a small town like Newton Haven, it feels unlikely that the Network would be able to move this quickly and not expect anyone to suspect anything. Granted, technology was a great distraction as it continued to expand, but it still doesn't fully explain the sudden change that would come over various people in such a short amount of time. People don't change that quickly to be fair.
But there is an explanation for this, and while it's kind of simplistic, it still fits with the sense of humor that goes along with the movie: the people of Newton Haven weren't exactly that bright. That sounds a little mean no doubt, but it also explains a few things. It's mentioned by one of the friends that Newton Haven isn't the hub of anything, indicating that the place isn't exactly a mecca of knowledge, entertainment, or much of anything, making it sound like a very simple place that didn't have any aspirations to be anything else. Again, that's kind of dismissive, but this is taken from the viewpoint of men that were apparently ready to get out of Newton Haven years ago and never look back. Andy, played by Nick Frost, even professes to hate the town at one point. This makes it kind of clear that Newton Haven is the type of place that one gets away from at one point, or finds themselves stuck in for many years to come. As a lethargic town stuck in neutral, Newton Haven would have been a tempting target for the Network.
The alien force was attempting to make things better but strangely made things stranger and worse. Yet, no one would have known about it since the folks of Newton Haven didn't see any issue with it, or didn't feel that they could do anything about it. The point is that Newton Haven went with little to no struggle when it came to their assimilation. There were bound to be those that didn't think much of the change and those that weren't going to fight for any reason, but this only made it easier for the Network to keep setting up shop and make everyone think that things were on the up and up. This serious lack of awareness is definitely a message that many people would take from the movie since it goes to show the kind of impact that technology is having upon humanity, even if the humor in the movie managed to dull the edges of such a message. That was a wise move since it allowed the movie to be far more entertaining and less preachy, which is why the movie is still memorable.
To think that the switch was going to go completely unnoticed is ridiculous since of course, a few people did. But the fact remains that the majority of Newton Haven was replaced by simulants that went on as though nothing had happened. The realization that this could happen to an entire town and no one would say anything makes it clear that this village was a rather lackadaisical place and didn't have the kind of energy that would be needed to take note of an alien invasion, and had even less inclination to fight back.
the Network