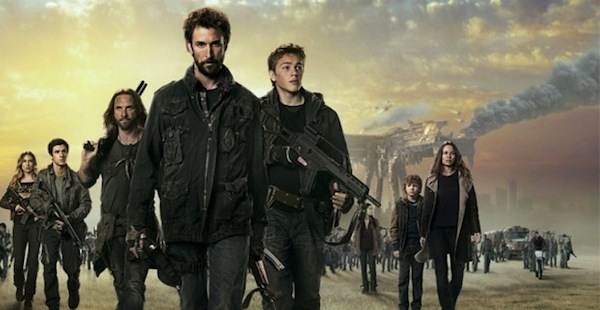 After spending the last several months mulling and anticipating the Falling Skies season 2 premiere, I finally got a look at the two-part debut including the episodes "World's Apart" and "Shall We Gather at the River". Result: I'm stunned. Since the creative team had little or no opportunity to course correct based on viewer feedback in season one, I sort of anticipated season 2 of Falling Skies would be a reboot in many ways, but I never expected the magnitude of improvements I've just witnessed. Falling Skies has set the standard for prime-time action and Science Fiction and delivered an opening act that finally fulfills the promise of a blockbuster level experience on the small screen. That said, the transition from season one is not nearly as jarring as you might expect. I definitely felt I was in a new world, and the Falling Skies' technical improvements were apparent from the beginning, but season one does not suffer as a result. This is a fluidly executed transition to a new narrative that will quite simply, pardon the cliche, blow you away. Here's a few points that stuck out to me:
World Building
Where season one sometimes felt confined with sets like The School, season two of Falling Skies has a much broader scope and offers a more 'left behind' feel to the locales. Furthermore, the resistance camps feel like refugee camps now, with creature comforts at a minimum and an air of constant tension. The survivors are now living with the stress of occupation, and you can see its toll in every facet of daily life. Better yet, you can see and practically feel how this world penetrates the psyches of the characters, and informs their dialogue and interactions. It's darker, for sure, but it is also more textured than the world of season one.
Cinematics
The difference between season one and season two in terms of production quality and style are vast. Season one looked great, but Falling Skies season two brings an attention to detail in set design and cinematography that just didn't exist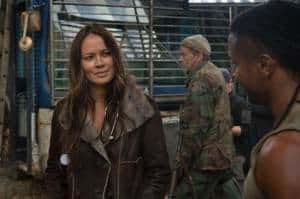 the first time around. Where season one delivered the adequate, Falling Skies season two brings a technical authority to the screen that is breath taking. I'd watch this on the big screen and never suspect it was meant for television.
Character Development
Everyone has hardened a bit here, but there is also an improved sense of realism. Some of the biggest changes are evident in Ben, who has gone from the skittish survivor of season one to a hardened warrior, and Ann (Moon Bloodgood) who has now honed her skills to those of a very qualified combat medic, but has become more withdrawn emotionally. All of the characters exist in a sort of shell-shocked haze, their psychologies bristling with battlefield idiosyncrasies, with even the most adapted–Pope, Weaver–becoming somewhat mechanized, as if they are burying themselves in the never-ending rigors of combat yet allowing grudging flashes of humanity to ooze around the cracks in their armor.
The Action
Make no mistake about it, when TNT says the war is on, it is on. The level of intensity in the combat scenes are in the class of the greatest war films in history. I don't know what the production team went through to research this stuff, but I hope they didn't develop PTSD in the process, because this is seriously grungy, graphic, and scary stuff. No more scrambling at the site of Mechs, now the resistance fighters bring them down with kill shots that will make you want to shake a fist in the air. When a skitter goes down in a hail of gunfire, the air fills with the mist of cootie blood. Pope's aphorism from the opening battle scene sums it all up "When life gives you lemons, blow its freaking head off."
The Story
I don't want to give away anything here, obviously, but suffice to say the things that most people weren't interested in are more muted here. The parts that were the most interesting, are amplified. Most of the misses are infused with new angles to sure them up, and the totally new material in the myth-arc is as fascinating as it is mysterious and feels more infused with purpose. This season, Falling Skies isn't playing around trying to find the magic riff, it's playing grade a Rock'n Roll from the first chord struck.
I not only give Falling Skies an enthusiastic A+, I consider it a show that has graduated from having great potential to being must watch TV.
For more on Falling Skies check out our Exclusive Interview with Jessy Schram and our guide to Six Reasons Falling Skies Season 2 Will Rock.