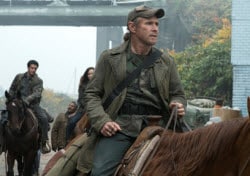 The past three seasons of falling skies have been rife with calculated risk taking and pure dumb ass luck. It seems that our beloved ragtag band of characters seems to live on the hopes and prayers of the collective group. How else could one explain the long string of near misses and the reason that advanced alien technology cannot seem to overcome the indomitable spirit of the free man?
This week in tonights episode "Be Silent and Come Out" almost no time was wasted in getting the ball rolling for poor old Tom Mason. If he's not being hunted by alien invaders, he's fighting to keep his family not only together, but alive! The reality that his half—alien child and wife have been captured by the enemy as well as the realization that the mole has been his own son hit hard , and in the first five minutes of the episode. I have to give the writers credit where credit is due; they don't waste time into getting the audience where they need to be.
The prevalent theme of tonight's episode is calculated risk. Throughout the episode our dear friends of the Second Mass are forced to either take or face calculated risks. This creates tension that was definitely palpable which draws not only draws the audience in, but forces us to ask the hard questions about how much we would we give up, and how far we would go to do what's right.
The episode tonight was decorated with odds and long shots with the only sure thing in sight being whatever choice one makes, it won't be easy. The first of which was when Hal decides to take his own father to Karen, the alien infected human controlling him, only to have his plan halted by his girlfriend Maggie and a machine gun. It makes sense, history has shown that some of Americas most prolific criminals were undone by their significant others, let's all remember Dillinger.
So with Hal forced into a hostage situation with his father as a hostage, tensions are quickly escalating. Although everyone is pretty clear that this behavior is not very "Hal-Like" resentment is rearing its ugly head especially among the Berserkers. To prevent the countermeasures being taken to secure Tom Mason's safety from taking Hal's life, the remaining Mason boys plus Maggie make the decision that it's worth the risk of their safety to try and reach Hal face to face. While they accomplish their task by distracting Hal, then physically restraining him, It certainly bears the question was it worth it? Was it worth Matt or Ben's life or Maggie? In the case of Maggie, she has made it clear that indeed loves Hal, however some would say her skill set is far too valuable to the group to be taking risks like that.
In case you weren't getting the idea, the writers saw fit to make it clear what was at stake here by giving us Pope at "The Nest" (The local watering hole) taking bets and who lives and who dies and the outcome of the potential survivors. Once again the Falling Skies writing staff doing their part to leave no viewer behind (A good idea since they just got renewed for a fourth season) This becomes problematic when Weaver stops in for a drink after facing one of the aforementioned hard questions about whether or not he would give the order to kill his best friends son to save his best friends life. (A question I suspect we will get the answer to sooner or later) Weaver warns Pope about repercussions if anyone tries to "affect the odds on that board, one way or another." A warning Pope does not take lightly and dispatches Lyle to make sure no "Funny Business" goes on.
As we know on Falling Skies nobody rides for free. Everyone eventually has to decide where to draw the line for themselves and in the case of Tom Mason, for their loved ones. In the case of Tom he has a potential way to remove the Espheni control device, but if the device is not there his son will die. With no way to verify it's presence he decides it is worth Hal's life to try and remove the device if it is there, Once again the gamble pays off and Has recovers nicely.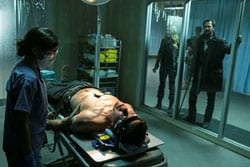 The episode ends with the Masons (All of them) mounted and heading off to mount a rescue of Ann Glass and their half-alien infant. This gamble has perhaps the longest odds of all. As much as we've seen the Masons survive, let's hope there's enough luck left for one more suicidal rescue attempt
This episode was a very solid one. Throughout the episode various characters are forced to re evaluate their own value and belief systems. This contributed greatly to the character development of what are already very rich characters. From the most intense moment during the hostage situation to the moments when Tom was recounting the missed La Crosse games and the belief that Hal's mother had of him becoming a pilot. We see these characters still growing and evolving. That's how the writers keep us coming back week after week. We not only want to see how this invasion turns out, but we want to know what becomes of these people. Episodes like tonights remind us of this.