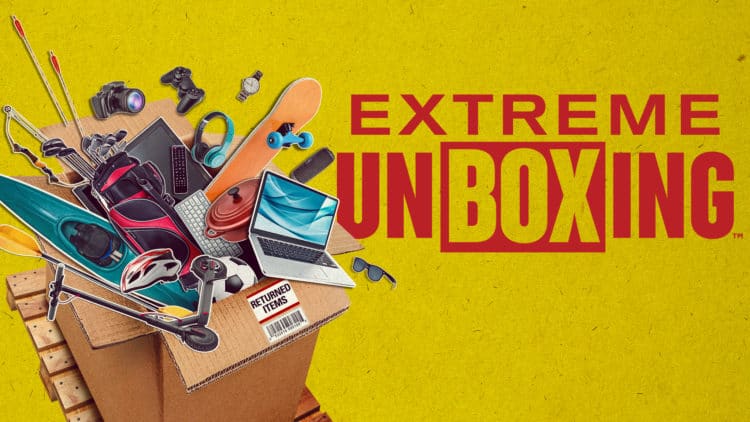 If you think that opening presents is one of those things that's only exciting when you do it, you've probably never watched an unboxing video. These videos simply consist of people recording themselves opening things they've purchased. Unboxing videos have become extremely popular online and the trend has officially made it to TV. A&E's new series, Extreme Unboxing, features people who order inexpensive items online and open the boxes with the hope that what's inside will make them some serious money. Not only will the show be full of surprises, but you also might feel inspired to become an unboxer yourself. Keep reading for 10 things you didn't know about Extreme Unboxing.
1. You'll Learn Some Cool Stuff About Reselling Items
Most people don't know that there's a whole market out there for buying returned items and reselling them for a profit. By watching Extreme Unboxing, you'll learn all about this world and then some. Most viewers will be in for a real treat when they discover how the process works and just how much money can be made by selling things that many would consider junk.
2. The Show Will Features People From All Over The Country
On a show like this, it's always nice to get as many different perspectives as possible. Extreme Unboxing features a diverse cast of people from all over the United States. Even though they all work in the industry, viewers get a chance to see how things work in different markets.
3. Anything Could Be In The Boxes
One of the best things about the show is the element of surprise. In most cases, cast members order pallets full of returned items from various stores and they don't always know what's inside. Unfortunately, not all of the surprises are good ones and there may be times where what's in the box isn't something that can easily be resold.
4. The Boxes Come In All Sizes
Not only do the cast members not always know what's inside the boxes, but the boxes themselves can add to the element of surprise. While some boxes may be very small, others can be massive. But if there's one thing viewers will learn from watching Extreme Unboxing, it's that you can't assume how valuable an item might be just because of the box it came in.
5. Unboxing Can Be a Full-Time Job
When most people hear of unboxing, they probably assume that it's just a hobby that some people enjoy doing for some side money. While that is how it starts for a lot of people, there are plenty of people who turn it into a full-time job. Many cast members on Extreme Unboxers make their living by reselling items.
6. There Isn't Always A Happy Ending
In the unboxing world, the goal is always to make a profit by reselling the items you've purchased. Unfortunately, however, that isn't always possible. Sometimes one man's trash really is trash, and the cast members will have to navigate situations where they're unable to sell some of their items.
7. There Are Different Ways To Resell
Using the internet is the most common way to resell items, and that's what all of the cast members do with one exception. Bobby and Salena Follett of Greece, New York actually have a physical store where they sell their items. This was appealing to the casting team because they wanted to make sure they showed unboxing from different angles.
8. Many People On The Show Are YouTubers
Although Extreme Unboxing is the first TV show of its kind, it's definitely not the first time content like this is being created. In fact, some of the unboxers featured on the show, like Water Blake Knoblock, have already been doing their thing on YouTube. His channel currently has over 83,000 followers.
9. A&E Reached Out To Some Cast Members Directly
We were unable to find a casting call for the show, but it looks like at least some of the cast members were found by the casting team and reached out to directly. That was definitely the case for Walter. The show's creators found his YouTube channel and got in contact with him to ask if he'd be interested in doing the show.
10. The Show Will Make You Miss Storage Wars
When Storage Wars went off the air in 2019, it left a big void for many people. Extreme Unboxing is one of two shows that A&E recently debuted which the network hopes will fill that void. If you were a fan of Storage Wars, this show will definitely give you similar vibes.
Tell us what's wrong with this post? How could we improve it? :)
Let us improve this post!