For those of you who don't know, today is the 23rd anniversary of the death of Kurt Cobain. While much of the internet is spending time creating tributes to the late Nirvana singer, the topic of how Cobain died always seems to surface. It's widely accepted that Kurt Cobain died of suicide but there's always someone out there with a conspiracy theory who is trying to stir the pot. Apparently there is "new evidence" to suggest that Cobain was murdered and did not in fact commit suicide.
According to the Mail Online, in a scene in the film Heidi Harralson, a forensic document examiner, explains:
"[The sheet contains] letter combinations of specific letters that are found in the bottom portion of the suicide note. It is possible that someone else with some skill could indeed imitate his writing, especially those last few lines." "Carole Chaski, a forensic linguist, adds to the theory by pointing out that the top portion of the long note appears to be written in completely different handwriting and a different linguistic style to the bottom four lines." Tom Grant, the private detective who was interviewed for Soaked In Bleach, has argued that the letter reads more like a note announcing Cobain is leaving his wife and retiring from the music business, rather than a farewell to life. He claims the final few lines at the bottom, which read much like you might expect from a stereotypical suicide note, were added later by an unknown individual. via UNILAD
Here's the piece of paper they are referring to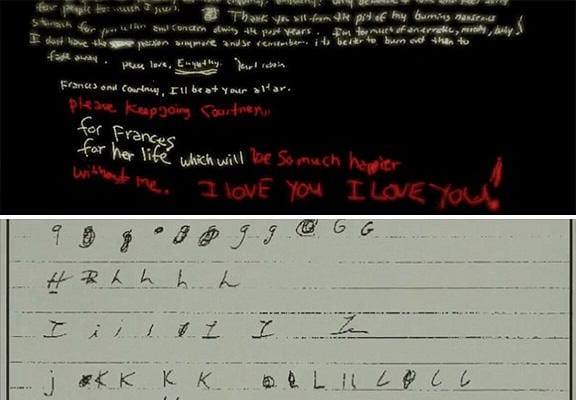 I haven't seen the documentary myself but I don't think I'm buying this at all. No chance Courtney Love had anything to do with Cobain's death. She didn't help matters with her drug use and not trying to stop Kurt's drug use but his death is certainly not her fault. I think these "experts" are reaching but who knows what kind of Pandora's box this is going to open.