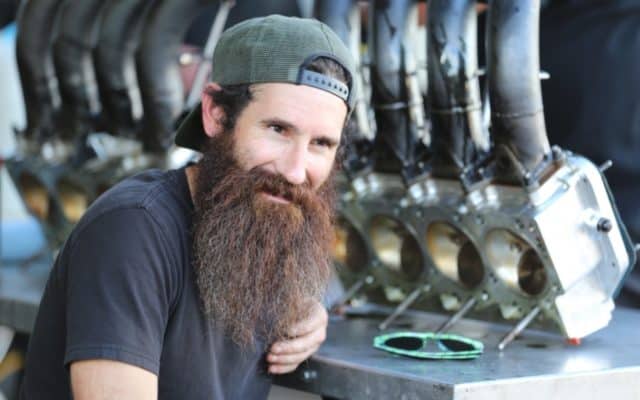 Fans of "Fast N' Loud" will be happy to hear that the former mechanic of the Gas Monkey Garage, Aaron Kaufman will be back on the Discovery Network, except he's not returning as an employee. He's coming back as the boss of his own operation and we'll see him in his new reality television series "Shifting Gears with Aaron Kaufman." We checked into the new show and this is what you can expect.
He's coming back on his own terms
Kaufman shared that it has been a big dream of his to work on a few different builds and concepts of his own. Until recently, he simply couldn't find the time in his busy schedule. Now he's following his dream and he's taken the steps to help turn them into a reality, and we get to see him do it. Expect to see him in action like never before. This time, he's calling the shots. We'll get a good look into how Aaron thinks it should be done.
Aaron is going to stretch his wings
In some ways, it's a little easier when you're working for someone else. If there is an epic failure, it's probably because the project wasn't well-thought out, or it wasn't feasible to begin with. The blame will all fall on Aaron if things don't go as planned. Expect to see him working on some big projects that are on the outer rim of his personal comfort zone. This is part of what is so exciting about the new show. If he can't manage to bring the project to full fruition, he's ready willing and able totally destroy it.
Harsh testing
Aaron has also made the promise that each built is going to be subjected to testing under the most harsh conditions imaginable. If the work doesn't hold up, then the project will be an epic fail. Aaron seems to be confident in his abilities so we believe that if this does happen, it will be a rare occurrence.
Who are we going to see on the show?
The cast of the new show will be Aaron's team of workers sat his Arclight Fabrication shop, located in Dallas, Texas. You're going to see Jonathan Mansour, Jeremy Webster, Jason Bowman, Jonathan Rodriques, Josh Freeman, and of course, Aaron Kaufman himself.
The content
We're looking forward to watching Kaufman's builds tearing up the desert at high speeds. We'll see his builds rolling over the most horrendous terrains and running through a variety of temperature extremes. Not only will we get to watch the creative process, we'll also get to watch the testing runs and see what actually happens instead of just hearing about it. We'll see the build some Ultra4 trucks which are built from International Scouts in preparation for the King of Hammers, which is a grueling one day race that is conducted off the road.
When does it begin?
You can catch the firsts episode on Monday, March 5th, at 10/9 central time on the Discovery Channel. You can also view the show on the Discovery Go app. 2018 is going to be a good year for off the road racing fans, and for anyone who loves seeing how these cool builds are made, and what they're capable of taking.