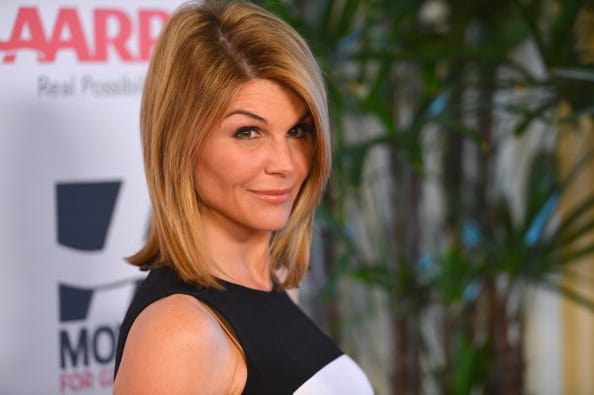 The beautiful and charismatic Lori Loughlin took a few minutes out of her busy schedule to talk about her upcoming guest appearance on the ABC comedy The Neighbors. Loughlin is currently starring on the new drama When Calls the Heart on The Hallmark Channel and enlightened us on the premise and her role. Loughlin even answered some questions about the show that made her a household name: Full House. Here is what she had to say:
TV Overmind: Hi Lori! You are guest starring on this Friday's episode of The Neighbors. What can you tell us about the character Tina that you will be playing?
Lori Loughlin: Tina [is] Jaime Gertz's nemesis from high school. She is showing up at the reunion because she wants to show everyone how fabulous her life is. She is there to find Jami's character and let her know that Tina has done very well. She is one of those women showing up with a real agenda.
TO: Mark McGrath will also be on the show.
LL: It was a nice surprise. I have known Mark for a long time. He is an old acquaintance of my husband.
TO: Do you share any scenes with him in this episode?
LL: No, all my work was with Jami, which was a tremendous amount of fun because she and I are old friends. We have known each other for so long. It was a blast working with her. Also, Scott Weinger, who wrote the episode, used to be on Full House. He played the character of Steve. He wrote the episode with me in mind.
TO: Were you two able to catch up on set?
LL: We sat all day on set. We chatted and laughed about old times. He's married and has a child.
TO: So it was kind of like a reunion with all your old friends?
LL: My own mini high school reunion.
TO: Are viewers in store for any 80's flashback?
LL: There is definitely some 80's attire.
TO: Your last few television roles have been more dramatic. How was it getting back into the comedy side of acting?
LL: I love comedy. I think comedy is really where my heart is. It was fun for me to step back in and take a swing at a comedic role. I am currently working on a series for the Hallmark Channel. It is a one hour drama, but I even try to infuse that lightheartedness into that role. I think that is the great balance of life. There is drama and there is comedy and it is all wrapped up into everyday life.
TO: The show you just mentioned is called When Calls the Heart. Can you tell us about the premise of the show and your role?
LL: The series is based on a series of books by Janette Oke. Our executive producer is Michael Landon Jr. and he directed the first episode. He optioned to turn the books into a series. It is about a young woman who comes from an affluent family on the East coast who moves out West to be a school teacher. She moves to a coal mining town. It is the fish out of water story. My character is Abigail Stanton. She has just suffered a terrible loss. There was a mining accident. She lost her husband and son. If I could sum it up in one sentence, I would describe it as Little House on the Prairie meets a romance novel.
TO: It reminded me a lot of Dr. Quinn Medicine Woman.
LL: Ah yes, I think it has a little bit of all of that. There hasn't been a show like this on the air in quite some time. So I think the timing is right. And, I also like that Hallmark has it programmed on Saturday night because I think that's good soil that nobody is planting in right now.
TO: What is one interesting fact you can share about coal mining that you now know from working on the show?
LL: I learned that when the men would come home at night, the women would scrub them down to try to clean them off. Coal would get embedded in the callous of your fingers [and] would never come out.
TO: A few months ago, there were rumors that surfaced online about a Full House reunion. Unfortunately, those turned out to be untrue. If a reunion show were ever made, what do you think Becky would be up to today?
LL: I think she would be hosting Good morning America. I am going big (laughs). She and George Stephanopoulos.
TO: Would she still be living in San Francisco?
LL: Well, the kids are grown and Jesse has had a successful music career so I think they can afford to spend a little time in New York.
TO: My favorite episode of Full House is the one where Stephanie drives Joey's car through the kitchen.
LL: That's my favorite episode!
TO: And my favorite scene is when she comes to Becky's house and she hides…
LL: In the closet. And [Jesse] opens [the door] and goes 'Stephanie what are you doing?' 'Just hangin' around.' That is truly my favorite episode. I think that episode is hilarious.
TO: One final question before we go. What is one fun fact that you would like to share with your fans that they may not know about you?
LL: Every dog I see I have to stop and have a conversation with. I am really an animal lover. Years ago, I was in Paris with my father and every time we were walking down the street I would stop and talk to the dogs. My father finally said to me 'Lori, I appreciate that you love animals, but we are never going to get through this city if you keep stopping and talk to every dog in Paris.'
TO: Thanks for your time today Lori. I really enjoyed speaking with you.
LL: Thank you.
The Neighbors airs on Fridays at 8:30 PM on ABC.
When Calls the Heart airs on Saturdays at 9 PM on The Hallmark Channel.
Photo by Alberto E. Rodriguez/Getty Images