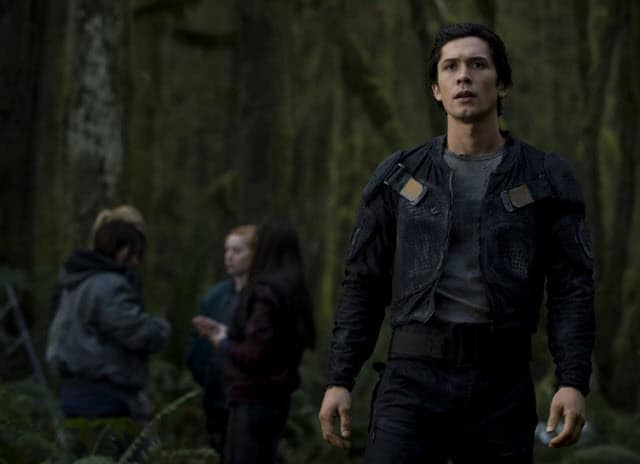 I think CW's The 100 has caught a lot of people off guard this season. Some people may have thought it would be just another science fiction show steeped in romance and aimed at the young adult crowd, but what we have actually gotten is a deep, nuanced story about a potentially doomed future and the one group who may just be the only hope that future has. It is intelligent, well-written science fiction that is not afraid to go to some dark places, despite how innocent it all may appear. We recently had an opportunity to do a quick back-and-forth with Bob Morley about his role as Bellamy Blake on The 100, the differences between Australia and Vancouver, and how the cast spend their down-time.
I know you are from Australia, and you shoot the show in Vancouver. That is quite a leap! So Australia to Vancouver? Any culture shock there? What are the main differences?
Bob Morley: I come from Melbourne. Melbourne and Vancouver have pretty similar climates, though I have never had a snow-capped vista outside my window before! It is all pretty similar, except people drive a little slower in Vancouver.
Yeah, they are famous for being frugal drivers, especially during bad weather. What do you think sets The 100 apart from the bevvy of other shows aimed at young adults these days?
Bob Morley: I think The 100 is more about survival and the politics that entails. Although the show does appeal to a younger audience, I think it has the capacity to engage older viewers, too.
I completely agree. With so many young people on the set, it must get fun in between takes. What do you all do in Vancouver with your down time?
Bob: We spend most of our downtime trying to stay warm. There's a lot of banter that gets thrown around the heaters, that's for sure! The younger cast are pretty tight knit and we hang outside of work as well.
Yeah, I heard you guys have dinner parties and stuff. Sounds fun. So as an audience, I think we initially thought Clarke and Finn would be a couple, but now the dynamic has shifted, and it seems Bellamy and Clarke are showing some chemistry. Has it been fun to play off that shifting dynamic?
Bob Morley: To be honest, that chemistry is a surprise to Eliza and myself. We never intended to create that tension between the characters, I feel it is more the tension of the scenario that is at play.
Either way, it's keeping us all guessing which makes for great TV. How has Bellamy changed from the pilot until now?
Bob: Bellamy's journey is a huge one. The audience has had the chance to see into his psyche, through the flashbacks in episode 6. Yet, there is still plenty of light and shade to explore in the character. I don't know that he has changed so much, more that we have learnt more about him. I believe he has a big heart, but doesn't always make the right decisions.
That is a common trait you find in some of the best characters in fiction. So on a side note, seems things have become a bit more serious around camp. You guys recently got your hands on some guns to deal with Grounders in case things come to a head (which it seems might happen). Did you get any special training for firearms? Was it fun? Can we expect more bad*ss moments from Bellamy in the near future?
Bob Morley: Yes! It was a lot of fun! I think every character get their bad*ss on, especially Jasper.
Get their bad*ss on, I like that! Alright, time for a couple, fun-but-cheesy hypothetical questions. If you could play any other character on the show, who would you want to play, and why?
Bob: I think I'd like to play Raven. She's such a tough sassy character, that takes no crap. Her or Monty. Or maybe Murphy. He comes back in a big way!
Nice little gender flip, there. We would love to see that. Finally, let's say you were sent to potentially colonize a planet right now with 99 other people, and you could only bring ONE thing with you. What do you bring and why?
Bob Morley: What would I bring…? Probably my best friend. Having someone around that knows you would make all of Bellamy's big speeches easier to sit through. He talks so much!
Well, we love to listen, so thanks for humoring us.
All of you make sure to tune into the CW on Wednesdays at 9 pm to keep up with everything that is happening on The 100. Will there be a battle against the Grounders? Will the 100 disband on go off in different directions? Who does Clarke end up with? Those answers will come in time, as this surprising show is sure to only evolve more and more.
[Photo via The CW]