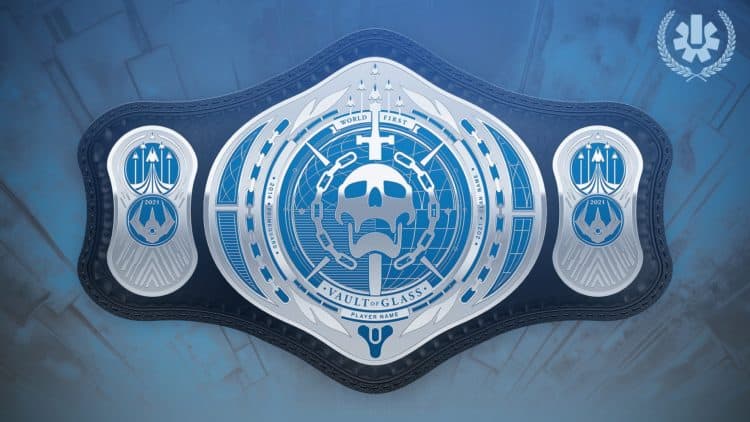 Bungie has finally revealed the release date for the Vault of Glass in Destiny 2! It's the TWAB (This Week at Bungie) that we all, especially Paul Tassi, have been waiting for: the one that has officially revealed the release date for Vault of Glass. While we all waited patiently for Cozmo to publish this week's post, we were left to wonder what would be included and covered. Would the release date for the return of the Vault of Glass be revealed? Would we get a teaser for the new Season? Unfortunately, we still don't have any information about next Season, although the one thing that we do know now is when we'll be able to jump back into the Vault of Glass!
Vault of Glass
It looks like Vault of Glass is finally returning on May 22 at 10AM PDT (1PM EST), and will feature a World's First Raid Race. The biggest difference in this race, is that we already know what to expect in the Vault of Glass, because we went through it all the way back in 2014. So, Bungie is making a few changes to the way that this will work this time around. So, let's take a look at the differences in the World's First Raid Race for Vault of Glass (2021):
Vault of Glass will launch with Contest Mode (explained here) enabled for 24 hours.
You will need to be at 1300 Power to be at the cap for all of the encounters.
Clearing Vault of Glass with Contest Mode active is the first step to access the new Challenge Mode in the Director and the Tempo's Edge Triumph.
Completing Tempo's Edge, a curated list of Triumphs, in this newly unlocked Challenge Mode, will be how a fireteam crosses the World First finish line and claims their prize.
To enforce the Triumph requirements in the Challenge Mode, your team will wipe if you fail the success conditions during each encounter.
There will also be a belt to commemorate the winners of this Raid Race, as there has been with each Raid in Destiny 2. However, like the Raid Race itself, the belt will also be a bit different, as it will have a silver aesthetic, as well as the clan name of the very first World First team "PrimeGuard" that was the first team to ever beat Vault of Glass in 2014. Bungie also says "Challenge Mode and the Tempo's Edge Triumph will only be available for the first 24 hours and then that node will disappear. The encounter challenges will become available again later in the season. We will have a full array of raid rewards and Bungie Rewards associated with Vault of Glass as well as an emblem available for completing it. We'll cover all of the details on how to get them soon."
Venus
Unfortunately, if you (along with so many others) were hoping that Venus itself would come back as an explorable Destination, then you'll probably be pretty disappointed as Bungie states "One quick thing to call out is that the opening area of the Vault of Glass will now be a private space for your fireteam, so don't expect any backup from wandering Guardians. You won't be able to abandon the mission and explore Venus (as tempting as that is). There is only one way forward and that is into the Vault." So, pretty disappointing news, but I think that most of us were expecting this to happen anyway.
How Does Vault of Glass Fit in Destiny 2?
So, now you're probably wondering, "how does the Vault of Glass fit into Destiny 2?" Well, the answer is….it doesn't, really. As of right now, there doesn't appear to be any direct correlation with anything happening in-game, it pretty much just looks like Bungie is dropping Vault of Glass into the game and saying "here, have fun!" While I'm in no way complaining about Vault of Glass returning, it would have definitely been nice to see Bungie tie its return into the current events happening in Destiny 2. However, there's still hope that maybe Season 14 does revolve around the Vex, and maybe Vault of Glass does, in fact, have a reason for being there.
Hopefully, we'll get some more information in the next week or so, as we have less than a month from the launch of Vault of Glass as well as Season of [REDACTED], and we're all itching for some more information about the new Season. Although, I do like being kept partially in the dark, so it would be cool to see them pull another Season of Arrivals again, and not give us any information until the day of release. I don't know, I'm torn.
Tell us what's wrong with this post? How could we improve it? :)
Let us improve this post!