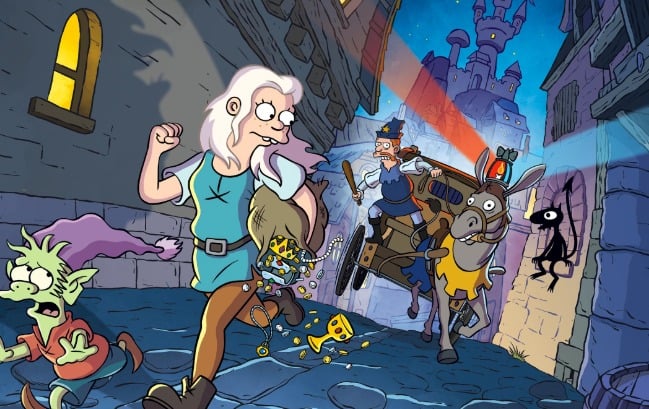 If you haven't watched a single minute of Disenchantment yet then you're not going to understand much of what's said, but if you've been keeping tabs on it then you know by the end of season one that Elfo is dead, supposedly not to return we don't know yet, Bean and her mother are still around, and the entire kingdom has been turned to stone. Sounds a bit dire for the show right? But if you've learned nothing else by animated shows that Matt Groening has anything to do with you should know that the unexpected is bound to happen now and again and you can be certain that what you thought was impossible will eventually be revisited and given a chance to redeem itself. Ian Sandwell of Digital Spy has been good enough to report that the second season, or part, depending on what you want to call it, will likely be coming out either sometime soon or August of 2019. It might come out sooner since the 20 episodes that were created were split in half and therefore it might actually be ready to release a lot quicker than people think.
Vikram Murthie of AV Club tends to make one think that as great as the show is and as entertaining as it's proven to be, it's still kind of hard to imagine that it's been given the green light for a second season in the face of such underwhelming numbers. It's very true that it's an unconventional and therefore very interesting story, but it's also as though Groening placed the Simpsons into a medieval fairy tale and assigned various roles that are typically seen in Springfield to the many different characters. It might seem that way, and it does, but at the same time it also seems as though this is a very dark and somehow adult version of the Simpsons, if you can still see the correlation. In other words the animation, the appearance, and just the overall feel of this show make it seem almost predictable in a way that's not horrible but does kind of raise an eyebrow simply because it feels as though it's trying to bring something new to bear using old and very recognizable themes that have been utilized in the past. That being said however there are new ways that old ideas are being used and this could be a big reason why the level of interest is still high enough to make it work.
As Alex Leadbetter of ScreenRant has stated the show does have an impressive fan base and there are plenty that would love to see this show continue just as long as the Simpons has done, but that kind of leaves a person wondering if there's going to be enough material for such a project and if the longevity for this show is going to be the same. People do have to recall that even the Simpsons have hit low points in their history that made it possible to wonder if they were going to be around for this long, and as the years continue to go on the longevity of many shows has been drawn into serious question since the attention span of the average audience has varied greatly in accordance with what they want to see on the screen and what the creators are willing to give.
It is possible for a creator to grow disillusioned with their own creation, but at the moment it would seem that Disenchantment is getting off to a good start and might actually have what it takes to stick around for a good while so long as the fans are interested and the story continues to flow in a manner that able to keep them ready to watch and be entertained. With the track record that Groening has for keeping people amused and entertained it does seem as though this show could keep going for the next few seasons at the very least, especially since it seems comfortable on Netflix where it can be viewed pretty much anytime the fans desire. How the story goes from here is going to dictate a lot of what happens however since one has to kind of expect that Elfo is going to return somehow, though without knowing how that could happen there's a lot of speculation as to what might happen if he does come back. Bean's tale is going to be one that seems bent on doing the wrong things for the right reason or vice versa since she's kind of an odd character when you look at her from a glance, but someone that could easily become a character with a lot more depth as the story goes along.
Either this August or a little earlier we should get to find out just how season two is going to unfold.
Tell us what's wrong with this post? How could we improve it? :)
Let us improve this post!