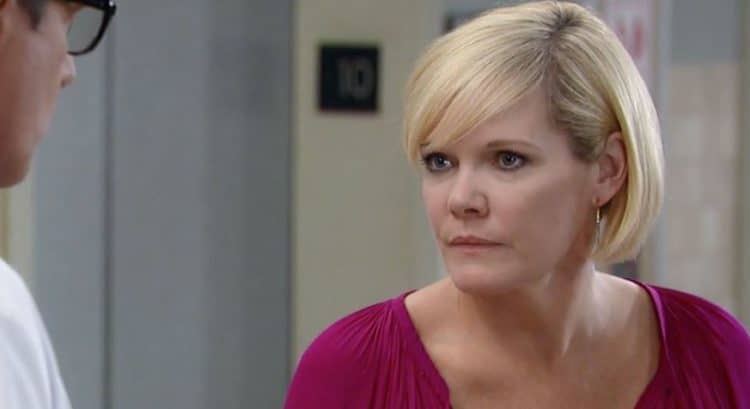 General Hospital fans see a lot of hope for Carly in her current predicament. She's got to get her situation under control, but that means that she has to get out of Ferncliff. It's not going to go well for her if she can't get out soon, but there is a chance that Jason can get her out of there and make sure she's able to get free. We also saw that Dante had a lot to say to Chase in the midst of all that is going on in the moment. It's been a very distressing situation, and things aren't getting better for them right now. It just wasn't a good day for Chase when Michael, too, laid into him and told him what's up and how he feels. Chase has to consider what these men have to say to him, and they have to decide how they want to handle this situation from this point forward.
Furthermore, we do see that Josslyn just won't listen to reason. She knows that her mother and her father are not happy that she continues to befriend Nelle. They know she's a snake, and they cannot understand why Joss refuses to see this. She's a mess, but she will not make it possible for her family to relax in the meantime. They have to figure out how to make sure Nelle is stopped now. Josslyn spent the day leaning on her, and we know it's not good for her. She wants to be Nelle's friend, and Nelle is going to crush her soul when she realizes that it is Nelle behind all this mess that's been going on in their lives. She cannot just let this go and make sure she's got to some peace in her life. She's a mess right now, and that's a problem for everyone.
What's Happening on General Hospital
#WCW: Aunt Stella is a woman you want to have on your side of any argument. #VerneeWatson #WomanCrushWednesday #GH55 pic.twitter.com/Ci4DhE2OkG

— General Hospital (@GeneralHospital) June 20, 2018
General Hospital fans know that Stella is the kind of woman you want to have on your side, and she wins the contest for Woman Crush Wednesday on the show. She's the woman who is powerful, she is firm, and everyone is just a teeny tiny bit terrified of her and all she has to offer. We aren't surprised by this, of course, but we do think that she's our kind of woman. Can you give a shout out to your favorite woman on the show today? It's a lot of fun, and we like to see it happen so we can see where your alliances lie.
What's Next on General Hospital
"I wouldn't wish Ferncliff on my worst enemy." #GH55 pic.twitter.com/Xm5hnG2wma

— General Hospital (@GeneralHospital) June 20, 2018
Anna will not blame anyone for what happened. We are going to see her face some serious situations in the coming days, and she will not allow anyone to blame another for what has happened. It's her opinion that no one person is to blame for all this that's gone down, and they will find a way to make sure they can handle this situation in the best possible manner. It's her opinion that they can get this to work, and it's our opinion that she is going to change her mind before much longer. On that note, we are also going to see that Sonny is going to get some relief soon. We don't know what might happen or what might go down, but we know that there is a lot that might cause him to have a moment of peace. He needs it.
Finally, Nina is looking for answers, and she's not giving anyone a chance to lie to her again. She wants to know what is going on, and she wants to know right now. She's got to get her life together, and she cannot do that if no one will listen to her or make this easy on her. She's looking for a way to ensure that she's able to get her life in order, and finding out what she wants to know is only the first step in her process. She's decided she no longer cares what anyone thinks of her, and she's looking for answers from them that are honest and upfront.
Stay tuned for more General Hospital and be sure to check out TVOvermind daily for the latest General Hospital spoilers, news, and updates.