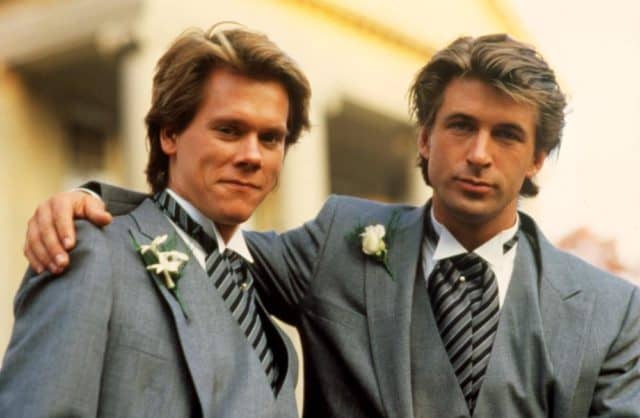 Oh, where to start. She's Having A Baby is, it's true, one of the best and worst films you could ever watch if you're just getting married and eventually plan on starting a family. For those of us in the know it's okay to start laughing uproariously at those that don't. They think life is going to be a breeze, they get to have sex every night with the woman or man they love, and when it comes time to have a kid it's going to be something so joyous and overwhelmingly positive that they'll feel full to bursting with joy every single second of the day.
-SMACK-
This a simulated wake-up call from Life to let you know that nothing you have experienced or will experience will ever be the same again. The act of marriage has tied you to a woman or man that will become your best friend and your worst enemy and must be treated with all due respect as is expected by a spouse. Upon the completion of a ceremony and obligatory honeymoon you may suddenly feel the walls closing in on you as the pressures of married life begin to mount and your blood pressure begins to rise. In cases of extreme anxiety and panic feel free to scream and throw childlike fit as you discover that nothing gets better until you figure out how to live with one another in this new existence you will come to know as, marriage.
On a further note, upon the desire to become pregnant you may experience moments of intense emotional outbursts and moments during which your partner will be counting down their ovulation cycles while monitoring their temperature and finding ways to engage you in sexual activities that could very well lead to impregnation. Proceed with caution and try to enjoy the ride.
Yeah, it's something like that if you really want to get technical and depressing about it. But if you want to look at it from another perspective marriage is something that you definitely have to get used to. But kids, haha, there's no 'getting used' to them. The simple act of making love and conceiving a child is not as simple as it sounds. Too many people decide that they have to watch their cycles, time their ovulation down to the minute, and then hit the mark as soon as their temperature is high enough. It kind of takes the fun out of the act really.
And telling your partner they can watch TV if they get bored? The drink is a nice touch but wishing each other good luck is kind of a stretch. If you're a dad as of now then you already know that these things just happen. You don't get used to your kids so much as you accept them and love them with everything you have. It's scary at first, oh heck yes it's scary. If you've never had kids before and you think it's going to be a breeze then please return to the wake up call and read it again.
Having kids and being a dad is one of the toughest things in the world for any man. You worry about them constantly, you worry about who they'll be, what they'll do when they grow up, and if you'll be good enough to be the kind of example they'll need. But somewhere along the way you figure out that all you've got to do is be there. That's a huge chunk of the solution right there.
https://www.youtube.com/watch?v=OqsBuxC2g1k
Save