What works? Well, over the duration of the hour (or the 42 minutes if you want to be specific), I must admit to being fully engrossed in Sean Walker's world (played to perfection by athletic pretty boy Jason Ritter of Joan of Arcadia fame). When your girlfriend goes missing, all record of your existence on your holiday cruise vanishes, and your father-in-law-to-be (Gilmore Girls vet Scott Patterson) hijacks the plane you're on and points it in the direction of the President of the United States of America… well, I'd call that a pretty bad week. The plot layers on the trauma and surprise for helpless Sean, and the viewer is taken into that ride. I really enjoyed that side of the plot, even if the middle portion sagged a little as Sean and his soon-to-be-bride Leila Buchanan (the beautiful Sarah Roemer) hung out with a hard-drinking couple on the same cruise. I was just itching for things to get moving.
I'm betting right now that the hard-drinking couple are bad guys, by the way. I'm just saying.
I also loved the narrative structure. It's a little bit Rashomon, a little bit Lost, and a little bit Boomtown. It kept me on my toes.
What's less good? Well, when the episode deals with the mysterious goings-on at a secure facility in Alaska 13 months ago, where the creepy Sophia Maguire (in a nicely restrained performance by Laura Innes) is briefly interviewed by CIA operative Simon Lee (Ian Anthony Dale), there's a lot of doublespeak and hidden meanings in the subtext behind the subtext. I can see how these sorts of scenes will be of great frustration to many viewers. People will scream at their televisions, 'just say something meaningful!'� but not yet, my friends. This is just the first episode. Simon warns Sophia, 'he's going to tell them about the event'. I wish someone would.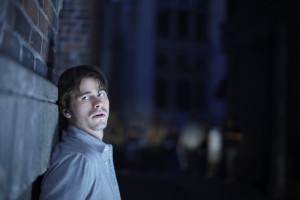 At the President's retreat in Florida, President Elias Martinez (played ably and with just enough gravitas by Blair Underwood) and his crew of Gloomy Guses (Bill Smitrovich as Vice President Jarvis, Željko Ivanek as Director of National Intelligence Blake Sterling, and Tony Todd as General Whitman) try to dissuade the Prez from closing the Alaskan facility. We're again left with a lot of vague statements. Apparently releasing the people at the facility would be Very Bad News. 'The safety of our citizens is at stake', claims Sterling. 'Please. Don't let them out'. So what are they? Time travelling assassins? Demons? The X-Men? Vampires? Reverse vampires? Unfortunately the pilot gives us absolutely no idea, which can be seen as a positive or a negative.
And then we get to that ending. The water cooler moment. The 'monster in the jungle'moment (sorry). So big a moment I'm putting a spoiler warning.
The hijacked plane, pointed in the direction of the retreat on the same day the President is about to announce the Alaskan facility is closing, disappears into a beautiful vortex. Poof. Gone. Like something out of Stephen King's The Langoliers. The President looks to Sophia. Then she speaks. 'They saved us'. The President looks bemused. 'Who? Who saved us?'A look of uncertainty forms on Sophia's face. 'I haven't told you everything…'
You bet, Sophia. In fact, you've told us nothing, but I guess that's why I'll just have to tune in next week. I'm a sucker for a mystery, and The Event knows this, deliberately toying with the viewer, dangling answers just out of reach. Are we in for a season of frustration? The messages coming from the writers is that we'll be learning things thick and fast, which excites me greatly. Creator Nick Wauters has also said "it's all about the characters', which is exactly what I want to hear.
The first episode is fast paced and involving, the shifting timelines and locations serve to whip the viewer into the eye of the storm and along for the ride of their lives, and there's enough likability and intrigue in the characters to ensure this isn't just plot shell with a hollow inside. If you like this type of genre, you're in for a treat. It's a strong pilot for those that view a season like a novel, willing to keep turning pages until all is revealed and we get to know the characters. However, if you're easily frustrated or have a low tolerance for doublespeak and vagueness, this might not be your thing.
Personally, I can't wait to find out more. A-
The Event returns next week for episode two entitled "To Keep Us Safe".