The aliens take a back seat this week, in an episode which almost entirely focuses on Vice President Raymond Jarvis, as The Event dips into its 24 bag of tricks after a few weeks of its Lost bag of tricks.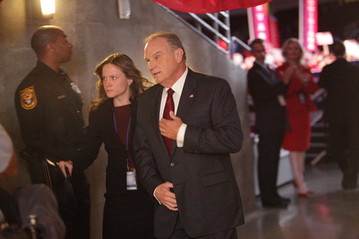 Whereas previous episodes have used the flashback method to illuminate character actions in the past to show the type of person they are (with varying degrees of success), 1.08 acts more as a "fill in the blanks" episode, showing as how Dempsey recruited Jarvis and how Jarvis was the one that called Dempsey to inform him the President wasn't going to back down on releasing the detainees, which gave the go-ahead for the assassination attempt. Jarvis has been a bad boy. As the President and Blake work to figure out who is the mole, Jarvis sets up a meet with Dempsey to discuss their next move. But Dempsey has other ideas, instead tasking Vicky Roberts to kill him. But Vicky ain't playing ball, no siree. Vicky politely suggests Jarvis turn himself in. Jarvis is about to do so when one of Dempsey's men executes Plan B — blowing up a van near Jarvis. Exploding vans seems to be a strange way to attempt an assassination in a pinch (what's wrong with the classic sniper rifle?), but it was effective.
I'm out of breath just typing that. The Event has certainly had its ups and downs this season, but this felt like a solid episode. Less of the eye-rolling, more of the tension and revelations. The Presidential side of things hasn't always been the strongest aspect of Season 1, but giving a whole episode to let Zeljko Ivanek, Blair Underwood, Bill Smitrovich and Hal Holbrook act their socks off was a pleasant surprise.
It wasn't all sunshine and explosions, as the B-plot of the episode was dedicated to Leila helping Sean get help after he's shot by an assassin with the building climbing skills of Spiderman. It wasn't exactly the strongest plot in the series, and it definitely feels like the Sean and Leila story is far too detached from the rest of the show, but it at least did end with a messy and bloody alleyway operation. Which is always fun. I'm no doctor, but it sounded like the writers did their research. Lots of technical terms and complicated medicine names were thrown out by the kidnapped doctor forced to help Sean survive, rather than something sloppy like "get me a big needle filled with blood, stat!" that you might hear on a lesser show.
The Event seems to be attempting to carve out its own niche when it comes to cliffhanger endings, and this week is a doozy. We see Dempsey's face, having used a dropper filled with an unknown liquid, suddenly morph into someone a lot younger, before it re-shapes back to normal. I speculated last week that I thought Dempsey's crew were attempting to formulate some sort of "eternal youth" serum, or to genetically modify themselves in some way, using the aliens. The face-morphing certainly suggests it's something Dempsey is attempting but with so far very limited effect. Others have guessed he's also an alien, but from a different warring faction. Whichever it is, craziness is sure to ensue.
I've said before that one of the keys to enjoying The Event is to just accept it's a pulpy, silly, schlocky, action-suspense romp through flashbacks and cliffhangers and explosions and madness. It's not high art. It cribs from other shows with an alarming and reckless abandon. While 1.08 didn't re-invent the wheel, it was a solid outing and added some much needed focus. B+
What did you think of this week's episode? Have your say in our forums