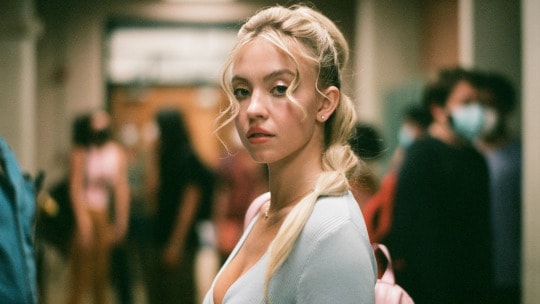 Euphoria Season 2, Episode 3 starts off a bit different than other episodes. We're teleported several years back in a flashback of Cal in high school when he began exploring his sexuality. Cal and his best friend Derek was thick as thieves when he got his first girlfriend Marsha a pretty blonde that took his virginity. Marsha and Cal had fun but he was secretly pining for Derek the only person that really knew him. So one day after graduation they decided to sneaked out to a gay bar where they downed shots after shots, danced on the neon lit dance floor and shared a passionate kiss. Everything seemed perfect. That is until he received a phone call from Marsha the next day. She was pregnant. Marsha took three pregnancy tests and they were all positive. Cal sobs uncontrollably in a pillow. Perhaps if Marsha wasn't pregnant maybe things would have turned out different. Maybe he would have been able to live in his truth.
Just when we're ready to feel sorry for Cal, we're reminded that there is a much bigger issue at hand. Rue hasn't just relapsed but she's spiraling quick down the dark hole of addiction. In the next scene, Rue is dancing while floating on cloud nine and downing toasted pop tarts and a jug of milk when Gia asks if she is high. In true Euphoria theatrics, Rue gives us an animated lesson in a classroom on how to conceal your drug use. The first rule is to have a cover drug. For Rue that's weed. Rue tells Gia that she's thinking about smoking weed again to help with her panic attacks. Gia is furious with this idea but Rue gaslights her claiming that weed helps keep her from wanting to calm down. After Gia calms down she warms up to the idea if it's going to keep her sister alive. She makes Rue promise not to do any other drug outside of marijuana. Meanwhile, Lexi spends hours writing a play about a girl named Grace who lives in the shadow of her sluttier older sister. Lexi's play is rendition of her real life. Cassie on the other hand spends days prettying herself up for school just in case she runs into Nate. But when she sees Nate in the hallway he doesn't even look her way.
Rue hatches a plan to restock her drug stash. It involves getting into business with Laurie Fez's new plug. It doesn't take a rocket scientist Yo see hiss we this will end up negatively affecting Fez in some way. Laurie gives Rue a suitcase filled with &10,000 worth of drugs. Rue promises that she and her network of friends can get the drugs off for her. Laurie makes a deal with Rue but threatens to sell her if she screws her over. Fez would be furious if he knew the type of deal Rue was making but at the time Ash Tray had a shit gun to Cal's head. Yes, you heard right. Cal has been stalking Fez's house for days in search of the sex tape that Nate said was supposed to be in Fez's possession. Fez doesn't know anything about a disc but he does know that Nate is in love with Jules which is pretty sick since Cal has been intimate with Jules. Fez tells Cal the truth and reveals that Nate was bothering Rue and Jules and that he was simply protecting them. Why Cal is finding it hard to believe that his golden boy was the aggressor in this situation I don't know especially since he knows the evil Nate is capable of. Ash Tray is trigger happy and wants to blow Cal's head off. But Fez let's him go, promising to kill him if he ever stepped foot near him again.
We only see Jules briefly on this episode. She's chilling with Elliot, Rue's friend smoking a joint. She's finally succumbed to Elliot's charms but she does has a guard up. Jules gets Elliot to admit that he has likes Rue s more than a friend. But Elliot claims he doesn't exactly see Rue as a sexual being. Jules agrees that Rue isn't the most sexual person. Elliot flips the script and runs down a laundry list of why Jules is enticing sexually. Is Elliot trying to coming to Jules now? His character is definitely going to wedge a rift between Jules and Rue. Rue hauls her suitcase to her AAA meeting. Ali is no spring chicken and he realizes that Rue isn't hauling around an extra pair of clothing in that suitcase. As always he tries to talk to some sense into Rue but she bites back throwing a personal problem that he confided in her about in his face to get him to back off. Ali is furious and promises that if she ever does something like that again he's going to be done with her for good. Ali leaves Rue looking stupid outside of AAA with a suitcase of drugs. Nate made plans with Cassie but he has no plans of showing up. Instead he gets dressed and arrives on Maddy's doorstep with a bouquet of flower. I guess old habits never die hard.