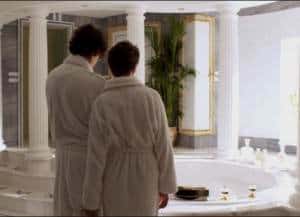 Part of what draws me to Episodes is that I love British television. It amazes me that with the sheer volume of original programming produced, so few of the shows make it to the States. American programs are shown as is in Britain, but when Brit shows come here, they want to remake and Americanize them. Skins and Being Human are both examples of excellent shows currently airing in their original form, being brought to the States in a different form. Then comes Episodes tackling the very topic I find so compelling.
The first installment introduces us to Bev and Sean Lincoln, husband and wife writing team with an award winning show over the pond. Perhaps since British shows aren't shown around the globe as are those from Hollywood, they examine their lives, realize just how little they would miss about their lives and jump in head first with visions of stardom and interminable wealth. To them, a hit show on American television is like winning the lotto.
Once they arrive, the fantasy is turned on its head. In an impassioned moment after hours of travel, Bev and Sean long for a sexy bath using the colossal tub of their Beverly Hills mansion. Instead of the seductive glamor they envision, it takes so long to fill they lose the mood. The scene has far-reaching ramifications as it sets the tone for everything they imagined losing its luster. Their enthusiasm of being mega-stars in Hollywood dulls as they realize it may take longer to fulfill their aspiration than the bathtub.
The man who sold them on the idea never actually watched the show. He wasn't in love with the program as much as the idea of bringing an award winning premise to be made American style. Needless to say, what they thought was set in stone is actually more of a work in progress and they soon learn their show will not be their show at all. Even the palatial dwelling in Beverly Hills loses its sparkle when they discover it's the set for most of their reality shows and not the typical warm Hollywood reception they fancied.
The studio employees are annoying and clichéd. Someone thought it was a good idea to go the route of the idiotic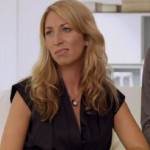 television production team who wouldn't know quality TV if it slapped them across the face. Never mind that American television is in one of the most critically acclaimed periods in history. God help us all if there is any reality behind these off-putting characterizations. The "director of comedy" makes guttural responses and seems incapable of a smile, let alone knowing the difference between satire, caricature or parody. These are not the hands in which I would want to entrust my cherished artistic desire.
Matt LeBlanc is on screen for less than two minutes, and he had one of the funniest bits. I've embedded it below for your enjoyment. What it tells us is that LeBlanc wasn't a fluke; he was shafted with his turn in Joey. They wanted him to be forever the stupid idiot and he got a raw deal. His timing and mannerisms in the clip prove him to be a more talented actor than the credit he's been given. Remember, I say this based on mere minutes of screen time, but I have high hopes for his performance.
It's my belief that once his screen time increases, his efforts, along with those of Tamsin Greig (Bev) and Stephen Mangan (Sean), will overshadow the weaker, eye-roll inducing caricatures found in the rest of the cast. If the preview shown for next week is any indication, I will not be disappointed.