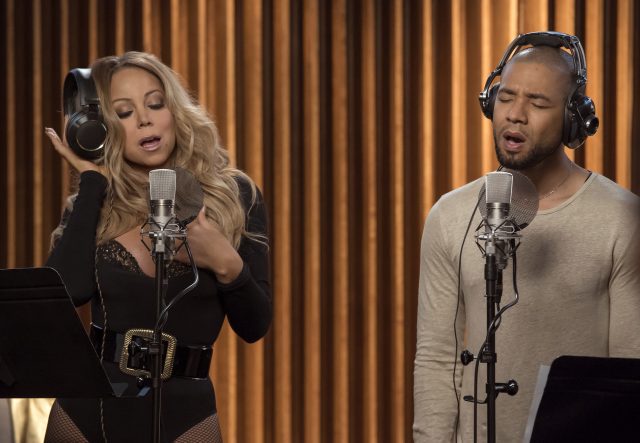 Lucious Lyon is far from a perfect father. In fact 90% of the time he's downright mean. You could never accuse him of being too nice with his kids, but ironically, that's what he thinks. The other 10% of the time Lucious says something that is so powerful, and so right on the nose, it's something that should be written down in a parent's handbook. As the Black Lives Matter movement personally touches the Lyons, Lucious is the embodiment of part petulant child, part strong father. Truly, Empire has never shined brighter than in Season 3.
Anika is crawling out of her skin trapped in Lucious's house. Lucious's mother adds another layer of skin crawling with her vigil eye. Anika's been quiet and cooperative thus far, apart from that whole pushing Rhonda over a balcony bit. That's now over with. Anika demands purpose in her life other than being a stay-at-home mom. What form that will take is not clear yet. Anika demands respect, and if she doesn't get it from Lucious, she has no problem taking him down with her.
Jamal is really struggling. He goes to a support group for people with PTSD, and it doesn't help. He goes to see Freda to face his demons, and it doesn't help. Cookie isn't going to sit on her hands waiting for Jamal to quietly work through his PTSD. She has to get Jamal to face his demons, preferably before Lucious releases Jamal's 'Black and White' album and forces him back on stage. She arranges for Jamal to work with Kitty (guest star Mariah Carey). Though he may not be ready, an arrangement with Kitty gets Lucious off his back. Lucious agrees to drop the album launch in exchange for a live recording of a Kitty and Jamal duet to bring in Empire Streaming subscriptions. It looks like Jamal isn't going to be able to get through the studio session with Kitty, but he does. The only problem is that he has to take a few extra pain pills to get to that place.
As Lucious puts it, he really only has the business to focus on right now. Cookie has drawn a line and his sons insist on handling their own problems. What does Lucious do when he's bored? Nothing good. This time around he signs one of Angelo Dubois's WOLK kids to Empire. Angelo is furious that the boy is going to throw away a college education for a recording contract. Once Cookie sees some of the good that Angelo is doing, she gets the kid off the hook. In retaliation for Cookie's move, Lucious releases Jamal's album as 'The Black Album', stripping it of all the songs Cookie produced.
Empire's new artist Gram really ticks off Hakeem. Hakeem is (unjustly) upset that Gram is all over Tiana. Lucious reminds Hakeem that his place to 'mark his territory' is in the studio. Shyne helps Hakeem do just that. Nessa is not on board to disrespect another female through her music, to which Shyne shows some serious anger towards. As much as Hakeem wants to defend Nessa, he can't get involved in someone's else's family matters. Besides, he has bigger fish to fry. After some father-son time, Hakeem re-spins Tiana's own words into his attack on her and Gram.
Andre takes his unjust arrest too lightly. Cookie and Lucious are rightly outraged. Normally this would be the part where Lucious tries to toughen up his son with some lesson, but not this time. He is furious that his son was publicly discriminated against and humiliated, and genuinely worried that Andre doesn't want to fight back. Andre gets a rude wake-up call when he is charged with a felony. Lucious gives his children a much-needed history lesson by taking them to their old neighborhood. This moment is Empire running on all cylinders. He takes responsibility for coddling his children, urging them to wake up to who they are. They grew up in an expensive house with high fences and lavish goods, all of which commanded respect from a young age. The street doesn't care about all of that. The street only cares if you fit a stereotype worth taking a second, more forceful look at. As Lucious ponders about his sons, "Y'all don't know you're black." Truly this was Lucious's shining moment as a father. It was a lesson they desperately needed to hear. Hakeem got the message, but Andre and Jamal did not. Rest assured, they're about to. Tariq is not backing down on Lucious. It was actually Tariq who got Andre's charges raised to a felony. You can do the quid pro quo math on this one.
Was Lucious's speech to his sons a true awakening for the show?
Empire Season 3 Episode 3 Review: "What Remains Is Bestial"
Summary
Season 3 of Empire continues to shine as Lucious teaches his sons a valuable lesson in what it means to be black.