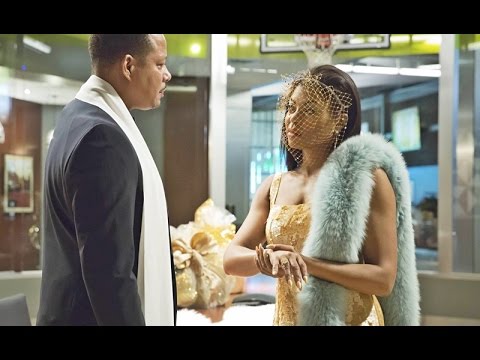 We're heading into the end of Empire's second season, and as if there weren't enough twists and turns in the story, a few lives needed to be put in jeopardy to shake things up. One Lyon was the target, one took the bullet, but who made it out alive? Just as importantly, what will the fallout be when the family tries to recover?
D Major and Jamal do well in the shadows, right up until they forget to lock the door. Lucious walks in on a moment between them. He's not surprised, since apparently Major's secret really isn't as secret as he thinks. Lucious is furious that Jamal would bring his personal life into the studio in that way, which sets up a horrible fight between father and son. Now it's probably not the biggest fight Lucious and Jamal have ever had, but it may be the most hurtful. I don't even feel comfortable thinking about how vicious both Lucious and Jamal were to each other. It quite literally knocked the wind out of me for a minute.
Cookie isn't going to let anything spoil her excitement on the eve of the ASA's. Carol tells Cookie that she ran into Tariq, which sets Cookie's radar on high alert. Sure enough Cookie and Lucious figure out pretty quickly that Tariq is now in the FBI and has painted a target on their family. Carol refuses to believe that Tariq isn't interested in her. With blinders on she says some hurtful things to Cookie, so Cookie kicks her out. Cookie has no time to worry about Carol since she has to do damage control after Lucious and Jamal's fight. Once she finds out that Jamal is still working with Frida, Cookie has no choice but to tell Jamal the whole truth about their family's connection to Frank Gathers.
Laura is thrilled to be planning her and Hakeem's wedding. She thinks their wedding could also be an opportunity to promote her career and push her and Hakeem into power-couple status. I'm going to borrow a line that I'm almost positive Porscha or Becky has said at some point: "Girl, are you for real?" There is no way that Laura's career is going to take off in the way that she wants, especially not if she's being this naive about it.
Rhonda now suspects that Anika was the one who pushed her down the stairs causing her to miscarry. Call me an optimist, but it seems too obvious a choice for Anika to have been the culprit. Anika may not have hurt Rhonda, but she could still be very dangerous to the Lyons. Tariq pulls Anika into the department expecting to turn her against the Lyons. She would have every reason to do so, but Anika is apart of this twisted family, and the Lyons don't turn on family against outsiders.
After Leah's scary threat to her son, Lucious has been sleeping anywhere but home. No one would choose to sleep in a big mansion if it meant risking their throat being slit in their sleep. Andre has no idea just how dangerous his grandmother really is. He tries to get Leah to the ASA's so she can "support her family", but Lucious sends in some muscle to keep him there.
Cookie and Lucious happily walk the red carpet on the biggest night of their lives (and can someone tell me where to get Cookie's stunning gold face veil?). Everything is great until a drunk Carol shows up to ruin everything. Cookie and Lucious kick her out, but not before she slips to Frida how her father really died. Suddenly every moment Frida's had with Lucious comes into a different focus. Driven by fury she steals a security guard's gun and aims for Lucious, but it is Jamal who takes the bullet instead. The Lyons can't even claim a victory at the ASA's as a consolation for this terrible night. And this is all just as Leah possibly decides to reveal herself to the press.
How will the family recover after Jamal's shooting?
Empire Season 2 Episode 17 Review: "Rise By Sin"
Summary
Empire's big night ends in tragedy for one of the Lyons in this week's episode.