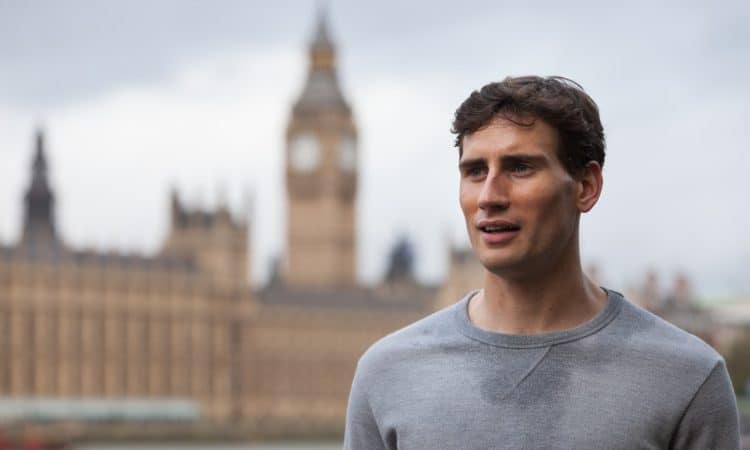 Some actors like to keep an air of mystery about them, and Edward Holcroft is one of those that tends to only share what he wants to say at any given moment. He's a hardworking actor however that has put up a few notable roles and been instrumental in helping various projects succeed. To say that he's still kind of working out the kinks in his act might not be totally fair since he is an established actor, but he's been in the business for less than a decade and as such it would seem that he's still kind of looking for a way to really create a breakout role that will make him the kind of actor that studios are begging to hire. He has managed to create a successful career so far, but that one level seems to be waiting for him to take the final step and reach out to get it. He's still young though, so he has plenty of time.
Here are a few things you might not have known about him.
10. He's kind of a tall man.
Edward stands at a 6'1″, which in a few countries would seem to qualify as somewhat average, if you were to travel to various towns and regions. The average male stands beneath this mark apparently.
9. He was in both of the Kingsman movies.
Edward played the part of Charlie, a prospective Kingsman that washed out and consequently had a huge issue with Eggsy, who was accepted into the Kingsmen and became one of their top operatives. He came back in the second movie as a villain yet again and was summarily executed by Eggsy after a rather quick fight.
8. His career started in 2011.
He's been at it for a while but has yet to really gain a lot of seniority. In some ways this doesn't seem to matter since Edward does happen to know the craft and is rather good at what he does. He's a guy that's put in the work and is still trying to learn how to better himself, so it's fair to say that he's going to get better as the years go by.
7. He doesn't have a lot of film credits on his resume at this time.
That could be due to the fact that he splits his time between TV, films, and the theater so as to be a more rounded individual. The scheduling conflicts that can arise when one has too many commitments can make it possible to seem as though he hasn't done much.
6. He was in Vampire Academy.
The idea of vampires being acceptable in society and being benevolent rather than a serious threat to anyone has gained some ground in the movies. This film is actually about an academy for vampires that have decided to be peaceful and not turn dark or malevolent, and the half-breed dhampir that is to serve as a guardian of their culture.
5. He was sent to a boarding school at age 8.
Some families do this to further their child's education, but in some ways it seems like a rather easy way out from having to raise your child. That's not what boarding schools are for obviously, but opinions vary.
4. He wanted to be a musician at first.
Edward wanted to be a drummer early on in life and be part of a band, but eventually his interests turned to acting and you can guess which way he went with it. He even went on to do post-graduate work after his first stint in college to further his craft.
3. He's been a stage actor as well.
Edward does have a healthy number of stage credits and it would seem that he's quite good at what he does. A great many people have stepped on stage and done very well. Of course everyone has their preference.
2. He's had a few TV roles.
It doesn't seem as though he's focused on TV quite as much as theater and film as his resume is even smaller in terms of his TV roles. Of course given that recurring roles in TV do tend to last longer at times than movie or stage roles it's fair to say that he's likely spent as much time in TV as he has anywhere else.
1. He keeps his private life on the down low.
It's been said that he wants to keep an air of mystery about him, to keep himself kind of unknown to the fans, but it could also be that he just doesn't want to give too much away. Some people live for the dramatic and will at times use it to mask their private lives so as to keep them free of spotlight. Other times however it can be used as a ploy to gain fans.
No matter what he's doing with his career it seems pretty solid.
Tell us what's wrong with this post? How could we improve it? :)
Let us improve this post!