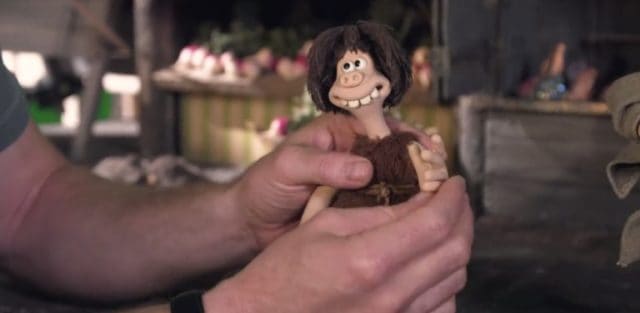 If you've ever wondered just how much effort goes into making a stop-motion animated movie you should really check out these featurettes on the new film Early man. Each clip walks you through what has to happen to make these movies and how many painstaking steps there are to making sure that everything is done in sequence and is scheduled so that the production can run smoothly and without a hitch. Aardman Animations, located in Bristol, England, is responsible for this upcoming saga that hit theaters just recently and has met with some very favorable reviews.
Check out the clips below to see just what went into the making of this film.
As with any full-length feature Early Man had to be taken to the storyboards first, but the thing about this is that unlike live-action films this movie had to be exact in the way that each character had to move and be depicted. There were up to 30 animators working on this movie and each one of them had to understand the direction and the manner in which their characters had to react to the others and to the set.
The sets themselves were like another group of characters that had to be interactive and conform to the idea of the movie in that they could be manipulated and made to work with the characters. Making the sets a dynamic part of the movie goes a long way towards building up a believable world for the characters to exist in and allowing them to fully interact with their surroundings so that it looks less staged and more natural.
The characters might not look incredibly detailed but there is a lot more to them than one can see. There are multiples made of each character for several reasons, one is to apply different concepts that may be needed throughout the film as each character develops and another could simply be insurance against any damage or unforeseen calamities. But as it was mentioned above there are 30 animators working on this film and each one has to know just how to move each character and give them the proper look and mannerisms that the director desires.
If you watch this clip you'll see that each figure has a flexible steel frame as the support for their bodies, making it easier to bend and twist them as needed for each shot. It's a tedious process but in order to make the film work the animators and the director have to communicating constantly in order to make each movement appear natural and conform to what's needed at that given moment.
If you're not great at making a schedule then this job would certainly not be for you. The scheduler for this film needs to be on top of everything at any given time and has to work with a system that only he can possibly understand at times. Each board represents about two weeks of work, and each slot has to do with an animator and what times they'll be working and where. It would seem that the animators are kept pretty busy.
You don't tend to see these type of films all that often anymore so watching something like this being made is both impressive and kind of a throwback to our childhood. It's fun to see that some things don't just get tossed by the wayside for newer practices.
Tell us what's wrong with this post? How could we improve it? :)
Let us improve this post!