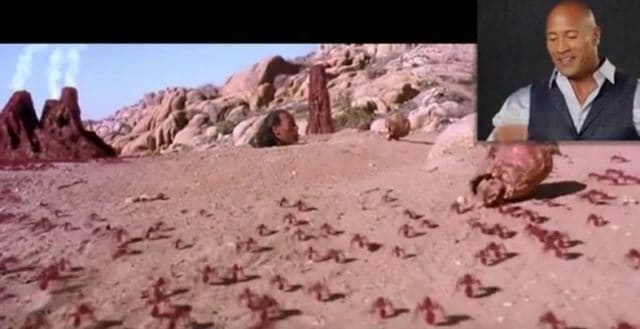 Most successful actors and actresses never forget their early days. These are the days where they were struggling with money, working odd jobs, and taking virtually any role they could get. It was a little different for Dwayne "The Rock" Johnson because he was already famous as a superstar in the WWE. But that doesn't mean he can't look back at his first starring role and laugh at it. In fact, that's exactly what he did in a recent video.
There's a video series called "The Rock Reacts" which puts Johnson in a chair watching a particular clip of himself or something else. We get to see Johnson reacting to the clips and apparently millions of people love this series. In the latest installment of "The Rock Reacts" we get 9 minutes of Dwayne Johnson reacting to watching himself in his first leading role in The Scorpion King which was released in 2002.
I'm pretty sure I speak for everyone when I say that none of us could have predicted back in 2002 that Johnson would have Schwarzenegger like success as an action star. But here he is, one of the highest paid actors in the entire world. Pretty impressive if you ask me.
Check out his "The Rock Reacts" video below: