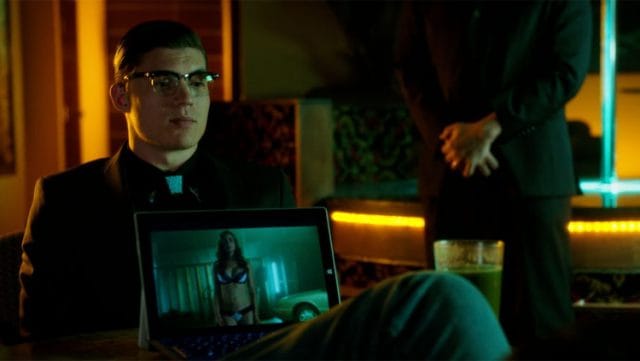 Last week, From Dusk till Dawn: The Series returned in a major and fun way with a double-sized season premiere, and it set up a story that I can't wait to watch play out over the course of the third season. Let's jump in and see what happened in last night's new episode, "Protect and Serve."
The episode opens as a Culebra woman enters a dark alley, only to discover that she's being followed by someone in a bandanna. She approaches the man bravely, but she's easily overpowered when it's revealed that the man isn't at all what he seemed. Meanwhile, Freddie, our peacekeeper, calls his ex-wife because of his desire to see his kid, but he discovers that something sinister has taken place in his apartment while he was away. It turns out that an injured Culebra is waiting for him, seeking his help after an attack. Before Freddie can do anything, though, the Culebra kills himself, encouraging Freddie to stop the man that hurt him.
Elsewhere, Sex Machine has returned to a life of a professor, teaching a class at a community college. He's still just as creepy and sexual as ever, clearly making his students as uncomfortable as the audience. After class, he takes one of his students back to his place (of course), and Freddie is in hot pursuit. He sneaks into what is obviously a weird Culebra party that Sex Machine is hosting, and he gets into a fight with the professor before the student is able to be turned herself. Freddie is overtaken by Tanner's goons, and he explains that one of the transformed students showed up at his apartment. They reluctantly team up to save the girl from the episode's first scene and stop the being that has been attacking Sex Machine's "family" of Culebras. While they're away, though, the creature invades the house and finds all of the Culebras inside.
After going back to the house, Tanner is taken by the creature as Freddie gets separated from the group. Because of this, he has to try to find everything on his own. Luckily, he's a smart guy and is able to connect the dots and find the hideout, calling the Geckos to inform them of what he's been up to. Freddie doesn't wait, though, and tries to head inside before being taken by the creature himself. The enemy gives Freddie a chance to kill Tanner, but the Peacekeeper instead frees the professor so they can fight the creature together. In the end, they manage to take the monster out when the Geckos show up with a friend.
During all of this, the Gecko Brothers continue their search for the possessed Kate, learning about a legend that may explain what's going on with their former acquaintance. They're encouraged to work with Freddie now that Santanico bailed on them, but Richie want to look into a demon hunter that the Lords worked with eons earlier. Unfortunately, it seems that he may be dead, but Richie decides to go looking to see for himself. The brothers go to where the demon hunter should be according to their map, ending up at a gas station in the middle of nowhere. They come across a man (played by original From Dusk till Dawn Sex Machine Tom Savini), and, as expected, the man ends up being exactly who they were looking for. They try to force him into coming out of retirement to help them, but he forces them to leave in a pretty convincing way. As they walk out, though, they give him a piece of information that manages to change his mind.
Back at the hideout, the Geckos and the hunter confront the Lord's enforcer about her lies, and we finally learn the underlying mythology that explains what's been going on this season and what's happening to Kate. Before they can finish their conversation, though, Richie receives a call from Freddie that takes the gang to the ranch. Together, the five "heroes" (for lack of a better word, I suppose) discover that the queen possessing Kate is preparing to bring Hell to Earth.
"Protect and Serve" felt like a one-off episode in a lot of ways, but it was a fun adventure that reunited the gang once again while introducing a fun new character in Tom Savini's hunter. There's a lot of mythology coming into play this season, and I remain excited to see where things go from here.
What did you think of this week's episode of From Dusk till Dawn? Let us know your thoughts in the comments down below!
[Photo Credit: El Rey]
From Dusk till Dawn Season 3 Episode 3 Review: "Protect and Serve"
Summary
"Protect and Serve" brings the gang together for a fun adventure that introduces a great new character.