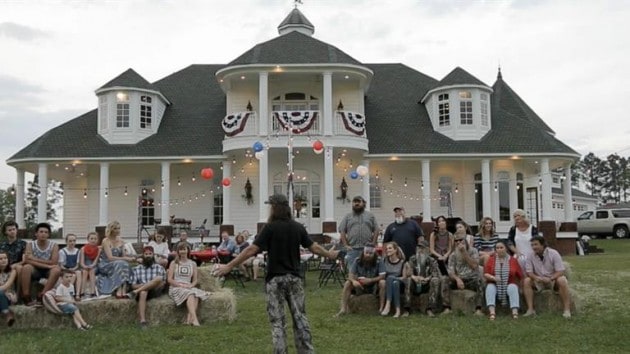 Duck Dynasty is still going strong in Season 8 for lots of reasons. Perhaps it's because it has such a devoted following within a certain sect of the population. Or it could be because A&E recognizes quality programming. It might be because it's spent lots of time among the top-rated cable programs. I'm certain that all of these play a factor, but what I love most about Duck Dynasty is the fact that it has both humor and heart, and is easily able to couple the two.
This week on Duck Dynasty: Godwin and Jep help Jase set off some fireworks he got as a gift, much to Missy's chagrin. Willie and Alan take Si down to the local military museum, as they are setting up an exhibit in Si's honor. The family does an early fourth of July celebration.
As I previously stated, Duck Dynasty has both humor and heart, and combines the two so flawlessly. First, the humor. Jase interacting with his wife seems eerily like the ghost of July 4th yet to come for my own life. Probably the funniest part about the whole thing for me was the fact that she told him not to do it, but you could hear in her voice that she knew it was going to happen. Even though the situations are funny, and obviously manufactured, there is such a genuine quality to the people on this show. It's both relatable and heartfelt, and all the while can make you laugh.
I certainly appreciate the genuine heart this show has, too. Everything with Si, while mostly humorous, shows that even the silliest characters have real moments. As a relative of several war veterans, the speech Si gave at the museum tugged at my heartstrings. It was so perfectly sweet and anyone would be able to appreciate it. It also led to a change in format of the show (a prayer before the end), which I was taken aback by, but I thought was a nice change of pace for the show. It's a perfect illustration of my main point, which is about the humor and heart and the way they directly relate. The only reason that Si is on this show, normally, is to be comic relief and say ridiculous things. However, this episode showed some real, genuine emotion. It wasn't the first time Duck Dynasty was serious and heartfelt, but I'm sure it won't be the last, either.
As always, here are some of my favorite quotes/moments from the episode:
– "Our version can get pretty rowdy." – Jase, on the Robertson's game of dominoes
– "He's a noisemaker."- Godwin RE: Si and his noticeable absence
– "If you're going to do something twice, it might as well be the 4th of July."- Jase, whose words are hard to argue with
"You have a HUGE package." – Missy, referring to Jase's shipment of fireworks
"This is better than money. This is the gift that goes BOOM."- Jase, expressing his satisfaction with his form of payment
"[To him], the Battle of the Bulge means the struggle to put his pants on in the morning."- Si RE: Willie
"JASON SILAS!"- Missy, striking the fear of God in every man at once
"This is about as profesh as it gets." – Jep
"What better way to celebrate our nation and our crazy uncle than with an ungodly amount of explosives?"- Willie
I'm not sure when this episode would've been filmed, but I'm so glad it was. Duck Dynasty is consistently proving why it remains relevant to our culture without compromising or changing anything about its core. It's such a wonderfully made show, and I'm looking forward to continuing this journey.
What did you guys think of this episode? Let us know in the comments!!
Duck Dynasty airs on Wednesdays at 9/8c on A&E.
[Photo via A&E]