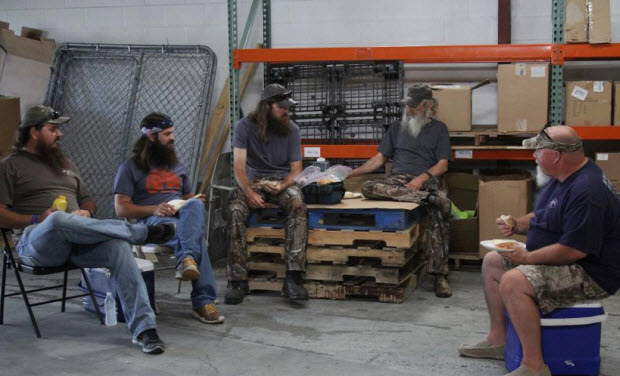 See I told you I'd be back this week!
Now that I've restored my reputation as an honest journalist, let's continue on to what you've all been waiting for: this week's Duck Dynasty review! I quite enjoyed this week's episode, but unfortunately there were no "Leroy Jenkins" references or beeping calculator watches to keep me on my toes this week. That being said, "Jase and the Argonauts" was a pretty entertaining episode.
Our story begins pretty innocently today. The men are at the warehouse eating their sandwiches, and Si is explaining how he eats dried mustard ("mustard booger"), when Willie comes in with an ice cream cone in hand and ice cream in his beard. He informs his employees that he has installed a soft serve machine in his office to motivate them. When they have completed their work, they can have some! While Martin, Godwin, and Jep take to the news with excitement, Jase and Si are having none of it. "You're not my dad!" Si quips disdainfully, in agreement with Jase that ice cream is a good way to motivate a five year old. More on this later.
In today's subplot, Phil and Kay are having technological struggles. Poor Phil. All he wants to do is watch his favorite action hero Jason Bourne in action, but he is stricken by the near-fatal disease called can't-work-the-remote-itis. It's an extremely serious condition. Phil informs his viewers that anything simple is obsolete, while Kay offers up the not-so-helpful advice to try all of the buttons on the remote. Surely one of them is bound to serve the proper function. While we agree that some people and technology go together like "applesauce and mayonnaise", we did learn something from this segment: the remote has 46 buttons. Thanks, Papa Phil!
Meanwhile, Jase tries to come up with a better idea than Willie's to motivate the workers, so at this point we have indeed reached our third straight "Jase vs. Willie" episode, though admittedly this one is much less direct. This time, however, there may end up a clear winner. Jase's idea was to buy an ATV that the most productive worker gets to use for a week. He calls this tactic "Manivation" (motivation for men).
While Jase is taking a leap ahead in the competition, Willie is trying to make lunch plans with his life when something miraculous happens. The two plot-lines of the show intersect before the last 5 minutes! Willie gets a call from Kay asking for help with the DVD player situation. So of course, Willie goes to help his distressed parents. After Phil makes a point to write down Willie's DVD player instructions (what a humble man!), Kay asks for Willie's help learning to text message. He helps her, but I'm sure he'll regret it soon enough!
Back at the shop, Jase's "manivation" techniques are working like a charm. When Willie comes back and learns of said techniques, he begins to admit that he was defeated by Jase. However, one more large bomb is dropped. If you don't like spoilers (you shouldn't have read any of this) look away….Jase used his company credit card to buy the ATV. Willie is upset, but when he's about reprimand Jase they both receive text messages from their mother. See Willie? I knew it'd come back to haunt you! Every kid who taught his parents or grandparents to text message is simply nodding along in agreement.
Ultimately, Willie concedes defeat and buys a second ATV. If you can't beat 'em, join 'em, eh? The episode as always ends with a prayer. Hope I didn't spoil that for you too!
The show's formula mixed up a little when they intersected plotlines and I really enjoyed how it turned out. Hopefully, the show continues to find new ways for everyone to share some more screen time and funny moments.
Here are some of my favorite quotes from the episode:
Si: "I'm fixin' to make it rain on you"
"I don't think that means what you think it means"
"I could make it rain crocodile tears"- Si
"It's the best money of yours I've ever spent"- Jase
Well that's all for this week folks! Please feel free to discuss in the comments! I hope you enjoyed my recap and thoughts and I'll see you next week!
[Photo via A&E]