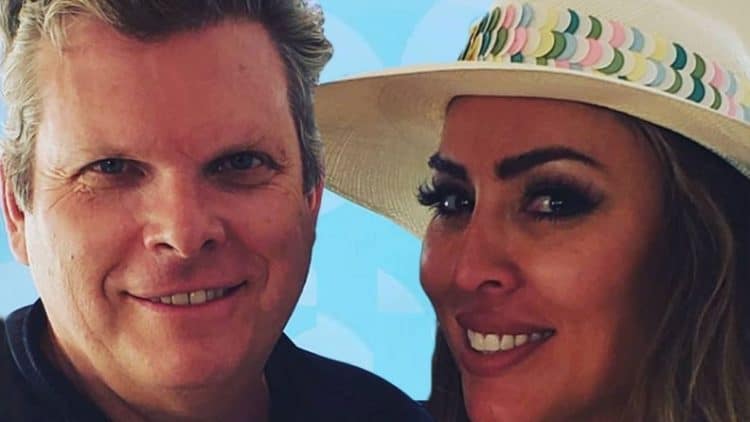 Viewers of The Real Housewives of Orange Country were recently treated to their first glimpse of the new arrival, Dr. Brian Reagan. Reagan made his first appearance on August 6th as the boyfriend of series regular, Kelly Dodd. Although Kelly has been making a show of talking up her new love to her friends, there's been some speculation about whether they're the real deal or just another fleeting showmance. Given that they've reportedly been dating since December 2018 (with just a few small hiccups along the way), we're going take a leap of faith and say it's the former. To find out more about the Doc, keep reading.
1. He's a top plastic surgeon
Reagan's personality may still be a bit of a mystery, but one thing we do know for sure is his choice of profession. Reagan has been cutting swathes (quite literally, in some cases) through Orange County for years as one of its top plastic surgeons. He currently works at the renowned True Beauty Aesthetic Surgery & Medicine medical spa, a clinic that offers everything from facials to customized face-lifts. According to his profile on the spa's website, Reagan has gained extensive experience at some of the top intuitions in the country, has published numerous articles in his area of expertise, and has presented a host of talks on his special areas of interest.
2. He has an extensive education
As you'd expect from one of the country's leading plastic surgeons, Reagan is exceptionally well-qualified. His educational achievements include a BA in Biochemistry and Cell Biology from the University of California at San Diego, Revelle College, an MD from Cornell University Medical College, New York, NY, residencies in General Surgery at Harbor — UCLA Medical Center and The New York Hospital — Cornell Medical Center, Torrance, CA, fellowships at The Wound Healing Laboratory Department of Surgery at The New York Hospital — Cornell Medical Center and the Cornell Burn Center, and a plastic surgery residency at The University of Texas Southwestern.
3. He's qualified in a host of treatments
Reagan isn't simply a Botox and filler kind of guy. His expertise and experience in the arena of cosmetic surgery have qualified him to offer a full range of procedures, include facial treatments, breast augmentations, reductions and lifts, Rhinoplasty, body procedures, and injectables. Basically, whatever you need when it comes to changing your look, he's the guy to give it to you.
4. He's a multi-award winner
Reagan's years in the industry haven't just afforded him a healthy pension, they've also earned him a considerable number of awards. His first honor came in 1994 when he was named the recipient of the National Institute of Health Research Training Grant "Trauma and Wound Healing Biology". In 2008, he was a finalist in The San Diego Business Journal Health Volunteer Awards, and in 2005, he claimed the Fresh Start Founders Award for dedication to Fresh Start Surgical Gifts. In 2004, he was crowned Health Hero by the Combined Health Agencies of San Diego for his non-profit work with children and teenagers with congenital and acquired deformities. Other notable additions to his list of credits include being voted Best Plastic Surgeons in La Jolla by La Jolla Light Newspaper and Best Plastic Surgeon in San Diego by San Diego Magazine.
5. He's on the Board of numerous organizations
In addition to serving at the True Beauty Aesthetic Surgery & Medicine medical spa, Reagan also sits on the board for a number of entities, including the California Society of Plastic Surgeons, San Diego Plastic Surgery Society, American Society of Aesthetic Plastic Surgeons (ASAPS), and American Society of Plastic Surgeons (ASPS).
6. He has a son
One of the things we've learned so far about Reagan from his time on RHOOC is that he's a father. Reagan revealed the little snippet of personal information during a conversation with Tamra Judge. After Judge invited Reagan and Dodd to a party she was hosting, Reagan politely declined, saying he was going to be out of town with his son instead.
7. He's the reason Shannon Storms Beador looks so good
Shannon Storms Beador recently thrilled her fans with an all-new look. As well as sporting a lithe new frame after losing an impressive 40 pounds, she's also sporting a healthy "glow", thanks in no small part to the helping hand she received from Dr. Reagan. "It's really the combination of a couple of different techniques that allowed Shannon to look as good as she looks," Reagan explained to Bravo. "Skin-tightening without plastic surgery is the holy grail. Shannon said to me, 'No scalpel, and I'm not going to sleep.' So you could say Shannon has the scalpel-less facelift."
8. Kelly has also had some attention
Beador isn't the only Real Housewife to benefit from Reagan's expert skills… girlfriend Kelly has also been on the receiving end of his attentions and even filmed herself getting a Botox top-up at his office during a recent episode of RHOOC
9. He's a prolific writer
Outside of his everyday activities at the clinic, Reagan is a prolific writer and has published numerous highly respected articles. Amongst his releases are "The role of AlloDerm in the correction of nasal contour deformities", "AlloDerm used in Rhinoplasty", "The use of AlloDerm for the correction of nasal contour deformities," "Leiomyoma of the Sinuses: A Diagnostic Dilemma", "The Effects of Burn Blister Fluid on Cultured Keratinocytes", and "Man's Best Friend Revisited: Who's Watching the Children".
10. He's the love of Kelly's life
Kelly's ex-husband may want to cover his ears… back in April, Kelly revealed on social media that Reagan was the love of her life following rumors the two had split. "No the rumors are not true," she posted. "[Dr. Brian Reagan] is still the love of my life."