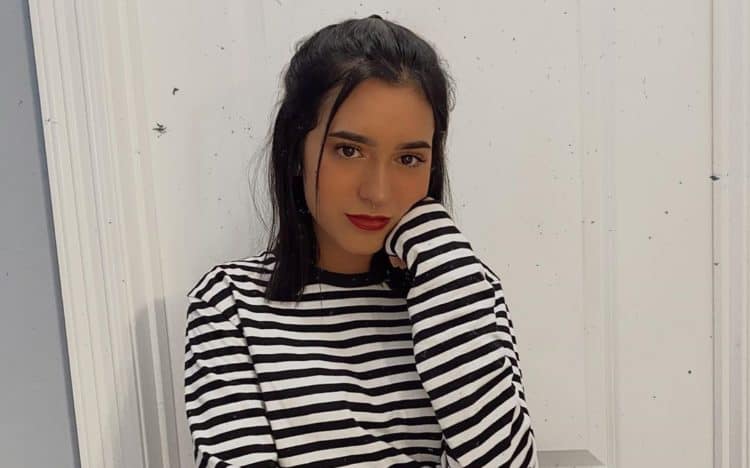 20 years ago people would've probably thought you were crazy if you told them you could gain millions of fans all over the world simply by recording videos in your bedroom. In 2021, however, that idea is the reality for countless social media influencers including Domelipa. The young influencer has built a huge following across multiple platforms and her numbers just keep going on. She is known for making lip sync videos on TikTok as well as a wider range of content on her YouTube channel. On top of that, her relationship with Rodrigo Contreras has also gotten her a lot of attention. Keep reading to learn 10 things you didn't know about Domelipa.
1. She Is From Mexico
Domelipa, whose real name is Dominik Elizabeth Reséndez Robledo, was born and raised in Mexico. She currently resides in he city of Monterrey. She comes from a very close knit family and occasionally they have made appearances in her social media videos. At the moment, it doesn't appear that she has any plans to move out of Mexico.
2. Her YouTube Channel Has Close To 50 Million Views
When people talk about the success Domelipa has had on social media, they often focus on the number of followers she has. What's even more impressive, however, is the number of views her YouTube channel has gotten. To date, she has more than 47.8 million total views and it's only a matter of time before she hits that 50 million mark.
3. She Did Gymnastics Growing Up
Even before becoming a social media influencer, Domelipa has always liked to put on shows and keep people entertained. Domelipa was very involved with gymnastics when she was younger which has given her a high level of flexibility that remains today. While she may not do gymnastics anymore, the skills it taught her have come in handy for some of her social media content.
4. She Loves To Travel
Domelipa may be 20-years-old, but she's already becoming a woman of the world. She is all about having as many great experiences as possible, and traveling is one of the best ways to do that. She has gotten to visit several countries including France and Ecuador. Although she loves going to all kinds of places, there is a special place in her heart for destinations that have warm weather and beautiful beaches.
5. She Is An Award Winner
Being on social media has gotten Domelipa lots of attention and opportunities. Her content has even earned her an award from Tu Magazine for TikToker to Watch. The magazine also featured Domelipa on the cover. As awards for influencers become more and more common, it wouldn't be surprising if Domelipa took home a few more in the years to come.
6. She Worked With Major Brands
Thanks to her massive following, Domelipa has become the perfect person for many brands to partner with. If she posts something on social media, there's a guarantee that millions of people are going to see it. She has gotten the chance to work with several internationally known companies including Tommy Jeans and Pandora. As her following grows, she will get even more opportunities to collaborate with big names.
7. She Is Signed To A Talent Agency
Long gone are the days when talent agencies are only interested in working with actors and musicians. Social media influencers are also starting to team up with agencies to give themselves access to bigger and better opportunities. Domelipa is currently signed to Raw Talent.
8. She Sells Merch
Domelipa isn't just an influencer, she is also an entrepreneur. She runs an online store called Domelipa Shop where she sells hoodies, t-shirts, and sweatpants. Domelipa's fans all over the world will be happy to know that she offers international shipping through the website.
9. She Is Afraid Of The Dark
Is there something that you're afraid of without having much reason? If so, you and Domelipa have something in common. In a video on her YouTube channel Domelipa shared that she is afraid of the dark. She didn't go into detail about where this fear comes from. Luckily for her, there are typically plenty of ways to avoid having to spend too much time in the dark.
10. She Loves To Dance
Some people may think that Domelipa only started dancing as a way to spruce up her social media content, but that isn't true at all. She has actually been dancing for much of her life. She began taking lessons when she was a kid and has continued to love dance throughout the years.
Tell us what's wrong with this post? How could we improve it? :)
Let us improve this post!