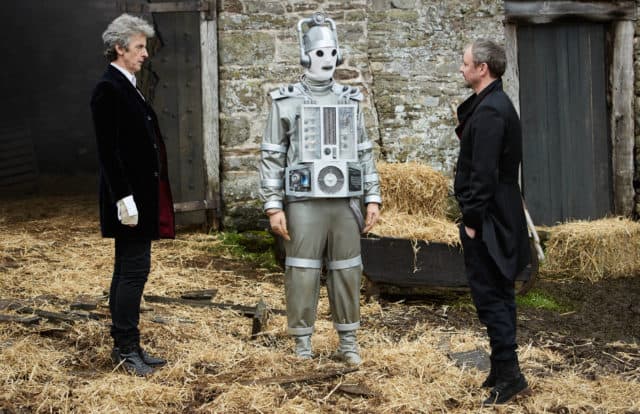 The Doctor Who season 10 finale has come and gone. Unfortunately for outgoing showrunner Steven Moffat and his writing staff, the bad taste it left in my mouth has not. "The Doctor Falls" was nothing more than a massive collection of missed opportunities. With both the Master and Missy — two different regenerations of a single Time Lord/Lady — present, the Doctor Who finale could have been a lesson in fighting one's inner nature. Missy was on somewhat of a redemption arc in the series' tenth season, while her past self was as dedicated to being delightfully evil as ever. That was barely touched on before an unsatisfying mutual death, though.
Plot? What plot?
As if that weren't enough of a waste, let's talk about Bill Potts. Transformed into a Mondasian Cyberman in only her eleventh episode on the series, everyone had their eye on Bill's story going into the Doctor Who season 10 finale. Predictably, yet still infuriating, she ended up right where every bad trope would suggest a proud lesbian and woman of color would: dead.
In 2017, this should not be happening. Period. And yet, here we are.
Missy vs. the Master in the Doctor Who season 10 finale.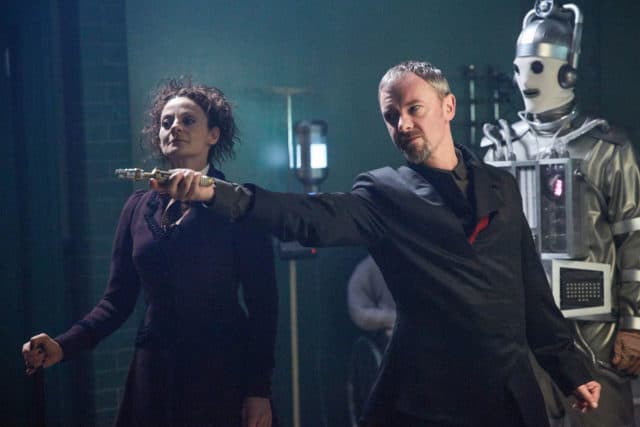 For much of the Doctor Who season 10 finale, Missy and the Master appeared to be on the same, delightfully evil page. But an early crack in Missy's armor made it at least possible that "The Doctor Falls" would provide some redemption for the Doctor's "friend." After all, Missy spent much of the series' tenth season locked in a box so that the Doctor could save her from certain death and "rehabilitate" her, so to speak.
After the Doctor revealed that he'd changed the Cybermen's programming to see beings with two hearts — Time Lords — as humans in need of an upgrade, and he was the only one who had ever been able to defeat quite so many Cybermen, he told the Master to knock himself out with trying to go it alone. And so she did, quite literally: Missy, in a move that could only be described as epic, launched a sneak attack on the Master.
*Plucky Duck voice* The Master go down the hooooole.
While her past, more evil, self was knocked out cold, Missy told the Doctor she'd been on his side all along. In a particularly emotional moment, the Doctor asked if this was really true. Taking a stab at honesty, Missy admitted that she wasn't quite sure. It was like she was of two minds; but luckily, the bad one was currently unconscious.
Aha! And here, I foolishly thought, was the thread of the Doctor Who season 10 finale: A redemption arc for the Doctor's oldest friend and greatest enemy.
Ok but false. Better luck next time.
Even as Missy was visibly struggling with what to do for much of "The Doctor Falls," she stayed mostly on the same side as her former self. When the Doctor, in one of those epic speeches about doing good that only the Doctor can give, begged the Master and Missy to fight on his side, she declined his offer to stand and fight. It seemed as if the Master/Missy/whoever you wanted to call this particular Time Lord/Lady was a lost cause.
And s/he was…but not in the way that one would think. Evil didn't win this battle. Neither did good. Just as Missy (finally) turned on her old self and seemed to be on her way to fight alongside her friend — finally, after all of these years and regenerations — the Master got his last laugh. While he was on his way to regenerate into the very woman who had ended him, the Master got his own sweet revenge: He shot himself (herself?) in the back.
Does this end the Master's regeneration cycle, or are we ignoring the part where Time Lords used to only be able to have a certain number of rebirths? (Remember when the Doctor got some random energy from Gallifrey so he could stick around? Ahh, Moffat. Constantly saying, "screw you" to the mythology and rewriting it as his own.)
And if this particular nemesis returns, what's really the point after such a wasted ending?
Missy should have either had a clear win or a clear loss. The Doctor's faith in her should have been given…something, anything definitive. Not this neutral, weird, waste of a character whom fans have loved to hate for quite a long time. But alas, Moffat had his final, messy say here. Just like with everything else.
Speaking of wastes: Let's talk about Bill Potts' ultimate fate in the Doctor Who season 10 finale.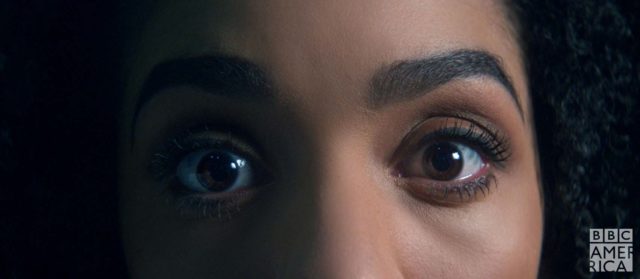 Bill Potts deserved better. Period. Let's just get that out of the way.
Yes, tragic endings are (generally) the norm for companions on Doctor Who. Just mention Rose Tyler's fate in "Doomsday," and yours truly will get weepy. And Donna Noble — Donna freaking Noble! I mean, talk about pain. In fact, the only so-called "New Who" companion that I can recall ever getting a happy ending was Martha Jones, who ultimately lived badassily-ever-after with Mickey Smith. But, of course, that was only after she'd spent her entire run with the Doctor, pining after Time Lord who was never going to show any interest in her. Oh, and Mickey? Mickey was belittled by both Nine and Ten so often that I have to look up whether his name was actually Ricky to this day.
So, happy endings — apparently — only come for companions who are underrated and not given much time of day while they're with the Doctor. Cool story, bros.
When Bill Potts first came on the scene, all the news was about the unique perspective she would bring: Pearl Mackie's character was going to be the first openly gay companion. (And then there were debates of the "umm, what about Captain Jack Harkness" variety but still.) Regardless of whether or not she was truly the first, Bill's sexuality wasn't a big reveal; and it wasn't handled with anything other than respect. Actually, it wasn't treated like anything remarkable or unique at all — it just was.
Breath of fresh air, right? Doctor Who brought fans of the series a real dose of representation: Not only was Bill a lesbian, but she was also a woman of color. And she was unapologetic about both. Bill was comfortable in her own skin, and the Doctor never once — not once — made her feel like she shouldn't be. At one point, Bill even met a gay man of color — an ancient Roman soldier, no less — in her travels with the Doctor. That, too, was handled with acceptance from everyone around. (Well, everyone on Doctor Who, at least. Some of y'all fans are nasty and hateful.)
Yay! Awesome! Right?
Wrong.
Because the thing is, Bill's story was, essentially, finished by her eleventh episode. You can count her twelfth episode — the Doctor Who season 10 finale itself — as her last if you want. But it was episode 11 that sealed Bill's fate.
The woman of color, who was the Doctor's first openly lesbian companion — if not the first full-time character who was a member of the LGBTQIA+ community — needed an "upgrade." She became Cyberbill. And as much as Bill might have fought that change in "The Doctor Falls," she lost. Or, well, Bill remained Bill underneath of all of that Mondasian Cyberbill appearance; but guess what happened to her.
No, guess. You'll never believe it! This has never, ever happened before! (Insert sarcasm font here.)
Just like in most horror movies, and just like in many series after a "coming out" story, so to speak, Bill Potts died by the end of Doctor Who's tenth season. And no, the bizarre reappearance of Heather doesn't soften the blow, either. I've thought about this — a lot — and it just doesn't. Sure, Bill got to have a "happily-ever-after" afterlife, I guess? But "hey, here's a girlfriend! Be happy!" sounds more like Moffat's ego trying to hand breadcrumbs to the peasants who want representation and (gasp!) some semblance of respect than it does an actual meaningful end.
Respectful would've been allowing Bill to, somehow, defeat the odds and reverse that transformation. It wouldn't have been…this. Nope.
For all of her wonder at discovering the Doctor's world and for all of her infectious enthusiasm, Bill Potts got the biggest slap in the face just for existing. And so did anyone who had been happy to see her included on the series. She lasted for exactly one season — twelve whole episodes — and nothing more. Sorry, Moffat, you don't get a pass or commendation for bringing representation to sci-fi if it means you're going to destroy it in less time than any of the Doctor's other recent companions have been tragically tossed aside.
You just don't. I think I'll stick to Wynonna Earp and the soon-to-be-over, although I refuse to believe this, Orphan Black.
And yes, I did the research to count: Pearl Mackie, coming in at a whopping twelve episodes, has the least credits of any of New Who's other full-time companions. The list, from most credits to least (at least according to IMDB), is:
Jenna Coleman (Clara Oswald): 39
Karen Gillan (Amy Pond): 36
Billie Piper (Rose Tyler): 35
Freema Agyeman (Martha "Underrated AF" Jones): 20
Catherine Tate (Donna Noble): 17
Joke's on the Whovians, y'all: It looks like the actual Impossible Girl was Bill Potts all along — it was impossible that she'd get treated with any true, long-term respect instead of held up as a token, "hey, we know how to do representation!" example with the bare minimum of time on the TARDIS.
Another tragedy of the Doctor Who season 10 finale: It was Peter Capaldi's last "regular" episode before his Doctor regenerates in the upcoming Christmas special…and the plot was such a mess, with such poor treatment of everyone involved, that his brilliant performance is more a footnote than the main story.
Make no mistake about it, footnote or not, Peter Capaldi delivered some of his best performances as the Doctor throughout season 10. And some of his big moments in "The Doctor Falls" were his greatest yet. The shots of the Doctor, battling it out with the Cybermen, were a nice nod to some of the Time War clips seen previously. And the way the Doctor just begged the Master and Missy to fight with him was…just…wow.
Pity. No stars. I'd hoped there'd be stars.
And that defeated line about stars might just be the new "I don't want to go." If it isn't, this one certainly is:
I don't want to change again. Never again! I can't keep on being somebody else!
Watching the Doctor frantically trying to squash his regeneration energy in the snow was the type of tear-jerker one would expect from a Doctor Who finale — especially one leading to the end of a Doctor's run. But I can't praise any of this without thinking about how much more meaningful it all would have been, had the rest of "The Doctor Falls" only been less disappointing.
Here's hoping Capaldi's true final appearance as the Doctor will give him the send-off he deserves. Season 10 started out so well, with Capaldi finally seeming to hit his stride. But then it quickly turned into a garbage fire, ultimately culminating in one of Moffat's biggest failures yet.
Sorry, Steven: You don't get credit for being "woke" by delivering cute jabs to Donald Trump. Not when the rest of your story shows how little respect for diversity, good storytelling, and common sense you still continue to have. I don't care if I giggled at this line or not:
Like sewage, smart phones, and Donald Trump: Some things are just inevitable.
You know what else was inevitable? Moffat screwing up the Doctor Who season 10 finale. We all wished otherwise. So much for that.
Save