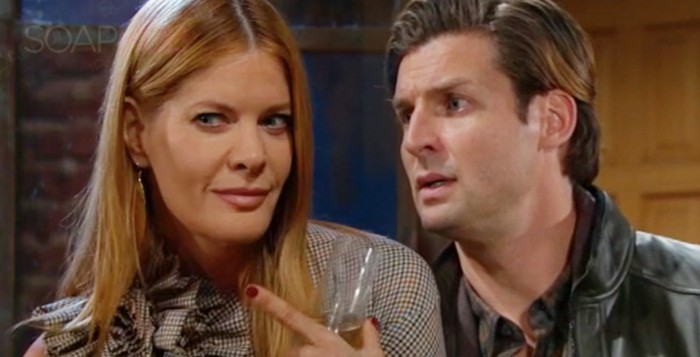 Young and the Restless fans are always going on and on about our favorite actors and actresses on the show, but what about the ones who were here, then they were not, and we miss them? They might be household name you know really well now, but they might not always be. Sometimes, the biggest and the best people who were here were only here for a moment before they took off and left. Unfortunately, it's so easy for us to forget about people who made some time to work in Genoa City making lives miserable, doing horrible things, making poor choices, and creating all the drama. We love it when it's on television, right? So, with that in mind, let us take a moment to head back into time and check out the many faces that we forgot were once a part of this amazing show.
Barbara Crampton
She was here for so long, but she's been gone just as long as she was here it seems. You see, it's easy to forget about someone when they exit the show and they don't make it back from the dead. So many of the big characters in Genoa City do come back from the dead after a time, but sometimes they simply do not. In the past, it just wasn't as common for people to come back from the dead once they were gone, which means that they didn't get another chance for the love. This is what makes it so easy for us to forget about them, too, and it makes life that much more amazing in other ways. For now, though, we want to remind ourselves of this woman who was on the show from 1987 to 2002 causing drama left and right with her many identities. From Leanna Love to Nora Randolf to Leanna Randolf, she was a little bit of everything.
Brenda Dickson
She was great in her role, but we forgot all about her thanks to the fact that Jess Walton came into the picture, took her role, and turned it into her own role. You know the role we are speaking of, too. It's the Jill Abbott role, and it's the greatest role of all times. She's so good at what she does. She's so good at who she is. She's so good at all the things that make her so good at being a favorite, but we always attribute that to Jess Walton. We forget that for many years — in fact, for nearly two decades — Brenda Dickson created the role of Jill. She created the character, and she did a darn good job of it. We hate that we forget all about her because we love Jess Walton so much, but that's just how it goes for her. We don't want to minimize her job or anything else for that matter, but we really just love what's been done for and to this character over the years.
Alex Donnelley
She was here for so long, and it amazes us how easily we forgot all about her over the years. She came into the show back in 1982 and she hung around for two decades. You, you heard us; she showed up in 1982 and she didn't leave until 2001, yet we've forgotten that she spent 19 years on our television screens acting out her role as the very interesting Diane Jenkins. She did the job, and she wanted to do it with Jack Abbott. He was a man who wasn't interested in her when she decided she was interested in him, however, so things did not go well for them. She didn't get the man. But, she did get to have an affair with him, end his marriage, and have him for a moment. She never got her happily ever after, but most people willing to engage in an affair like theirs don't get that kind of happily ever after. In fact, she is often cited as the reason that Patty is a little crazy. She did her in and she made her that way, though we would argue that she's always been a little bit on the crazy side if we had to.
Tell us what's wrong with this post? How could we improve it? :)
Let us improve this post!