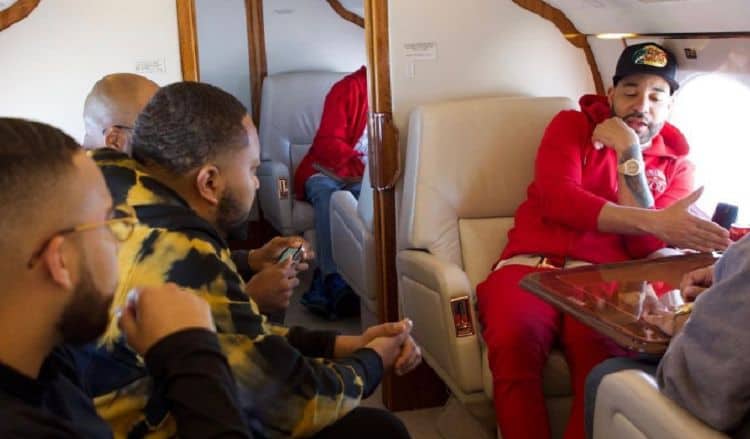 DJ Envy is a man who knows the music scene. He has been in the business since 1994, and he knows a thing or two about what makes the world go round in terms of music. He's a man who has been widely recognized for his roles, who has made a big impact on the business, and who fans find that they know very little about. He is a man who is not always up for chatting about his personal life with the world, so we took it upon ourselves to find out who he is and what he is all about outside of his job.
1. He is a New Yorker
DJ Envy was born RaaShaun Casey in Queens, New York. He was born on September 3, 1977. He grew up in the same area in which he was born. His life was spent there, working, going to school, and making memories. He was just a teen when he got a local job that allowed him to change his entire life.
2. He is a Radio Host
When he's not doing everything else he does in life, he spends his time hosting a syndicated radio show. It's called, "The Breakfast Club," and he hosts alongside some pretty famous people. He hosts alongside the lovely Angela Yee as well as Charlamagne tha God.
3. He is a College Graduate
Casey is a college graduate. He knew he wanted to do something big with his life when he was growing up, so he did take the time to focus on things that were quite important to him. He spent much of his time focused on things like his education. He attended Hampton University. He graduated with a degree in business management way back in 1999.
4. He Has a Mentor
Growing up, he was mentored by another DJ by the name of DJ Clue. You know him…he's one of the most famous DJs in the world. He lived near DJ Envy, and he spent his time helping this young man learn the ropes of the game, teaching him, and making sure he would make it when he put forth the effort.
5. He is Married
Casey is married to his lovely wife, Gia Casey. While we don't know when they were married, we do know that they have a sweet love story. They were high school sweethearts whose relationship began in 2001. Together, they have five kids. They have three girls and two boys.
6. He Wasn't Always DJ Envy
Prior to choosing the name DJ Envy, he had a different name in the business. He went by a different name back then, and we can see why he made the decision not to use that name when he was in business. It was DJ Shrimp, which really does not have the same effect or overall quality as DJ Envy, in our humble opinions.
7. He Began Gardening for DJ Clue
He met DJ Clue as a teen when he applied for a job with him. He was hired as a gardener/landscaper at the time. He did good work with the famed DJ, but he also got himself discovered. He would garden while he also spent his time beatboxing in the yard, and DJ Clue heard him. He was impressed with Envy's talents, and that is when he took him under his wing.
8. He's Currently Under Fire
When Columbus police officer Nicholas Reardon shot and killed Ma'Khia Bryant, the 16-year-old girl seen wielding a knife trying to stab another young girl, DJ Envy stuck up for the officer. He said, "Every case is different, and in this case, if I pull up to a scene and see a girl chasing another girl and about to stab a girl, my job as a police officer is to make sure that girl doesn't get killed. And the law allows me to stop that killing or that stabbing by any means necessary," and he stands by his opinion despite many people telling him he should not feel this way. He defends the officer for stopping another young girl from being stabbed or killed by the girl who was wielding the knife.
9. He Applies His College Education to Every Part of His Life
Growing up and going to college taught him a lot about life, and one of those things that university taught him is to market himself. He's been doing that his entire life, and it's worked well for him. He knows how to approach an opportunity and see it through, and he is not afraid to make sure he can use that knowledge to turn his life into what it was meant to be.
10. He Gives Back
DJ Envy is a man who likes to give back. He likes to visit his alma mater, to take part in their celebrations and the many things that they do for the kids who are enrolled in college. He gives back in every way he can, from being present and a special guest at homecoming festivities to donating money to college scholarship funds for the school. He's an all-around great guy with a great head on his shoulders.