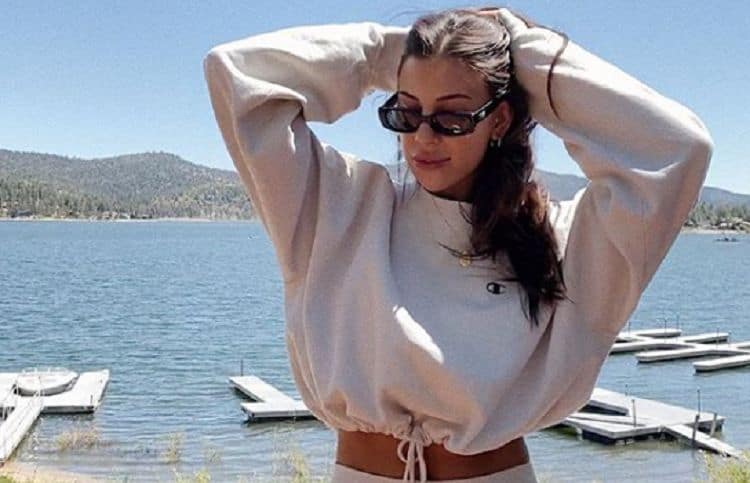 When you first see Devin Brugman, it's easy to dismiss her as nothing more than an Instagram model. What most people don't get a chance to see is that she's much more than just a pretty face. While her looks have definitely played a huge role in her success, she has a lot of other things to offer and she's slowly but surely sharing them with the world. With the perfect combination of hard work and intelligence, it'll be interesting see what Devin does as she continues to expand her portfolio. But one thing's for sure, she definitely plans on having a lot of fun along the way. Are you ready to learn more about this multi-talented model? Here are 10 things you didn't know about Devin Brugman.
1. Her Mother Was A Model
Modeling may not be your typical family business, but it definitely runs in the Brugman family. Devin's mother was a swimsuit model in the 70s. Devin's mother was one of the first people to encourage her to become a model as well. In 2017, Devin posted a beach photo that was inspired by a classic image of her mother.
2. She's Lived In Hawaii
Devin Brugman was born in Oakland, California. She moved to Maui with her parents when she was just 4-years-old. Growing up in Hawaii means spending a lot of time on the beach which is where Devin discovered her love for being outdoors and hanging out by the water.
3. She's A Firm Believer In Using Sunscreen
Devin Brugman's perfect tan is one of the first things most people notice about her. Devin is proud of her flawless tan, but she doesn't sacrifice her skin's health to get it. Brugman is a strong believer in using sunscreen. When she spends time in the sun, she is always mindful to apply and re-apply sunscreen. She also avoids letting the sun touch her face.
4. She's The Co-Founder Of A Business
Devin Brugman and her good friend, Natasha Oakley, founded a blog, A Bikini Day together, in 2012. The blog was initially used as a way for the girls to share photos of different swimsuits every day. A Bikini Day eventually evolved into a swimwear line called Monday. The name for the company "was inspired by the notion that if you are in a bikini on a Monday, whether you are off work, school, or on vacation, you are having a great day! Monday is designed especially for the stylish girl who is minimalistic, confident, and carefree."
5. She Got Her Start Working In Retail
Working in retail is a great place to start for people who love fashion. Devin worked at WESC all throughout college. She credits this job with teaching her about the ins and outs of the retail industry. The job also taught her the importance of customer service and how to interact with people.
6. She Studied Business In College
Devin Brugman attended college at Mount St. Mary's College in Los Angeles. She was actually still a full-time student when she started her modeling career. She studied business during her time there and has been able to apply many of the things she's used to her own business ventures.
7. Monaco Is Her Favorite City
Traveling is one of Devin Brugman's favorite things to do. She's been able to see lots of amazing places all over the world. If she had to pick a city that she loves the most, the young model says the French city of Monaco could be her favorite. During an interview with Elite Daily, she said that she got the chance to visit the city when she was 15-years-old and it simply took her breath away.
8. Her Parents Are Her Biggest Role Models
Devin Brugman has a close relationship with both of her parents and considers them her biggest role models. She has been able to learn different things from both of them that have helped her throughout her life and her career. Her love for fashion and style came from her mother, and her love of business came from her father.
9. She Would Love To Work With Her Celebrity Crush
It only makes sense that Devin Brugman's celebrity crush would be someone just as stylish as she is. So it should come as no surprise that the celeb she has the hots for is none other than James Franco. Not only is the actor her crush, but she would also love to work with him some day.
10. Traveling Inspires Her
Traveling is more than just something Devin Brugman loves to do. It's also what inspires her to create and come up with ideas for her swimwear line. Many of the pieces in the line are inspired by adventures she and Natasha Oakley have gone on – especially their many fun times by different beaches across the world.