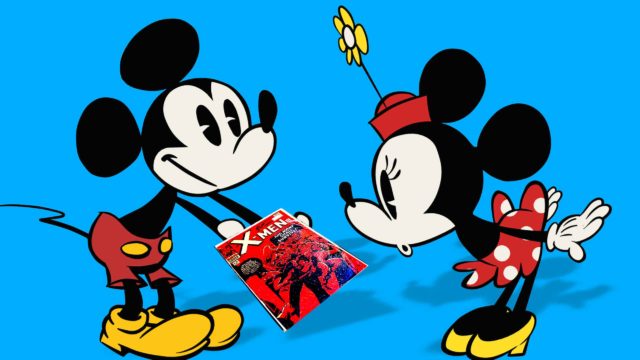 You may have heard that Disney just bought the television and movie branches of 21st-Century Fox. If you're a Marvel fan, you might have been psyched to see many of your favorite characters under the same roof. With this acquisition, we could see movies in the future that show the X-Men fighting crime alongside The Avengers. Maybe Spiderman will even show up.
While the Disney merger could mean good things for some fans, it is important to note that Disney tends to produce only blockbuster hits. This could mean that the Fox Searchlight label generally associated with adult-oriented films could be seriously neglected under this new ownership. After all, you can't exactly create merchandise featuring the characters from a serious film — and with almost $4 billion in annual profit from merchandise, this could be a big hit.
In addition, Disney will obtain ownership of popular Fox franchises such as The Simpsons and Family Guy. We can likely expect that these shows will be retained, as they are extremely popular and will continue to be for quite some time. However, less popular programming could potentially be dropped.
Another aspect of the merger involves Hulu. After Disney completes the deal, they will acquire Fox's shares of Hulu, giving them the majority of Hulu ownership. This could mean a serious competitor for Netflix and Amazon. With the new Fox properties under Disney ownership (including X-Men and Avatar), not to mention Star Wars, many incredibly popular franchises may be relegated to Hulu (or another streaming service operated by Disney).
After this deal, Disney will become the most powerful movie studio on Earth. So powerful, in fact, that Senator Amy Klobuchar (D-MN) — leader of the Senate antitrust committee — has proposed a government review of the merger. This is not surprising; if Disney and Fox were already combined, they would have owned 40% of this year's top hits. In addition, Disney already owns ABC, ESPN, and Lucasfilm, representing a significant portion of the entertainment market.
So, while Marvel fans will rejoice in the news of this merger, one can't help but wonder if the FCC's recent ruling on net neutrality will affect Disney's new content. Now that paid prioritization, fast lanes, and even straight-up blocking of content is again legal, we may see large telecommunications conglomerates such as Comcast (who owns NBC) and AT&T (who are attempting to merge with Time-Warner) suppress Disney's content in favor of their own. The regulatory battle here is ongoing, and may even exceed the one to be fought during the upcoming merger.
Of course, Disney's CEO Bob Iger is no stranger to acquiring new properties: during his time as CEO, he acquired Pixar, Lucasfilm, and Marvel. The new acquisition of 21st-Century Fox is just another box to check off for this savvy businessman, despite the upcoming regulatory battle. But where does this leave Robert Murdoch, executive co-chairman of Fox?
$52.4 billion richer. In fact, Murdoch is planning a full restructuring of his media empire, with an increased focus on newspapers and other forms of news dissemination. Therefore, it is possible that we could see the Fox executive increase his already-substantial control over the nation's media, forming a media conglomerate out of the tentatively-named "New Fox".
What do you think? Is the merger a wise move, or an unfavorable step? Let us know in the comments below.