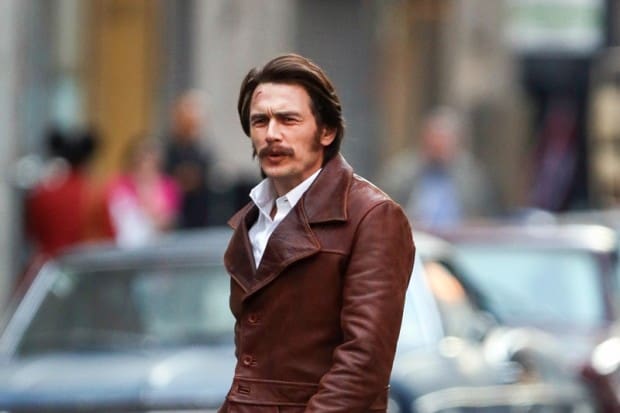 "The Deuce" is a new HBO series that aired its pilot on September 10. It takes place in the late 70s to the mid-80s and revolves around the adult film industry's rise to infamy and big bucks. The show is set in Times Square and shows us plenty of details about the seedy underbelly of New York during that time period. It was created by George Pelecanos and David Simon and produced by Simon and Pelecanos, as well as Michelle MacLaren, Nina Kostroff Noble, Richard Price, and James Franco, who also stars in the series as twin brothers Vinnie and Frankie.
Full Frontal

You may remember Franco from his previous works, mainly in film, including playing Hugh Hefner in "Lovelace" in 2013. He also appeared in nine films that are currently in post-production, one that is completed and ready for release, as well as two that are filming now. Other films include "Why Him?" and "King Cobra" in 2016, "Oz the Great and Powerful" in 2013," Rise of the Planet of the Apes" in 2011, "Pineapple Express" in 2008, "Spider-Man 3" in 2007, and way too many more to list. Now that he's pushing 40, he seems to have lost some of his boyish charm but gained a sad worldliness that comes across beautifully in his performance in "The Deuce". And, he's not afraid to get naked in front of the cameras, which is something the actors and actresses do a lot of in the premiere. So, be sure to send the kids to bed before the next show airs because full frontal nudity is not uncommon on "The Deuce".
Frankie's Character
Frankie is a bartender in a local dive bar who has the usual horrible boss and a cheating wife. He's kind of downtrodden, getting mugged, threatened by loan sharks over his brother's debts, and just generally having a crappy year or maybe even a whole string of them. But, he has big dreams of being somebody someday which his wife tries to squash by reminding him that he's just a barman and from Brooklyn. And, this is after he moves out on her because of her wandering ways and she's trying to talk him into taking her back. Pretty girl but not too bright.
It's All About Business
But, underneath it all, Frankie is basically an innovative businessman. After getting fired from the seedy bar, he goes to work for a friend who owns a Korean restaurant and bar and quadruples the bar's business in just one night by having the girls who work there wear leotards. Now, maybe it's just me but doesn't that kind of telegraph what is to come? Obviously, Frankie is going to make it big in the porn industry. So, what I foresee for the rest of the series is a lot more full frontal nudity and semi-graphic sex acts that back in that era would have been called "soft-porn".
Pimps and Prostitutes Battle

The other characters in "The Deuce" are mainly pimps and hookers battling it out in their everyday lives to make a buck. Maggie Gyllenhaal plays the hooker with a heart of gold who firmly believes in free enterprise and not giving in to any of the pimps who are vying for her business. And, so far, she's holding her ground. You go, girl! So, only time will tell if all of them get involved in the porn industry. At least, it would get them off the street!
Anyway, "The Deuce" is definitely not for the faint of heart or easily offended folks out there in TVland but it's a very interesting premise and contains some excellent acting, as well as some superb set decorating. The cars, the bars, the wardrobe, and even the theater marquis are spot on for that time period.