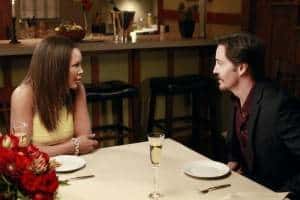 After two decently depressing episodes of Desperate Housewives, we returned tonight to our usual lighter fare as the ladies tried their best to pick up the pieces after Mike's funeral and resume some semblance of normalcy (well, as much as can be found on Wisteria Lane.) This week — Susan is a bad mother! Gabrielle is obsessed with her wealth! Bree's son Andrew makes a surprising reappearance! Sound juicy enough? Let's dig in…
Renee, expecting a ring from Ben, calls him out on not popping the question when it becomes clear that Ben is holding off on his proposal. When Ben finally does attempt to propose, he gets interrupted by the police asking about Alejandro's body (hilariously, Renee snatches the ring off Ben before he's led away.)
Renee goes to Bree to show off her new jewelry, while dropping intel about the police finding a body in the construction site. Bree is clearly shaken up, but manages to hide her surprise. Susan, meanwhile, is attempting to deal with MJ in the wake of Mike's death — which, much Julie's surprise, apparently includes Susan letting him eat ice cream for breakfast and do whatever he wants. Susan defends her parenting skills saying that he lost his dad and that she's trying to cut him some slack.
Gabrielle is having a hard time accepting Carlos"live a smaller life'mentality, telling Carlos she plans to go back to work. Gabrielle seems to be slightly taken aback when Carlos muses that an entry level position won't get her much in the way of ski trips and Ritz stays, but doesn't let it deter her. When she goes to the employment agency (amusingly giving her lists of 'requests') she's told that people with college degrees can't even get jobs, let alone someone of her caliber who has had no work experience. Eight years, and I still laugh at scenes like these where Gabrielle just acts so conceited and clueless about 'real life'because it's so true to character. Depressed, Gabrielle indulges in what many of us women do in times of sadness: retail therapy
Lynette tells Renee she's planning to get Tom back by apologizing, and when Renee suggests something more 'cunning'Lynette enlists Penny, who convinces Jane to take her to a concert so Lynette can have Tom to herself. When Tom comes by later, Lynette has already cooked his favorite meal and fired up the old date photo albums. It's a night that looks like it's actually headed in the right direction, until Tom's shirt accidently catches on fire from the candles and he figures out Lynette has tricked him. Confused and angry, Tom leaves. Lynette is devastated, although some wise words from Penny help make her feel better. Interestingly, we see that for as angry as Tom was, he may have been more affected by Lynette's night than he thinks, as he refuses Jane's intimacy.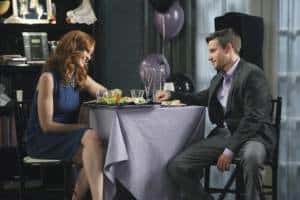 In a nice surprise, Andrew returns home and tells Bree he met someone — who, much to Bree's shock, is a woman named MaryBeth. Bree is caught off guard when she finds out he's engaged, and Andrew tells her that being gay was just a phase — he needed to meet the right girl. Apparently the 'right girl'is someone who not only went to Overeaters Anonymous, but is also the daughter of the parents who invented MaryBeth's custard. For as long as Bree couldn't wrap her head around Andrew's 'queer'status, she's having a harder time wrapping her head around his straight status. But..mother knows best, right?
Right. Bree throws Andrew and MaryBeth a surprise engagement party full of his former gay friends with a clear ulterior motive, and when MaryBeth explains that she knows Andrew is gay and that she believes Andrew is the only one who will love her, Bree convinces her that she deserves someone who will truly appreciate her. When Andrew gets upset at Bree's actions, he ends up admitting that he was marrying her for her money after all. Bree asks why Andrew didn't just come to her, and Andrew says he doesn't want to keep feeling like a failure every time he has to ask for help. Bree offers Andrew the opportunity to live with him until he gets back on his feet again, and as we close in on the end of the series, it's a nice full circle from the beginning of the show, when the relationship between the two was entirely volatile.
In the world of Susan's Bad Parenting Skills, MJ is getting more out of control and Julie is getting more and more aggravated. She tries telling Susan that MJ's taking advantage of her, but Susan doesn't believe it, even when she gets a call from school where apparently MJ has thrown a stapler at his teacher. When Susan loses her temper and lashes out herself defending MJ's behavior, she finally seems to realize there's a problem and she later sits MJ down for a talk. She gives him another way to release his anger and rage — throwing jam jars against the wall.
Carlos walks in on Gabrielle trying on her many new clothes and calls her out on her shopping spree. When Gabrielle admits that she's made bad decisions in her life because she can't work, Carlos reminds her that the best thing she's done is be a wife and mother. This seems to sober Gabrielle, who, like a good girl, returns the clothes but gets a shocking surprise — she finds out that the store wants to hire her for her apparently awesome shopping skills. Gabrielle as a personal shopper? Perfect. Forget the $40% off, I'd hire her myself!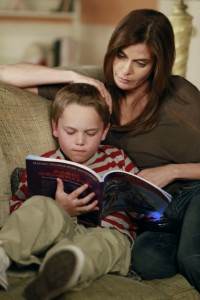 As we near the end of the episode, Bree finds out from Renee that Ben's no longer a suspect in the dead body case due to the fact he started work on the construction site long after the body was apparently due. She calls Ben, thanking him for keeping her secret, not at all realizing that the police have set up camp near Ben's house — and are recording the whole conversation of Bree implicating herself in the murder. Uh oh….
It's hard to believe there are only a handful of episodes left before this series wraps up for good — and as we get closer, I find myself becoming more and more curious about how everything will be resolved. How will the Housewives find themselves come the end of the 2 hour series finale on May 13? How will we send them off into the future?
Tell us what's wrong with this post? How could we improve it? :)
Let us improve this post!