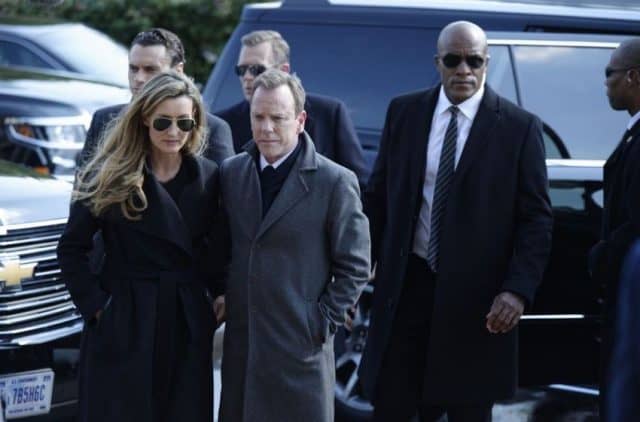 Destruction, lies, and chaos are all the makings of a classic drama. In the last few weeks Designated Survivor has taken our worst fear and made it into a reality. The hits just keep on coming. There's no time for grieving, there's no time for second guesses, but there's plenty of time for politics. Now that a little time has passed for everyone's heads to catch up to the world in which they now live, the real D.C. is rearing its head. Agendas are coming out of the woodwork, and nice guy Tom Kirkman has to find a way to deal with those who want to unseat him and keep the country calm. President Kirkman is going to need to change.
After nearly all of Washington, D.C. is blown apart, you'd think that would be the worst of it. Of course we're not that lucky. The White House experiences a cyberattack. While the NSA figures out what exactly happened and if the White House's system was compromised, it's agreed that the public can't know about this. The hack wasn't about stealing anything, it was about leaving something behind. Al-Sakaar takes credit for blowing up the Capitol on the White House mainframe. The problem is that it seems like alot of trouble to go to for a confession. It is at this point that Deputy Director Atwood brings up Agent Wells's theory that the real bombers are trying to throw everyone off-track.
While the President is dealing with matters of national security and the like, his new First Lady is dealing with their adolescent drug-dealing son. Leo has the typical teenage answer "I don't know why I did it". Before all this happened that was probably the case. Who knows where Leo goes now. Who knows where anyone goes now. One thing that can't become a habit is lying. President Kirkman is under an enormous amount of pressure, but he should still have been made aware of the situation with Leo.
If you wanted a miracle after a terrorist attack, it doesn't get anymore miraculous than a 1/1,000 chance of survival. Congressman McKleash is the sole survivor. Once the shock has worn off, his first question is "Why me? Why did I survive?" Wells is determined to find out. She's not waiting for warrants and proper channels. Honestly, are there any proper channels left to go through? She's going on adrenaline while she waits for closure. Unfortunately she gets it. The Senator she was having an affair with is confirmed as one of the dead. Now the only thing left to do is push forward, make his and everyone else's deaths mean something. How much does the Congressman's life really mean if he may not have been in the Capitol at all?
Emily and Aaron both vie for the Chief of Staff position. They are doubly advising President Kirkman. As much as they are competing against each other, they are a great team. They don't have any right answers when Kirkman is blindsided in his first public interview as President. He is asked point blank if he was fired from his job the day the Capitol blew up. Kirkman feels he can't start off his presidency with a lie, so answers with an around-about affirmative. Congresswoman Hookstraten is let into the loop in regards to the terrorist confession. She can't use this information to forward her own agenda, but she can use Kirkman's secret firing to her advantage. The former president's son asks Kirkman to give the eulogy at his father's funeral. Once he sees Kirkman's interview, he replaces the President with Hookstraten. Hookstraten's speech is very clearly a power speech. She talks more about politics than the actual man. What's worse is that it works. She has aspirations for the job, just not for a few years. In her mind there's no harm in laying the groundwork. At least she's not the one who leaked the terrorist footage.
The credit for that belongs to Aaron. He knew leaking the video would stop people talking about Kirkman's firing and unite them against a common enemy. Kirkman has every right to fire Aaron. Instead Kirkman appoints Aaron as his Chief of Staff. He knows Aaron is calculating, but unfortunately that's what's needed for this job. Kirkman needs Emily to keep him grounded, to remind him what's right. She'll stay on as his Special Advisor, with full access and authority to question Aaron if he goes out of line again. She just might have to if the information Aaron received on Kirkman is used for more fodder.
Did Kirkman make the right choice keeping Aaron on staff?
Designated Survivor Season 1 Episode 3 Review: "The Confession"
Summary
D.C.'s shady politics returns to the front of the storyline in this week's Designated Survivor.